What Is The Meaning Behind The Necklace Ben Affleck Gave Jennifer Lopez?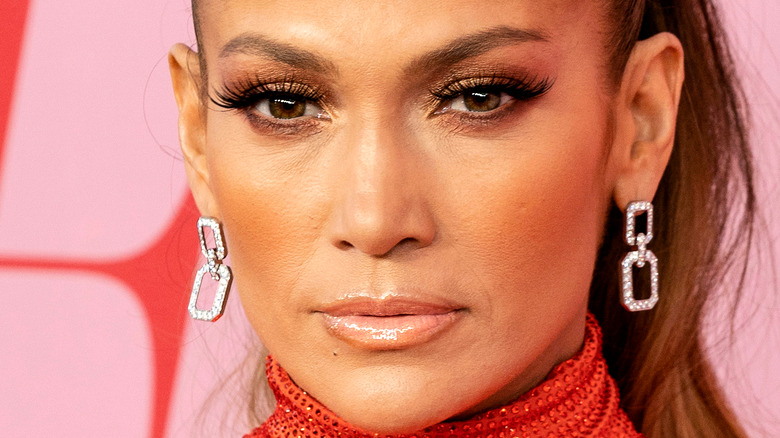 Shutterstock
Jennifer Lopez and Ben Affleck certainly aren't hiding anymore — not that they really hid that much to begin with. There's been months of speculation suggesting the two have rekindled their romance after initially calling off their engagement back in 2004, though the two shied away from explicitly addressing their romance after paparazzi shots of Affleck and Lopez began to surface in April.
A slew of candid photos and source-based reports initially did all the talking, but all that changed around the three-month mark. After repeated speculation about the status of their relationship, Lopez and Affleck finally went Instagram official on Lopez's 52nd birthday on July 24 with a string of photos.
The star teasingly buried a snap of herself and Affleck embracing and sharing a kiss in a set of Instagram photos as she showed off her jaw dropping body in a bikini and flowy cover-up while they celebrated her big day on a yacht. "5 2 ... what it do ...," she captioned the upload, alongside a heart emoji.
And it seems like Jennifer is now more than happy to make it very clear where she stands with her boyfriend after officially confirming they're back on, shortly after Affleck was spotted seemingly wearing a watch Lopez gifted him years ago. Read on for all the details on how the star is wearing her love for the Batman actor around her neck.
Ben Affleck gave Jennifer Lopez jewelry with a 'meaningful story'
Ben Affleck put his love for Jennifer Lopez on display by gifting her with specific pieces of jewelry. The stunning photos Lopez posted to her Instagram account on her birthday showed her wearing layers of gold necklaces, including several pieces specially chosen for her by Affleck. Another upload from the same day showed her rocking a single pendant.
Foundrae creative director and co-founder Beth Bugdaycay opened up about the pieces to E! News, explaining the collection featured medallions to represent resilience, symbolizing being "wild, abundant, and untamed." The necklaces also included blossoms because they're "fed with passion and continue to bloom, even in darkness, against adversity. But we can't separate the flower from its thorn. The thorn is the risk we assume for something we love, for living life fully without reserve."
Bugdaycay added the jewelry "clearly communicated their love" and is "a reminder of their capacity for change and growth." It must have been pretty special too, as the jewelry designer said her team was "blown away" by Affleck's "romantic gesture." Aww!
Bugdaycay also told The Adventurine that Affleck "wanted to put together a meaningful story" and it wasn't about the most expensive pieces or biggest diamonds, as "he wanted to say something about their relationship."
Shortly after rocking the jewelry on Instagram, Lopez was spotted in Monaco wearing a necklace with letters spelling out Affleck's first name (via Harper's Bazaar). 
Looks like love to us!