Why Everyone's Talking About Simone Biles' Commercials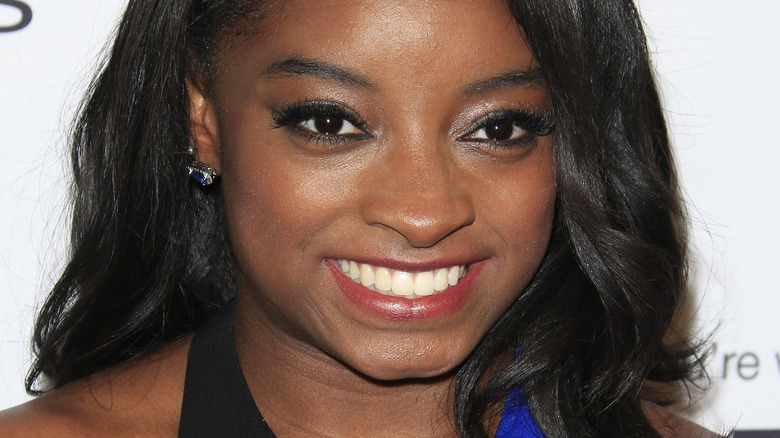 Shutterstock
American gymnast Simone Biles has been at the center of a growing controversy since she dropped out of the 2021 Olympics. On July 27, Biles bailed mid-air after a failed volt attempt during the team finals. She was escorted off the mat and returned shortly thereafter to announce that she was withdrawing from the team portion of the competition. The following day she announced she would also refrain from competing in individual finals. Biles' decision to drop out mid-competition was divisive, to say the least, per ESPN.
As arguably the best gymnast of all time, her absence from the team was consequential. The team did alright, winning silver, but not the gold most people thought they would have won had Biles competed. Biles' absence left a bad taste in some commentators' mouths. Others applauded her decision to focus on her mental health rather than the competition.
Given her athletic prowess, Biles has no shortage of sponsorships or brand deals. And her wide-ranging endorsement deals and commercials have people talking even more. Here's why.
Some viewers are angry with Simone Biles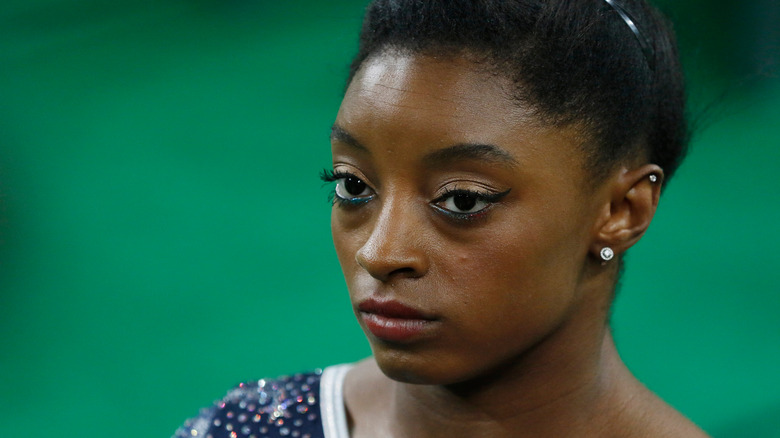 Shutterstock
As far as Simone Biles' decision to withdraw from the Olympics goes, there's a gap in public opinion. On one side are those who think Biles screwed the U.S. by dropping out of the Olympics (just read what Piers Morgan had to say about Biles, via the Daily Mail). On the other are those who believe Biles made a brave and historically significant decision.
The fact that Biles is in a lot of branded ads airing during the Olympics furthered the divide. "Simone Biles realizes Olympic competition isn't a Geico commercial. No director to yell CUT!! when you screw up. Poor Simone.." one embittered Olympics fan tweeted. "If she missed a commercial shoot, she'd lose that sponsorship," wrote another viewer.
Others were more sympathetic. "Every single commercial in between events had @Simone_Biles in it," tweeted a supporter. "She is CONSTANTLY called the GOAT and put on an extremely high pedestal (granted, the praise is deserved). Do you not realize the immense pressure you are putting on our premiere athletes? They are PEOPLE." Others echoed the sentiment that committing to so many sponsorships likely only added to the pressure Biles felt going into the competition. "Perhaps if she would have layed [sic] low and stayed out of the spotlight, there wouldn't be so much expectation which would lead to less pressure as stress," one fan argued. And finally, there were those who didn't see anything wrong with the commercials, other than that logistically, they no longer made sense. 
Simone Biles cited mental health issues as the reason she withdrew from the Olympics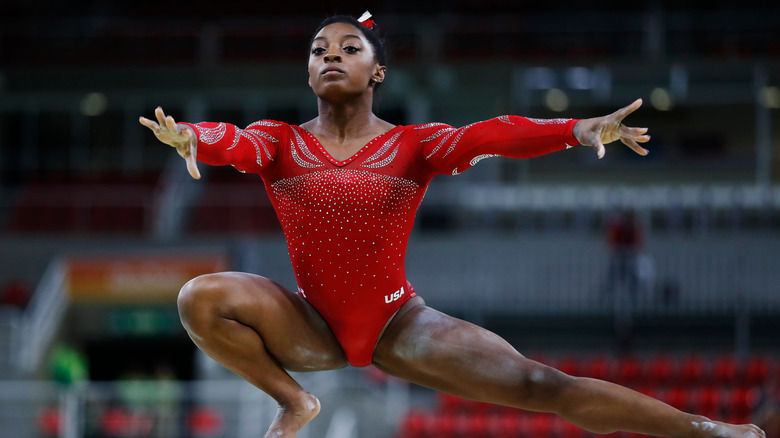 Shutterstock
Simone Biles shocked and divided fans when she announced that she was withdrawing from the 2021 Olympics. But as the gymnast explained, her mental health had to come first.
"I was just, like, shaking, could barely nap. I just never felt like this going into a competition before," Biles said in a statement at a press conference, via BuzzFeed News. "And I tried to go out here and have fun. Warmup in the back went a little bit better. But then once I came out here, I was like, No, mental is not there, so I just need to let the girls do it and focus on myself."
Biles' decision to withdraw from the Olympics comes two months after tennis star Naomi Osaka withdrew from the French Open in May 2021, citing mental health issues. Biles also voiced support for Osaka during a press conference, via People.
If you or someone you know is struggling with mental health, please contact the Crisis Text Line by texting HOME to 741741, call the National Alliance on Mental Illness helpline at 1-800-950-NAMI (6264), or visit the National Institute of Mental Health website.