The Truth About Clay Aiken And Kathy Griffin's Relationship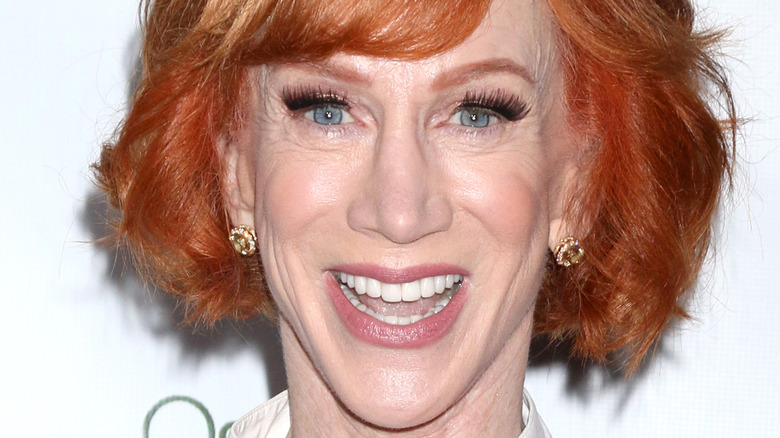 Shutterstock
As a comic, Kathy Griffin has made many friends and a lot of enemies along the way. Griffin's comedy routines are centered on celebrities and her encounters with them, and the self-proclaimed "D-lister" isn't one to hold anything back when it comes to how she feels about people. Do you remember the photo of her holding (then) President Donald Trump's head in one hand? Following the widespread backlash, she issued an apology to the media for her actions.
"I sincerely apologize ... I'm a comic, I cross the line. I move the line; then I cross it. I went way too far. The image is too disturbing; I understand how it offends people. It wasn't funny. I get it. ... I beg for your forgiveness," she said in May 2017 in a since-deleted tweet (via NPR). However, a few months after her initial apology, Griffin changed her tune, retracting her statement during an interview with Australian TV news outlet "Sunrise." "I am no longer sorry. The whole outrage was B.S.," she shared, stating that the entire thing was "blown out of proportion." She also said she lost everything, and she even had friends like Debra Messing speaking out against her. Griffin later revealed that all of the backlash caused her to become dependent on pills and have suicidal thoughts, which she never acted on.
While her feud with Trump was one of the most publicized, Meghan McCain made light of Griffin's relationship with Clay Aiken. So what went on?
Meghan McCain slams Kathy Griffin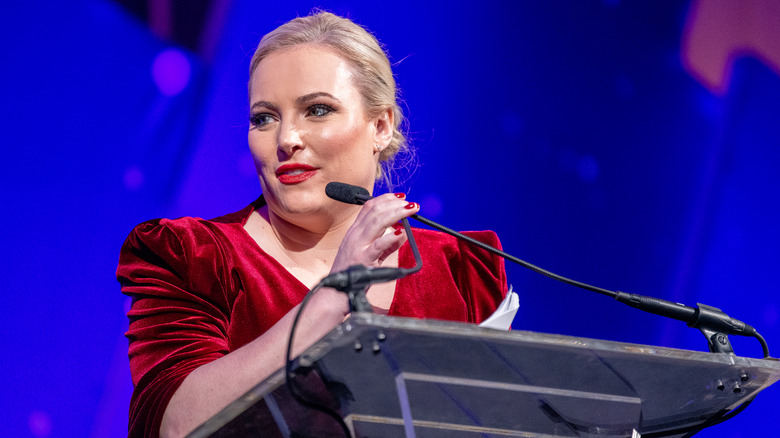 Roy Rochlin/Getty Images
Following the news of Kathy Griffin's cancer diagnosis, people from across the globe flooded Griffin's page with well-wishes. The panel on "The View" was no exception. First, Meghan McCain wished a speedy recovery for Griffin, but that wasn't her only words for the comedian.
"My issue with Kathy Griffin is — I'm gonna name drop — Clay Aiken is one of my closest friends in the entire world," she said. "He's ostensibly my brother. She made very, very, very cruel and homophobic jokes about him before he was out of the closet." McCain continued, sharing that the jokes date back to 2002-2003. McCain said that she thought that Griffin's jokes could have had a profound impact on Aiken and could have led to opioid addiction.
She directed fans to look at old YouTube videos of Griffin making fun of Aiken (who Griffin used to refer to as "Gaykin") and see for themselves. McCain noted that other celebrities made fun of Aiken, too, but Griffin spearheaded the jokes. "I would love to hear an apology, if she's doing this kind of soul searching, for what could've happened with my good friend. I don't like her; I'm never gonna like her for all the jokes she made about Clay." Apparently, though, Aiken seemed to think that their past is just water under the bridge. Keep reading to see what he had to say.
Clay Aiken lends support to Kathy Griffin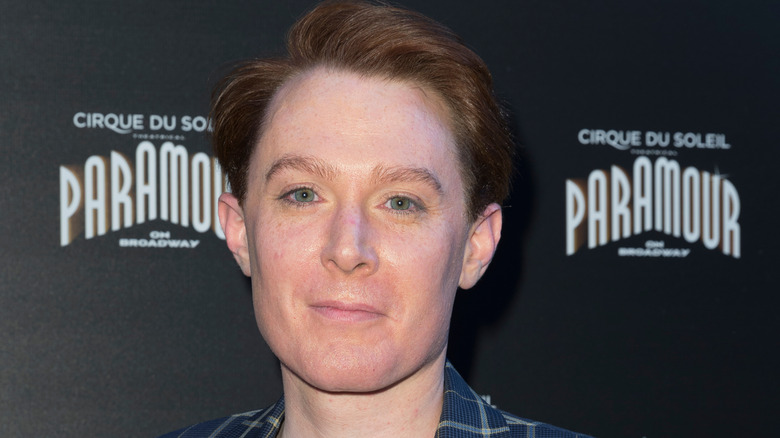 Shutterstock
Shortly after Meghan McCain went on a tirade against Kathy Griffin and her jokes against Clay Aiken, Aiken seemed to extend an olive branch. He took to his Twitter account to share a warm message for the comedian amid her cancer diagnosis and recovery from surgery, where she got part of a lung removed. 
"Love and prayers for a speedy recovery to my dear friend," he wrote. "Selfless and gracious, she even hosted a fundraiser for my congressional campaign years ago. Get well soon Kathy," Aiken tweeted. "I miss your jokes!" The "American Idol" alum also shared a photo of himself and Griffin, where they were all smiles.
Many fans took to the tweet to comment and ask questions. "Wait, What I am confused now..... Meghan from the View wanted her to apologize to you... is there a beef between y'all or not???" one Twitter user asked. "I'm so confused given @MeghanMcCain rant on @TheView this morning going off on Kathy bullying you. Is this post sarcastic or sincere?" another commented.
Over the years, Griffin has done a lot for the LGBTQ+ community, and in 2018, she was awarded the Rainbow Key in West Hollywood after helping to raise $5 million for AIDs research (via The Berkshire Eagle). As of this writing, Griffin has not commented on McCain's accusations, but knowing the comic, it won't be long before she does. As for Aiken? We think he pretty much summed up that he and Griffin are still pals.