Inside Lauren Burnham And Arie Luyendyk Jr.'s Lavish Home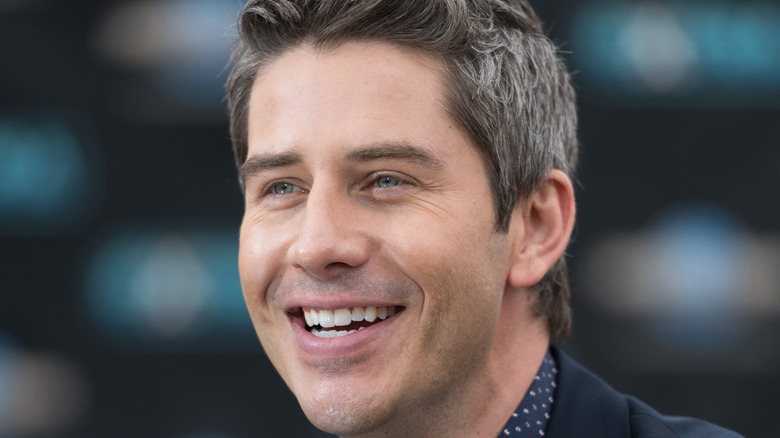 Noel Vasquez/Getty Images
The love story for "The Bachelor" lovebirds Arie Luyendyk Jr. and Lauren Burnham has been a wild one. They surprised fans in April with big house news, and it was just one of several significant decisions they revealed over the past year or so. What's the scoop on their lavish home purchase?
Arie's run as "The Bachelor" for Season 22 was filled with twists and turns, but ultimately, he found his wife. After getting engaged to Becca Kufrin, he realized his heart was with runner-up Lauren Burnham. By the time his "Bachelor" finale aired in March 2018, about four months after taping, Arie had split with Becca and reunited with Lauren. During the finale, he proposed, and Lauren accepted.
Lauren and Arie's engagement came quickly, as did some other major life developments. Lauren moved to Arizona, and the two planned a January 2019 wedding in Hawaii, detailed Us Weekly. The couple was already expecting their first child by then, and they welcomed daughter Alessi on May 29, 2019 (per People). For Arie's first Father's Day, Lauren praised her husband in an Instagram post, writing, "I remember back when we were in Peru telling your family how I could see you as a father to our kids." She added that "getting to see it all come to life has been the most beautiful blessing." Fast-forward about two years, and "The Bachelor" stars are living their best lives with three kids and two lavish homes.
Arie Luyendyk Jr. and Lauren Burnham have a gorgeous Scottsdale property
In May 2020, Lauren Burnham and Arie Luyendyk Jr. revealed via YouTube that they'd endured a miscarriage, and the revelation came shortly after they'd moved into a new Arizona home. "We bought a new house with more space, we planned how we wanted to tell you all and we envisioned our future with Alessi's little brother/sister," the video caption read. 
Shortly after opening up about the miscarriage, Arie and Lauren shared a video tour of their new Scottsdale home. They highlighted the gorgeous pool, large yard, and stables before showing off the jaw-dropping interior. Inside, Arie and Lauren swooned over the big windows, stunning kitchen, "baby wing," enormous his-and-hers bedroom closets, and "crazy-high" ceilings. Although the home was updated a few years ago, "The Bachelor" pair planned significant renovations, including transforming the stables into an area with a gym, a suite where her parents could stay when visiting, and an area for all of Arie's "toys."
A few months later, in December 2020, Lauren and Arie announced they were expecting again. They admitted in their YouTube announcement they'd known for a while, and they took "The Bachelor" fans along for a ride as they shared the news with loved ones. Soon after the pregnancy reveal, they shared they were expecting twins. Shortly before the babies arrived, Arie and Lauren decided they wanted to own not just one gorgeous home for their growing family, but two.
Arie Luyendyk Jr. and Lauren Burnham bought a beach getaway in Hawaii
In April, Arie Luyendyk Jr. and Lauren Burnham teased, "We're moving to Hawaii!" (per YouTube). "The Bachelor" pair showed off their new two-story, four-bedroom home in Maui, raving over Arie's "fav" area as Lauren added, "This is where the magic happens." The area they gushed over was the spacious living room and large windows opening up to a large deck and a gorgeous view of Hawaii. The kitchen, one bedroom, and the master bedroom and bathroom were on the upper floor, while two bedrooms and a future playroom were downstairs, along with a bathroom with a tub.
Arie explained Lauren once told him, "I'm fine living in Arizona as long as we can escape to the beach." Buying the Hawaiian home was a "dream for us," he said, while Lauren called it the "best idea ever." She added, "I've always dreamed about having little beach babies." Arie noted, "We're going to make all these memories here, we're going to have the best life, it'll be, like, the perfect spot to raise those little babies." 
According to Lauren, the family won't live in the Hawaii home full-time, via Us Weekly. She mentioned the "miserable" Arizona summers, saying, "We just wanted to have a good escape, and I've always wanted to be near the beach." Arie and Lauren welcomed twins Lux and Sienna shortly after buying the Hawaiian home, and "Bachelor" fans will love to see the family enjoying the gorgeous space.