Why Gigi Hadid Doesn't Want Help Raising Her Daughter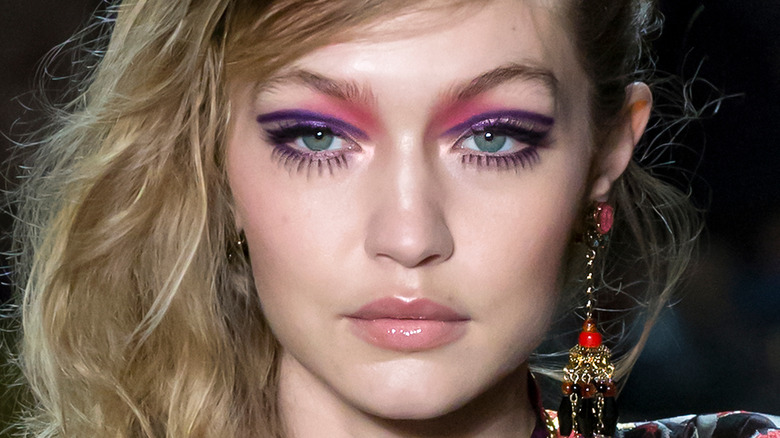 Shutterstock
It's no secret that Gigi Hadid is one of the most well-known supermodels on the planet. It's hard to believe that we first met her on an episode of "The Real Housewives of Beverly Hills" in 2012, per IMDb, when her mother, Yolanda Gigi, was a cast member. She counts Kendall Jenner as one of her BFFs, and she's accumulated a considerable fortune along the way. Gigi has also landed herself quite a catch in former One Direction star Zayn Malik. Hubba, hubba. 
The pair started dating in 2015, per Glamour, and in 2020, they welcomed their first child together. "Our girl joined us earth-side this weekend, and she's already changed our world. So in love," Gigi wrote on Instagram in September 2020. The new mom has yet to share a full-on shot of baby Khai's face, but she's posted a few sneaks of her adorable little body on her feed. We must admit that this baby already has more style than we do, thanks to her supermodel mama.
Gigi also shared an incredibly sweet post to celebrate her first Mother's Day, expressing how much her daughter means to her. "The rumors are true: my best friend, purpose, muse, greatest pride & joy! I feel so lucky and inspired bein your mama, my Khai!" she wrote. "An old soul full of sunshine, you light up everyone's days! Thank you, thank you thank you."
So why is Gigi taking motherhood on without the help of any nannies? Keep scrolling to find out!
Gigi Hadid is taking on motherhood full-force
Gigi Hadid has all of the money and resources available to employee help taking care of sweet baby Khai, but that doesn't mean that she's using it. In a February interview with Vogue, Gigi's mom, Yolanda Hadid, shared that her daughter doesn't have the typical Hollywood entourage. "She decided to completely take care of the baby alone," Yolanda revealed. "And I think that bond is so important."
"I'm proud of her face on a magazine, but seeing her give birth was a whole other level of proud," Yolanda continued. "You go from looking at her as a daughter to looking at her as a fellow mother." It's clear that both Gigi and Yolanda are proud moms. In the same interview, Bella Hadid admitted that her sister is pretty protective of her baby, noting that she wants to be "real online," but doesn't want to put Khai out there for the world. "Until her child wants to be in the spotlight and can make the decision herself, she doesn't want to put her in that position," she shared.
Is it just us, or does Gigi Hadid seem like the best mama ever? Khai is definitely lucky to have such a loving mother who always seems to put her daughter first, but that doesn't mean that Gigi isn't human and second-guesses herself just as much as the rest of us. Keep reading for more deets.
Gigi Hadid still has worries about motherhood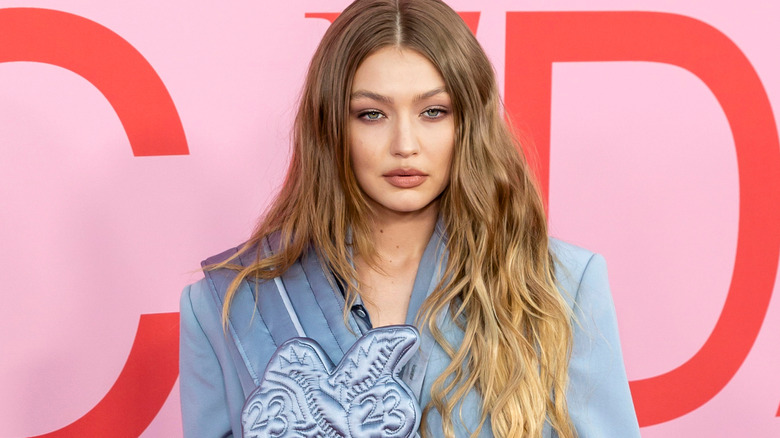 Shutterstock
Gigi Hadid has seemingly done really well so far with motherhood. The model regularly gushes over her daughter, and in turn, Gigi's family raves over what a good mom she is, but that doesn't mean that it's all a cakewalk. In a July interview with Harper's Bazaar, Gigi revealed that she used to have "anxieties and days" where she questioned if she was "good enough to be a mom."
Luckily, the model found a way to express her feelings, and she shared with the outlet that she frequently journals to cope with some of the stresses that she feels. "I didn't want to feel guilty about feeling those things or writing those things down. I just liked the separation," she revealed to the outlet. "I also have sketch pads where I'll watercolor-sketch, and sometimes I end up writing there too. I write on the back of receipts and keep those in a notebook."
For now, Gigi is just trying to focus on the little things in motherhood, because sometimes the littlest moments mean the most. "The highlight [of motherhood] is, I would say, like, the most simple things," she told Access Hollywood. "Just seeing her learn something new every day, even if it's, like, picking up a cup or putting a ball in a hole." Ugh, how sweet. "You just think they're the best, most genius thing that's ever been born ... just the small things," she continued.
One thing's for sure ... motherhood looks good on Gigi.