The Truth About Justin Bieber And Morgan Wallen
Jason Kempin/Getty Images
Morgan Wallen made headlines in February when he came home from a night out with friends in Nashville and began yelling profanities and racial slurs from his driveway, which was all caught on camera by a neighbor, per TMZ. In the video, the country crooner tells a friend to watch over another guy in the group, "take care of this "p****-a** mother******" — and then goes on to say, "take care of this p****-a** n*****." Wallen's music was pulled from visible spots on Spotify and Apple, and his music was removed from SiriusXM, Pandora, CMT, and top radio chain iHeartRadio as early as the next morning. He was also suspended from his record label Big Loud Records, per Variety.
After facing growing backlash, the "Whiskey Glasses" singer issued an apology. "I'm embarrassed and sorry. I used an unacceptable and inappropriate racial slur that I wish I could take back," Wallen said, via CNN. "There are no excuses to use this type of language, ever. I want to sincerely apologize for using the word. I promise to do better." In July, the 28-year-old Tennessee native gave his first TV interview since the incident to "Good Morning America's" Michael Strahan. "It was — in our minds, it's playful," Wallen said of using the racial slur. "That sounds ignorant, but it — that's really where it came from."
Read on to find out what Justin Bieber has to do with all of this.
Justin Bieber apologized for showing support for Morgan Wallen's new album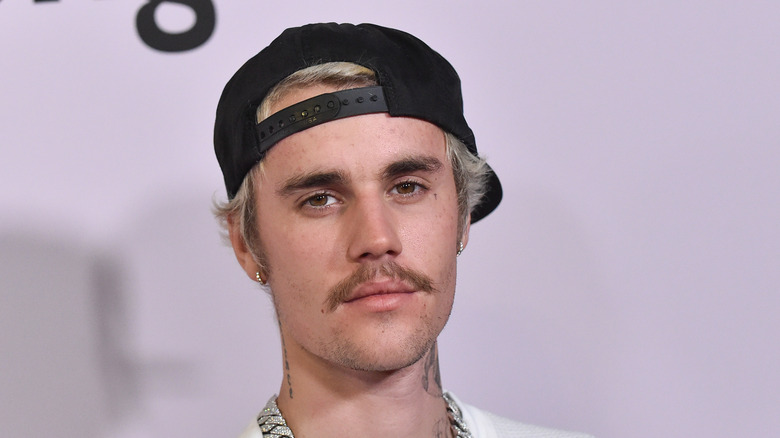 Shutterstock
In August, Justin Bieber showed support for fellow singer Morgan Wallen on his Instagram Story. He shared a photo of Wallen's latest album "Dangerous: The Double Album" with the caption "Love this album." The "Peaches" singer received immediate backlash for promoting Wallen's album in light of his use of the N-word back in February. The 27-year-old pop star quickly issued an apology on his Instagram Story, explaining he had no idea about the incident. "I had no idea that the guy's music I posted was recently found saying racist comments, as you know I don't support or tolerate any sort of racism or discrimination," Bieber wrote. "I had no idea, I sincerely apologize to anyone I offended," Bieber wrote (via People).
The "Hold On" singer continued in his Instagram Story, "When I was a kid, I was incredibly ignorant and said some very hurtful racist jokes that were clearly not funny," Bieber shared. "I hurt a lot of people especially the Black people in my life but was fortunate enough to have had them educate me on the horrifying origin of the N-word. This brings those painful memories back up, I will always take ownership for my ignorance and my past because I know I am not that person," via People.
But Bieber and Wallen are not the only celebrities to be caught in the middle of racial controversy.
Other celebrities have been in hot water for racial comments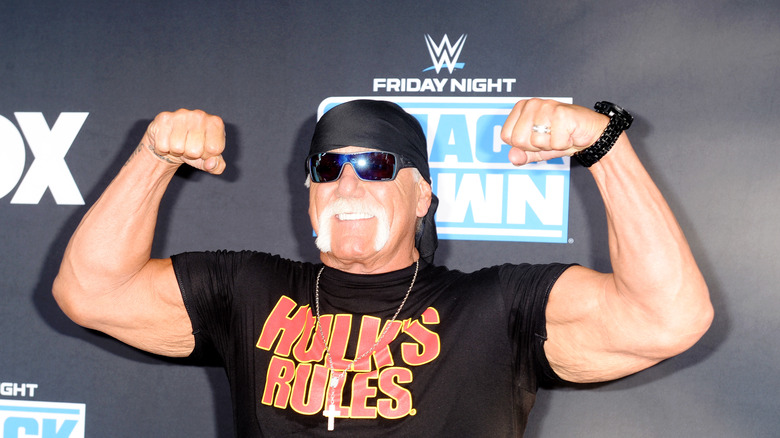 Jerod Harris/Getty Images
Morgan Wallen isn't the first celebrity to be called out for making racially tinged comments. On this unfortunate list is also Guiliana Rancic, who made an insensitive comment about Zendaya back in 2015 when she was co-hosting the now-canceled show "Fashion Police." Rancic said that Zendaya's red-carpet dreadlock hairstyle made her look like "she smells like patchouli oil and weed," via Vanity Fair. The show went on a six-month hiatus after the comment, per Glamour. 
And the WWE fired Hulk Hogan in 2015 when additional footage was released from the wrestler's 2012 sex tape. The video revealed him making racist comments about his daughter Brooke's boyfriend, whom he thought was black. "I'd rather if she was going to f*** some n*****," Hogan reportedly said on the tape, via The Daily Beast. "I'd rather have her marry an eight-foot-tall n***** worth a hundred million dollars! Like a basketball player!" Hogan later apologized (via People), saying, "This is not who I am."
Wallen is only the latest celebrity to be called out for making insensitive comments. And stars like Justin Bieber and Maren Morris have been quick to distance themselves from the country singer, per Us Weekly.