Why Lindsie Chrisley Is Shocked By Her Dad Todd
Frederick M. Brown/Getty Images
It's no secret that Lindsie Chrisley has had a contentious relationship with her father, Todd Chrisley, over the past few years. The eldest daughter of Todd, who he shares with ex-wife Teresa Terry, has not been on the best of terms with Todd, and she doesn't shy away from speaking about him in the press. She even accused her father of threatening to release a sex tape. Yeah, things got pretty bad there for a while, not dissimilar to what went down between Todd and Kyle Chrisley.
The "Coffee Convos" podcaster announced her divorce on social media in July and shortly after, Todd took to his own Instagram account to share a post that seemed to be referencing Lindsie's divorce. In the upload, Todd shared an image of a beautiful outdoor space that overlooked a vast body of water. "I'm here. I love you," he wrote. "Whatever is going on in your life right now, I see it, and I'm working all things out for good, for you, my child. There is nothing you can do or have done that will make me ever love you less."
"I will protect you from anything, and anyone who tries's to harm you or your reputation," he added. "I am stronger than depression and anxiety." In addition, he signed the post from "God and Todd." He also used a hashtag to note that the person he was referring to knew who they were.
Keep scrolling to see what Lindsie had to say about the post — when she was finally able to see it.
Lindsie Chrisley would have been good with a phone call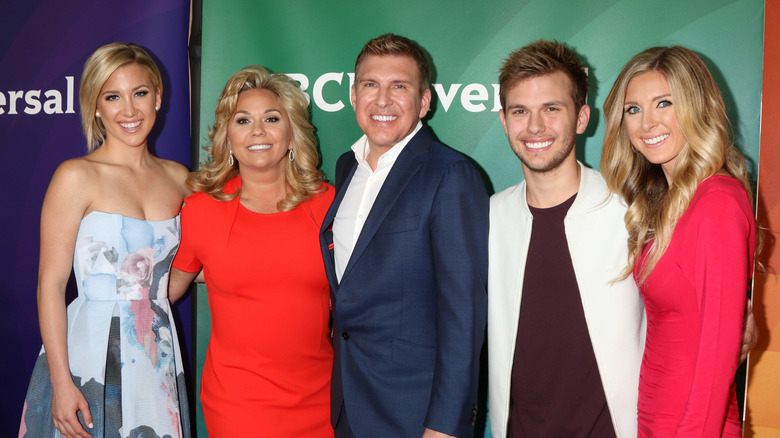 Shutterstock
Lindsie Chrisley acknowledged what Todd Chrisley said in a social media post in a statement, per People. She shared that the imminent news of her divorce has "weighed heavily on me and my emotional state," noting that it was very "freeing" for her to be able to tell the public on social media in July. "Along with processing sharing something that is so personal with the world, it was brought to my attention that there was a post made by my dad on Instagram," she added. The reality star shared that Todd blocked her on the platform so she didn't see it for herself.
"I have many feelings about this, but part of my growth process is that I need to process those feeling before speaking on them because — as we've talked about on here before — part of my homework and therapy for some time now has been disengagement," Lindsie shared. "I truly was shocked when I saw something so personal shared as we do have each other's numbers."
Lindsie also shared that their legal teams will be communicating over the next few weeks, but she didn't divulge any further details as to what would be discussed. In July, Lindsie took to her Instagram to reveal that she and Will Campbell opted to divorce following nine years of marriage and one child together. "While one door closes, another opens," she wrote in the post. She also shared that they have nothing but "respect & love" for one another.