Does Mike Richards Have A Shady Past That No One Wants To Discuss?
Jason Kempin/Getty Images
After Alex Trebek's death in November 2020, fans of "Jeopardy!" have been anxiously waiting for Sony Pictures Television, the studio that produces the iconic game show, to name a permanent host. For the past several months, producers unrolled a series of guest hosts, with big names like Katie Couric, Ken Jennings, and Bill Whitaker hoping to earn the permanent slot, according to Parade. At the time, "Jeopardy!" executive producer Mike Richards said that he was looking forward "to each guest host bringing their unique abilities to the show," but didn't comment further on whether they would be vying for a permanent spot as Trebek's successor. Or the fact that he would. 
As it turns out, Richards might have already been chosen as the replacement by Sony executives, after executively producing the shows over the past year. On August 4, Variety broke the news that Richards was in "advanced negotiations" to become the permanent host of "Jeopardy!" He reportedly impressed Sony Pictures executives "with his command of the fast-paced game and an easy on-air manner," per Variety.
A spokesman for Sony said the negotiations were ongoing and wouldn't comment to the outlet on Richards' status. However, Richards might have a shady past that will put his offer in, well, jeopardy. Find out what he has done below.
Mike Richards has faced 'multiple discrimination lawsuits' from gameshow models
While news of Mike Richards possibly becoming the permanent host of "Jeopardy!" made headlines on August 4, so did his questionable reputation and past incidents, which involved multiple discrimination lawsuits. According to Variety, Richards "was named among the defendants in multiple discrimination lawsuits filed during his 10-year run as executive producer of the 'The Price Is Right.'" (Richards also previously executively produced "Wheel of Fortune" and CBS's "Let's Make a Deal.")
In one of the lawsuits, former "Price is Right" model Brandi Cochrane, per Variety, accused Richards of firing her in 2010 because she had become pregnant and dealt with a difficult pregnancy. Model Lanisha Cole filed another suit a year later, claiming that she was "wrongfully terminated and subject to harassment on the set." The case was settled out of court in 2013. However, Richards and other producers went to trial in Cochran's case in 2013, where a jury awarded her $8 million in damages, but the decision was overturned in late 2014, and both parties reached a settlement.
According to court filings from the Cochran case, Richards was none too happy about the model's pregnancy. "Go figure, I fire five models, what are the odds one of the ones that I keep gets pregnant," he reportedly said at a 2008 holiday party. "Price" producers, including Richards, did not rehire Cochrane after her maternity leave in 2010. "Jeopardy!" fans weren't happy upon reading about this shady info.
Fans of 'Jeopardy!' don't want Mike Richards to tarnish Alex Trebek's legacy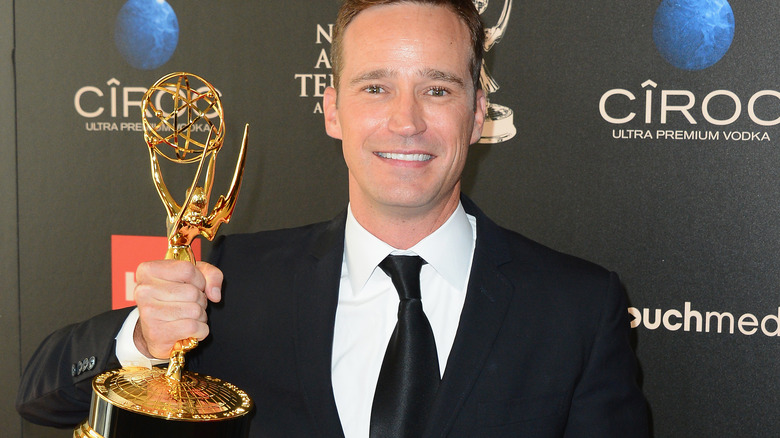 Mark Davis/Getty Images
If Mike Richards already faced a high bar in succeeding Alex Trebek, the legend who hosted "Jeopardy!" for more than three decades, he will also need to win over fans of the show who are currently not too pleased with his questionable past. "@Jeopardy This is not acceptable in a potential host. There are so many other outstanding contenders," a Twitter user tweeted in response to a report about Richards' lawsuits. "Choose someone that doesn't have a huge legal paper trail of violating women."
"Mr. Trebek would be ashamed if he knew about these allegations. He would not endorse Richards," another user wrote. "Do the right thing and hire one of the more qualified guest hosts." Other users also commented that Richards' offer should be rescinded for a more diverse host, whereas others even commented – memes galore – on the fact that Richards was an internal hire. 
For his part, Richards told USA Today in May 2020 that he'd welcome the opportunity to be a permanent host on "Jeopardy!" saying, "I would definitely consider it if Sony made that decision and wanted me to do it. It would be amazing." "Jeopardy" producers have not yet commented on Richards' past history nor released a statement on his rumored hiring.