The Shady Joke Kathy Griffin Made About Britney Spears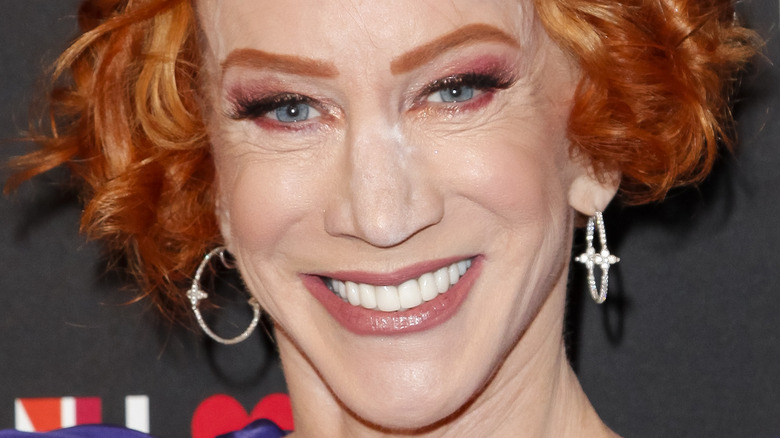 Tibrina Hobson/Getty Images
Kathy Griffin has spent the most part of her career not only poking fun at herself, but many other reality television stars and struggling celebrities who are yet to achieve A-list status in the entertainment industry. The Emmy- and Grammy-winning comedian is not afraid to speak the ugly truth and often crosses a line that her counterparts would never dare to go.
However, there was a time in which Griffin might have gone a little too far when she cracked a joke about Britney Spears' mental health without knowing what she was going through at the time. Surprisingly, Griffin too has admitted to dealing with some of her own inner struggles in the past. She told ABC News, "I mean, who bottoms out and tries to take their life at 59? It's almost a joke, right, and by the way, someday, this will all be comedy. Trust me... I was laughing to stay alive. And what I found is I felt like if I can't make others laugh, then there's no purpose for me to live. There's no reason for me to live."
With that said, a lot of fans can't help but wonder why she would target someone like Spears. To find out what she said about her, keep reading below.
Kathy Griffin's not-so-subtle swipe at Britney Spears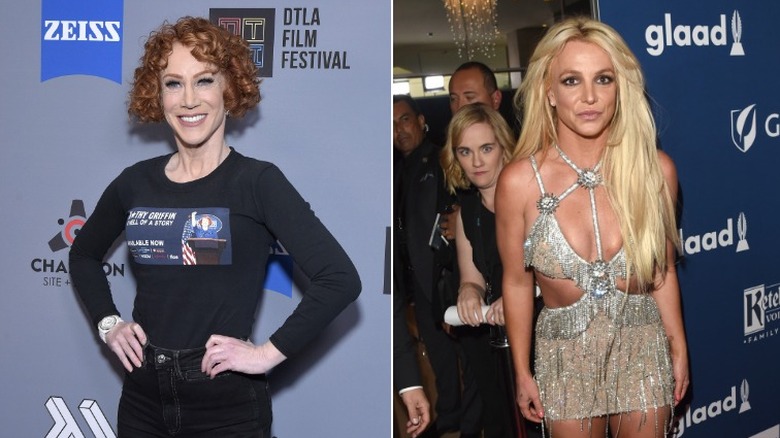 Michael Tullberg, J. Merritt/Getty Images
As many fans know, Britney Spears has been under a conservatorship and the watchful eye of her father Jamie Spears since 2008. During her court hearing in June, Spears admitted that her therapist gave her lithium, a drug that is normally used for mood stabilization, according to Newsweek. 
Without knowing the circumstances of her conservatorship and her mental health struggles, Kathy Griffin took a jab at the pop star during an interview with Larry King in 2016. "I used to make fun of Britney Spears... Did you get the pinwheel eyes? You know what I'm talking about. She's not all there," Griffin told the talk show host.
When King asked what was the purpose of her bringing up Spears in the way, Griffin responded with, "I'm saying that I hope you were gentle with her, because she's a fragile ... sorry, I just wanted to know if you got through to her in a way that her doctors couldn't."
So, what prompted Griffin to take that pot shot at the princess of pop?
Kathy Griffin is now throwing her support behind Britney Spears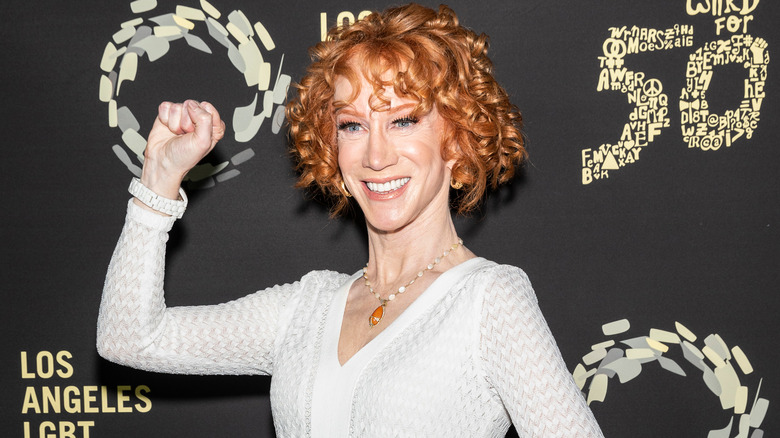 Shutterstock
It turns out that Kathy Griffin might have just been bitter over an awkward encounter she had with Britney Spears after her Las Vegas shows in 2014. Griffin played a small role during Spears' "Freak Show" segment of her concert. The comedian said that while she was "game" for anything, she didn't expect to be treated like she had permanent membership on the D-List.
Griffin was on the "Jimmy Kimmel Live" show when she recalled what had happened. According to Too Fab, she said, "They said 'Are you game for anything?' I said 'Of course,' and then I got past the 'Don't look in her eyes' and I was determined to look in her eyes and it turns out they were pinwheels on fire. I was in the hallway with me tour manager. Basically we were looking with a laptop, trying to get WiFi, and we were facing the middle of the hallway. Her bouncers came down with her and told us to face the wall ... [as Britney walked through]."
Well, it seems like Griffin has now put all that in the past because right after her testimony over her conservatorship, she tweeted her support for the "Toxic" singer. She tweeted, "Wow. Love her. 25 minutes, and I was hanging on every word." There's a good chance that all of the "Free Britney" fans have also been hanging on every word Griffin said in the past, too.