Thomas Markle Disputes Rumors Of A Political Career For Meghan Markle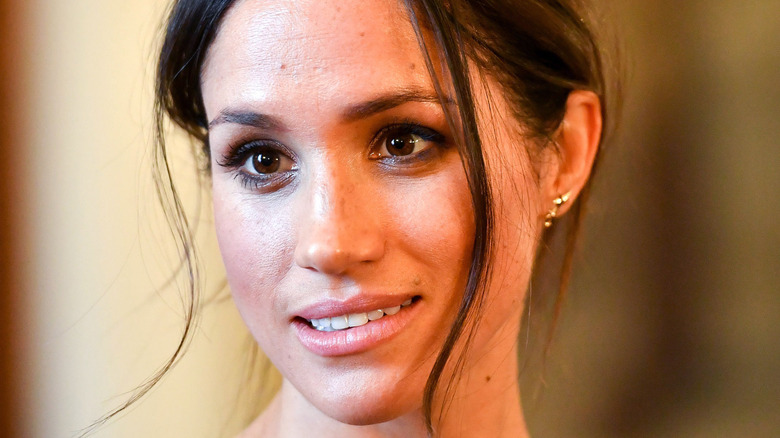 Wpa Pool/Getty Images
There are dysfunctional families, and then there's Meghan Markle's family. Her dad Thomas Markle never misses an opportunity to be in the news, and takes advantage of every headline about the Duke and Duchess of Sussex. After Lillbet Diana's birth, the Daily Mail reported that Thomas was angry at Meghan and Harry refusing to see him. Thomas complained that even "axe murderers" get more family visits than him. "I'm not an axe murderer," he said. "I made one dumb mistake and I've been punished for it. This show they've been on, they talk about compassion, there's no compassion for me, no compassion for my family, and no compassion for the world." According to Thomas, he hasn't talked to Meghan in over three years.
Thomas also appears to be angry with... Oprah Winfrey. In June, Thomas went on to talk to "60 Minutes" Australia about his daughter, but also took the opportunity to slam Oprah for "taking advantage of Harry." Now, Thomas is making headlines again. Keep reading to find out what Thomas has to say about a career in politics for his daughter Meghan.
Meghan Markle does not have "any ambition" to be president according to Thomas Markle
The estranged father of the Duchess of Sussex talked to GB News about the possibility of his daughter running for office. According to Thomas Markle (via Newsweek), his daughter Meghan Markle does not have "any ambition" to be president, and "Oprah would push her out of the way anyway." Thomas continued, "I don't think she has any ambition to be a mayor. I don't think she has any ambition to be a governor or president. I don't think that's in her mind at all. If someone's saying that, it might be cute." Meghan's father continued to opine that his daughter's run for political office is "a joke, from beginning to end, I think it's a complete joke." 
Newsweek reported that Meghan has never announced she'd like to run for any kind of office. However, she did participate in Michelle Obama's "When We All Vote" effort to get people to the polls ahead of the 2020 presidential race. Thomas' comments come not long after negative comments from Meghan's half-sister and half-brother, Samantha Markle and Thomas Markle Jr. Who needs enemies with a family like the Markles?