The Truth About Mary Trump And Meghan McCain's Feud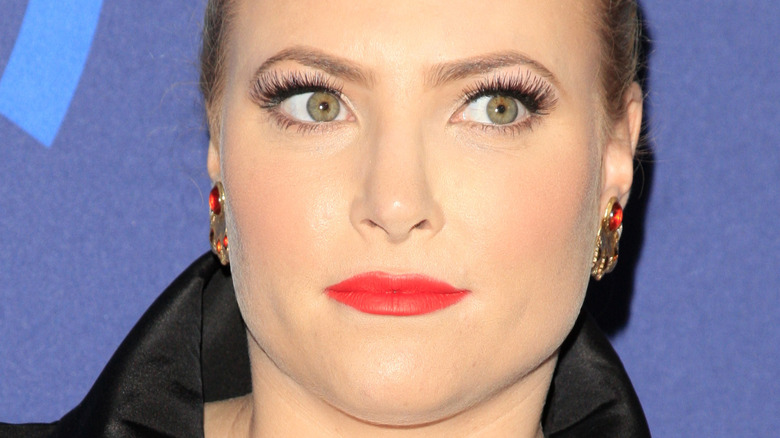 Kathy Hutchins/Shutterstock
Meghan McCain left "The View" on August 6, but her time on the show is still generating headlines. The conservative Republican served as co-host on the female-led daytime talk show for four seasons from 2017 to 2021. Throughout her stint, McCain publicly feuded with her fellow co-hosts and guests on air. She famously fought with Joy Behar after she came back from maternity leave in January. The comedian told McCain that she "did not miss" arguing with her after McCain interrupted her over a discussion about the Republican party, according to the New York Daily News.
While McCain had the most on-screen fights with Behar, a guest whom she did not have good feelings toward was Mary Trump, niece and outspoken critic of former President Donald Trump. Mary first appeared on "The View" in June 2020, per People, where she was promoting her book. During the segment, McCain accused Mary of "cashing in" on her family name. 
Since then, the feud between both of them has escalated. Find out the truth about Mary and McCain's relationship below.
Mary Trump said Meghan McCain lacked the "courage" to face her
Mary Trump couldn't help but remind everyone that she and Meghan McCain do not get along when she appeared on "The View" to promote her latest book, "The Reckoning: Our Nation's Trauma and Finding a Way to Heal," on August 2, per USA Today. McCain was conspicuously absent from the show that day, and Mary couldn't help but take a dig at her while stating that her uncle Donald Trump had caused "unnecessary deaths of hundreds of thousands of Americans" due to his handling of the COVID-19 pandemic.
"It's a shame that your colleague didn't have the courage to come on and have this conversation with me," Mary said to co-hosts Whoopi Goldberg, Joy Behar, Sara Haines, and Sunny Hostin. McCain, who got wind of Mary's comments, did not appreciate being called out. "There is no 'good' Trump family member to me," she tweeted shortly after the episode aired. "Continue to wish they would all just leave me and my entire family the f*** alone."
The war of words continued on social media with Mary calling McCain "entitled" in her reply. "I have plenty of respect for Meghan's parents. It's too bad she can't take responsibility for her own actions," Mary tweeted later that day. "That's the problem with entitlement — it's dangerous. And so is our failure to hold powerful people accountable."
While McCain did not engage any further with Mary, the author has more to say about her.
Mary Trump thinks Meghan McCain is a coward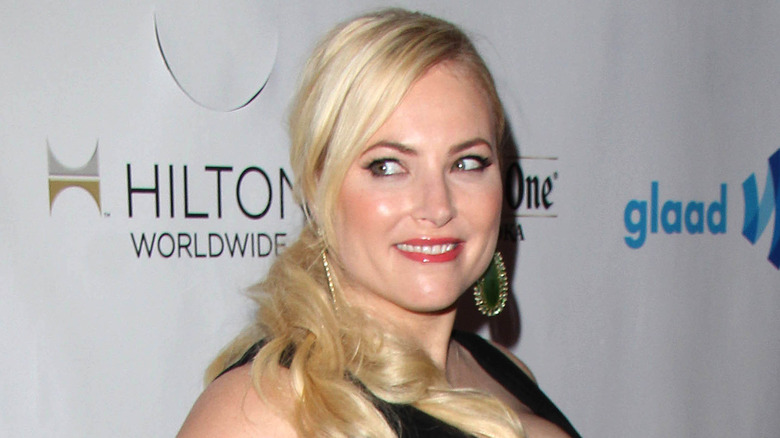 Kathy Hutchins/Shutterstock
In a wide-ranging interview with The Daily Beast published on August 16, Mary Trump explained why she thought Meghan McCain avoided her on "The View." "I think she's a coward. And she's afraid of people who are not only willing but able to call her out," she told the outlet. "I'm pretty sure she probably remembers our first meeting."
She continued, "It was the first time in an interview somebody had been rude to me, and pushed back...I literally can't remember the last time somebody was that disrespectful to me. I've done nothing to her."
Mary said that she wanted to "eviscerate" McCain on her second appearance on the show, but she was a no-show. "I thought I needed to find a way to drag her into this," she added of her comments on the show. "Because, you know, she's awful. I mean, she's just a nonentity."
With Mary's latest comments, it seems like there's no love lost between them.