How Many Homes Does Christina Haack Own?
The past year has been a whirlwind for HGTV star Christina Haack. To the heartbreak of fans across the country, she filed for divorce from her now ex, Ant Anstead, after less than a year of marriage. This came on the heels of her first divorce from her former "Flip or Flop" co-host Tarek El Moussa. Unfortunately, that divorce was reportedly much messier than her split from Ant. The pair isn't exactly on the best of terms as Tarek allegedly publicly yelled at Christina on set, per Yahoo.
The good news? Christina's divorce from Ant reportedly went much more smoothly than her first (though he was admittedly heartbroken at the beginning). They share custody of their almost-2-year-old son, and they are each dating new people. Ant is dating Renée Zellweger, and Christina is dating Austin-based realtor Joshua Hall, per People. Additionally, they were able to amicably split up their property, with Christina taking most of the houses and Ant taking the cars.
With her recent purchase of a $2.5 million vacation house in Nashville, Tennessee, Christina is building on her already impressive real estate portfolio, per Yahoo. So exactly how many homes does Christina own, anyway? Let's find out.
Christina certainly owns a lot of property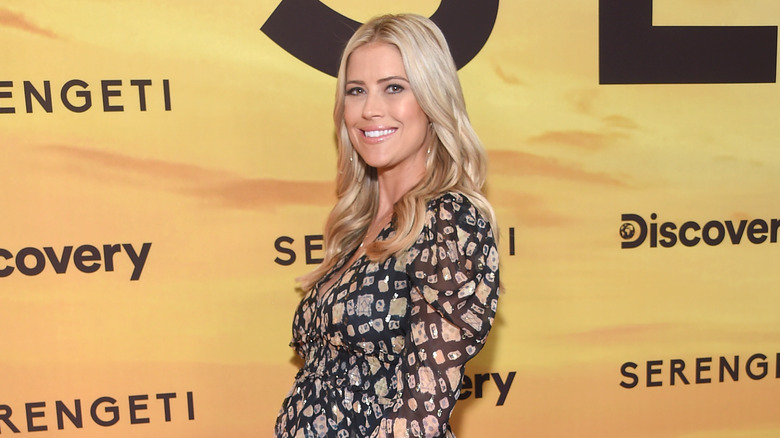 DFree/Shutterstock
Christina Haack's new $2.5 million home in Nashville is only the most recent addition to her impressive portfolio. The Nashville home sits on 23 acres, she told People in May, and contains six beds and five and a half baths, per Taste of Country. Christina, who hosts "Christina on the Coast," won't be leaving her home base on the West Coast, though. In her July divorce from Ant Anstead, she walked away with four properties in California, as well as the Nashville home in Tennessee, per TMZ. Plus, the fact that Christina owns so many homes though means that inevitably most of them are vacation homes.
Of the properties in California, Christina recently sold one for $5.35 million, per The Dirt. Rather than allow the sale to deplete for assets, though, Christina traded up and nabbed a $10.3 million house in an exclusive enclave of Orange County, per Yahoo.
If you've been keeping track, that brings Christina's grand total of houses up to five. That may sound like a lot, but Christina needs lots of space because her inner circle is expanding.
Christina might need more space for her boyfriend
Out with the old, in with the new. Christina Haack didn't just trade up one Southern California property for another. She also traded up one relationship for another. As we mentioned above, Christina, who only recently finalized her divorce from Ant Anstead, is already dating someone new. The reality star has been linked to Joshua Hall, an Austin-based realtor, for months now.
They are getting pretty dang serious too. Christina sparked engagement rumors in August when she reportedly posted an Instagram photo showing off an engagement ring and then quickly deleted it without any explanation, per TMZ. So, does this mean Christina is engaged? Thats unclear, but she has spoken openly about how quickly she and Hall got serious. "I felt immediately crazy protective over him and wanted to keep him for myself and get to know each other before the tornado (media attention) hit," she reportedly wrote on Instagram shortly after they began dating, per Us Weekly.
Christina has two children from her previous marriage with Tarek El Moussa and one from her marriage to Ant. Does that mean she's ready to expand her family with Hall? While we don't know for sure, what we do know is that her realtor "maybe-fiance" can definitely help her pick up some more property in Texas if they want.