Inside The Rumors About Lori Loughlin Joining RHOBH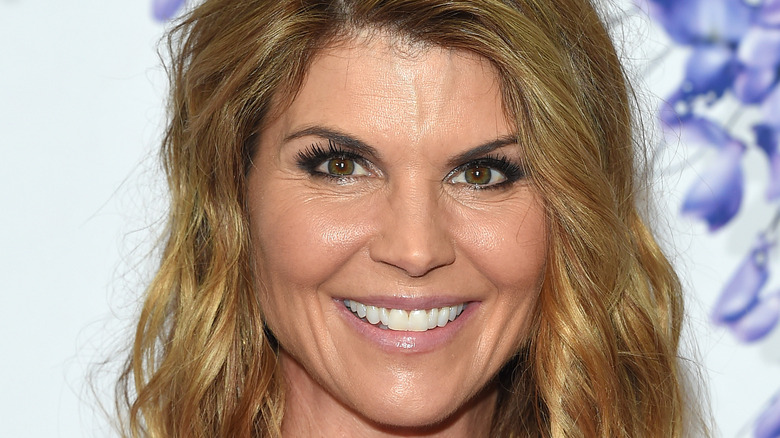 DFree/Shutterstock
From the outside, it seems like Lori Loughlin has everything that it takes to be the perfect Real Housewife: she's a well-known celebrity, has quite an interesting marriage, two children who are also in the spotlight, and, of course, a scandal that everyone has been talking about for the last two years. So, it shouldn't come as a surprise to anyone that there was some speculation that Loughlin would be joining the cast of the "Real Housewives of Beverly Hills."
And while has been making headlines for her college admissions scandal and stint in jail more than anything else, there was a time when Loughlin presented a "good girl" image, similar to the characters she played on the Hallmark Channel (or as Aunt Becky on both "Full" and "Fuller House"). Back in 2016, and before the world knew about the way she and her husband Mossimo Giannulli allegedly got their two daughters Bella and Olivia Jade Giannulli into the University of Southern California through bribes, she said that she's the kind of parent who likes to keep her family grounded. "I would say that I am loving but that I am firm. ... I am involved, but I am not hovering. I'm there to guide," she told Us Weekly.
With that kind of scandalous background and a rap sheet to boot, it's no wonder so many people would love to see Loughlin become a Real Housewife. But what does executive producer Andy Cohen have to say?
Lori Loughlin's certainly got 'a story to tell'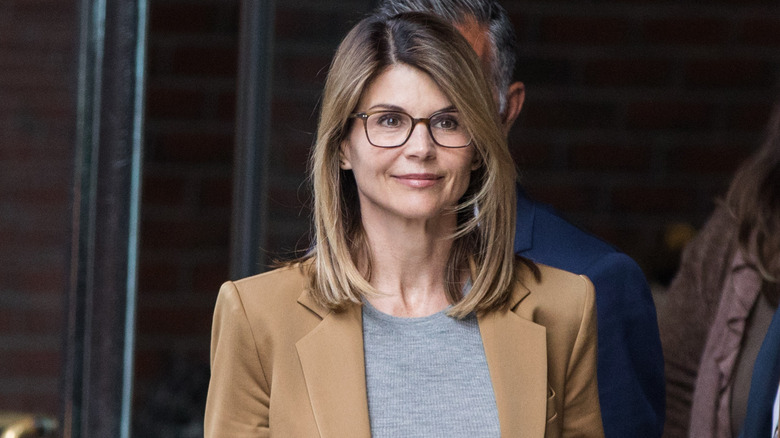 Bloomberg/Getty Images
While Lori Loughlin is a person that certainly has a story to tell and is also someone who isn't shy in front of the cameras, Andy Cohen isn't ready to give her a Bravo contract to sign just yet. In fact, he set the record straight on his SiriusXM show. "There is a whole narrative, apparently, that I am pursuing Lori Loughlin for 'The Real Housewives of Beverly Hills.'" But as he continued, "The first I heard about that was Twitter ... It's not true," he said. However, he also added, "Lori Loughlin is a very nice person. She's going to have quite a story to tell. And she's always been lovely."
Loughlin, for her part, has not made one comment nor has she granted one interview since she completed her two-month prison sentence back in 2020. The former "Fuller House" star certainly does have a story to tell — and, according to fans, the best place for her to tell it would be at The Palm for a boozy brunch with her "RHOBH" co-stars, right?
'RHONJ' star Teresa Giudice advised Lori Loughlin about prison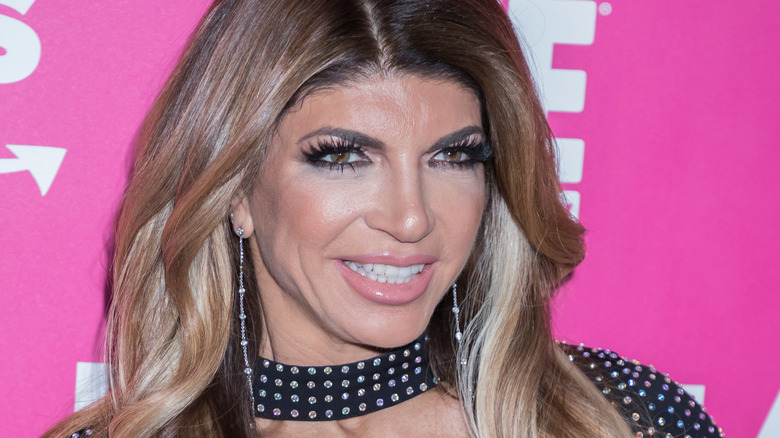 Sam Aronov/Shutterstock
The "Real Housewives" franchise has seen its fair share of stars get into some kind of legal trouble and mess over the years. Of course, pretty much everyone is aware of "Real Housewives of New Jersey" star Teresa Giudice and the time she spent in prison for tax fraud. If that weren't enough, there's also Jen Shah of "Real Housewives of Salt Lake City," who was also arrested in an alleged fraud case. Erika Jayne of "The Real Housewives of Beverly Hills" has been named in a lawsuit after her estranged husband Tom Girardi allegedly embezzled funds meant for families of the victims of the 2018 Lion Air plane crash.
Since Teresa knew the ins-and-outs of prison as a famous face, she seemed to sympathize with Loughlin over the fact that the actor was facing possible jail time in 2019. The New Jersey native even gave the television star some sound advice about life behind bars. "I feel women are strong. We have babies, we do it all. I'm sure whatever outcome it is, I'm sure she'll be fine with it," she told ET Online at the time. (Loughlin served two months in prison in late 2020.)