Prince Harry Reveals He Was In 'Total Chaos,' But Is In A 'Good Place' Now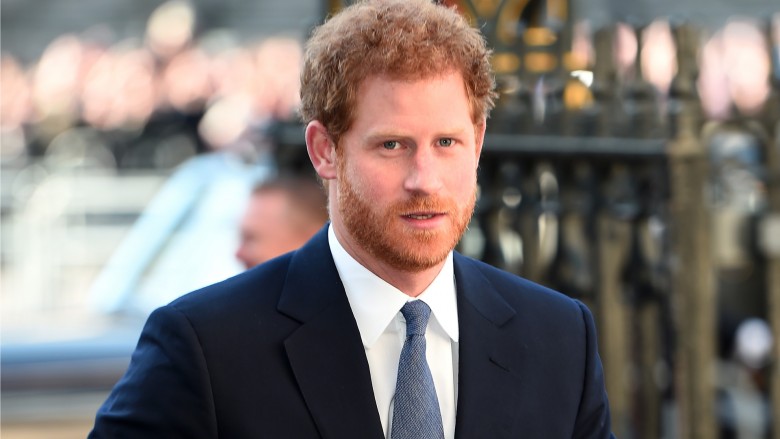 Getty Images
Prince Harry opened up about a near meltdown he had in his 20s, spawned by the death of his mother, the late Princess Diana, when he was 12—and his own admitted failure to process his grief.
"I can safely say that losing my mom at the age of 12, and therefore shutting down all of my emotions for the last 20 years, has had a quite serious effect on not only my personal life but my work as well," Harry, 32, told the Mad World podcast in an episode debuting on April 16, 2017.
"I have probably been very close to a complete breakdown on numerous occasions when all sorts of grief and sort of lies and misconceptions and everything are coming to you from every angle," he added about life in the public eye after his mother's tragic passing in 1997 in a car accident in Paris. "My way of dealing with it was sticking my head in the sand, refusing to ever think about my mom, because why would that help? [I thought] 'It's only going to make you sad, it's not going to bring her back,'" he said. "So from an emotional side, I was like 'Right, don't ever let your emotions be part of anything.'"
He continued, "I was a typical 20, 25, 28-year-old running around going, 'Life is great,' or 'Life is fine,' and that was exactly it. And then [I] started to have a few conversations and actually all of a sudden, all of this grief that I have never processed started to come to the forefront and I was like, 'There is actually a lot of stuff here that I need to deal with.'"
Harry said his big brother, Prince William, was an integral part of his own emotional recovery.
"My brother, you know, bless him, he was a huge support to me," Harry said. "He kept saying, 'This is not right, this is not normal, you need to talk to [someone] about stuff, it's OK.' The timing wasn't right. You need to feel it in yourself, you need to find the right person to talk to as well."
Therapy wasn't the only refuge Harry sought at the time.
"During those years I took up boxing, because everyone was saying boxing is good for you and it's a really good way of letting out aggression," he said. "And that really saved me because I was on the verge of punching someone, so being able to punch someone who had pads was certainly easier."
Now, Harry is dedicating himself to removing the stigmas associated with mental health, mental illness, and seeking help.
"What we are trying to do is normalize the conversation to the point where anyone can sit down and have a coffee and just go, 'You know what? I've had a really s**t day, can I just tell about it?' Because then you walk away and it's done ... Because of the process I have been through over the past two and a half years, I've now been able to take my work seriously, been able to take my private life seriously as well, and been able to put blood, sweat and tears into the things that really make a difference and things that I think will make a difference to everybody else."
Harry noted that he's in a "good place" now, and that may well be why he's getting so serious with girlfriend Meghan Markle, who he visited in Toronto for Easter weekend. In fact, Markle, 35, has stepped down from her endorsement deal with clothing retailer Reitmans, which many are speculating is in preparation for a royal engagement announcement.
The Daily Mail reports that the Suits star was offered a substantial sum of money to renew her contract with the Canadian brand in Dec. 2016, but that she rejected it. Reitmans reportedly continued to market items from Markle's line until her team reached out to them to stop. "The promotion in 2017 was done by Reitmans outside of the deal," a source said. "Once they realized they did not have the right to use her in promotion and sale, they took it down."
The news comes not long after Markle also ditched her lifestyle blog, The Tig—which sources close to her insisted wasn't a result of royal pressures. Still, if she's giving up a clothing line, a website, and potentially her only mainstream starring role in Suits, as she's rumored to want to do, it's hard not to imagine that the possibility of joining Britain's first family may not have anything to do with it.