Kobe Bryant's Oldest Daughter Has A Major Life Update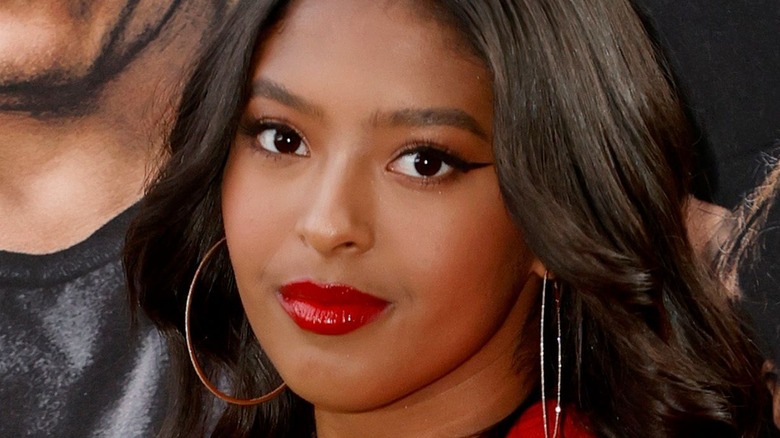 Frazer Harrison/Getty Images
Kobe Bryant's oldest daughter, Natalia Bryant, just taken a big step in her life. Her mom, Vanessa Bryant has been sharing updates with fans on social media showing how the family has been doing in the wake of the tragic deaths of Kobe and daughter Gianna in January 2020. Kobe and Gianna, who was just 13 years old at the time, both died after the helicopter they were traveling in crashed into a mountain side in Calabasas, California, with another seven people on board. Tragically, no one survived.
Vanessa has spoken out about her unimaginable grief on more than one occasion, but has also repeatedly showed off how she and her daughters, Natalia, Bianka, and Capri have continued to live their lives in memory of their late family members.
Vanessa has showed off multiple big milestones on her family-filled Instagram account, as well as continuing to pay tribute to her late husband and daughter. In April, Vanessa sweetly celebrated what would have been her 20th wedding anniversary with the basketball legend by posting a touching video tribute showing some of their sweetest moments together. "I love you for now, forever and for always @kobebryant," she captioned the upload, adding two red heart emoji.
Vanessa has since let fans in on another bittersweet milestone for her family without Kobe and Gianna, this time showing off a huge moment for Natalia that came just days before what would have been Kobe's 40th birthday on August 23.
Vanessa Bryant cried while dropping Natalia Bryant off at college
Vanessa Bryant took to Instagram on August 19 to share an adorable family photo as she and her daughters dropped Natalia Bryant off at college. Vanessa, Natalia, Bianka, and Capri flashed their gorgeous smiles while the mom snapped a selfie, revealing in the caption that it was a pretty tough day for her. "Today was rough. (This was before the tears came down). Missing [peace sign] forever," Vanessa wrote. "I love you @nataliabryant BE EPIC and FIGHT ON," she added, alongside a red and a yellow heart emoji.
Natalia revealed on Instagram in March that she'd be heading to the University of Southern California when she posted a stunning snap of herself rocking a USC top and baseball cap.
One day earlier, Vanessa couldn't contain her excitement and shared a touching Instagram video of her firstborn jumping up and down as she showed off her undeniable joy after being accepted into college. "Tears of joy. I'm SO happy for you Nani! I know daddy is so PROUD OF YOU. I am so PROUD OF YOU!! Your hard work and dedication was so worth it. You pushed through the most excruciating pain imaginable and you succeeded," Vanessa captioned the clip. She heartbreakingly added, "I wish Daddy and Gigi were physically here to celebrate but I know they're here in spirit. We love you so much!"
There's no doubting Natalia has already made her late dad and sister very proud.