The Moment Kelly Preston Knew She Would Marry John Travolta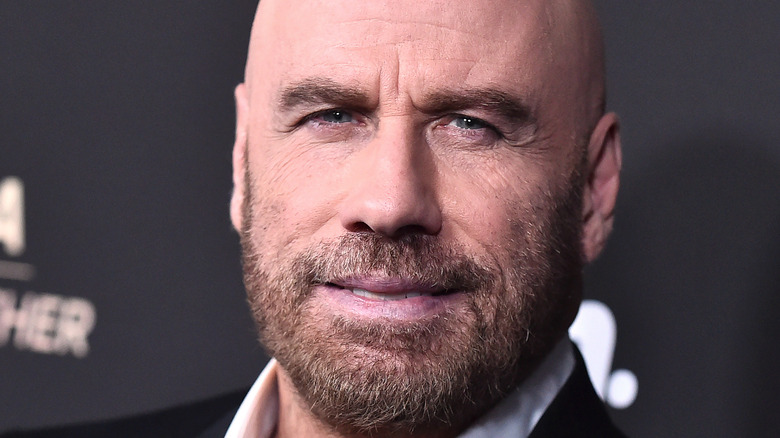 DFree/Shutterstock
John Travolta is one of the most famous actors in Hollywood, and his love story with Kelly Preston was one for the books. Not only did the pair look picture-perfect at every single red carpet event that they attended, but they also had three beautiful children together — Ella, Jett, and Benjamin. Ella has followed in her mother and father's footsteps, dabbling in acting, and bears an uncanny resemblance to her famous father.
John Travolta and Kelly Preston went through a lot together during their relationship, including the loss of their son, Jett. According to ABC News, Jett died in 2009 at the family's home in the Bahamas following a seizure. His death weighed heavily on both of his parents, and at one point, Travolta questioned whether or not he was going to be able to push forward. "The truth is, I didn't know if I was going to make it," he told Us Weekly in 2019. He previously told the BBC in 2014: "Life was no longer interesting to me, so it took a lot to get me better."
The year after Jett's death, Preston and Travolta welcomed another son, Benjamin, and Travolta called him a "miracle" and their "new beginning," per People (via ABC News). "For us, it's been uplifting," he shared. "He's given the house a renewed spirit and purpose. He's brought us a new beginning, and his presence has brought joy to all the people who have wanted the best for us." 
Keep reading to find out how Travolta and Preston began their life together.
The moment Kelly Preston knew John Travolta was the one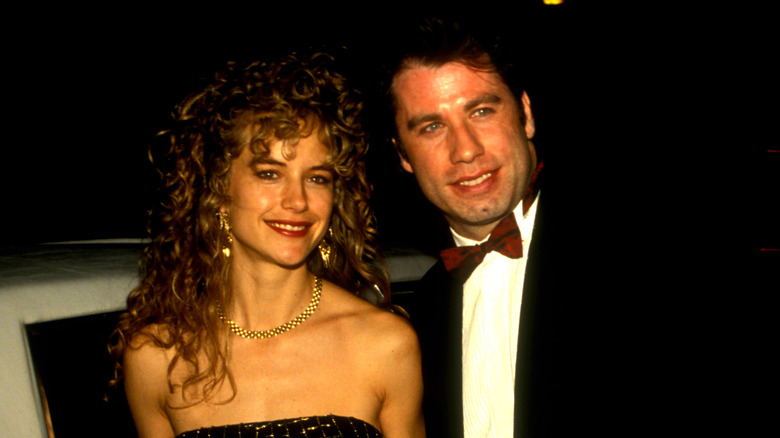 Bart Sherkow/Shutterstock
You know how some people just have that one defining moment when they find the person that they're meant to be with? That was the case with Kelly Preston and John Travolta, but the funny part about it is that they didn't even know each other at the time. Pretty crazy, right? Preston once shared that she knew Travolta was the one when she saw a particular poster of a Travolta film.... one of his most famous ones.
"I did have sort of a flash. I came out of a film, saw the poster for 'Grease,' and I knew I'd be with him," she said (via PopSugar). "I just knew. I was about 16 years old. I really knew it and it turned into, 'I'm going to marry that man,' and so he likes to tease me that I walked out and said, 'I'm going to marry that man,' and then did, ultimately." Ugh, cue the heart explosions.
If you didn't already know, Travolta and Preston first met during a screen test for the 1989 film "The Experts," per Us Weekly. "We had an immediate chemistry," Travolta said of the meeting. He struck up a conversation with her, but there was only one problem — Preston was married to Kevin Gage at the time, but their love conquered all, and the pair married in 1991, per People. The couple remained married until 2020. Keep reading for more deets.
Inside Kelly Preston's tragic death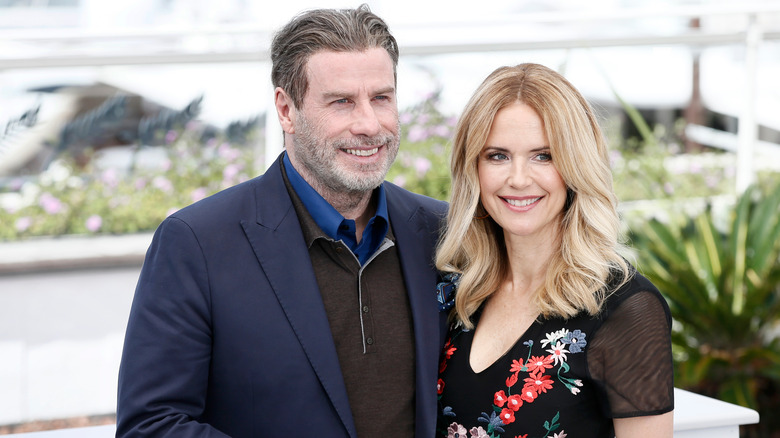 Andrea Raffin/Shutterstock
Kelly Preston's death in 2020 came as a shock to many, as few even knew how sick she was. John Travolta was the first to let fans know that Preston had died following a breast cancer diagnosis. "It is with a very heavy heart that I inform you that my beautiful wife Kelly has lost her two-year battle with breast cancer. She fought a courageous fight with the love and support of so many," he said in the heartfelt Instagram post on July 13, 2020. The actor also thanked all of the doctors and nurses at MD Anderson Cancer Center as he vowed to always remember his beloved wife. "Kelly's love and life will always be remembered. I will be taking some time to be there for my children who have lost their mother, so forgive me in advance if you don't hear from us for a while," he added.
In an interview with Esquire Spain, he shared a bit of the mourning process and how much it took a toll on him. "I learned that crying and mourning over someone is something personal," he told the outlet. "Mourning is individual, and experiencing your own journey is what can lead to healing." Travolta also added that he was most focused on the future of his children, Ella and Jett, and ensuring they could pursue any dreams they have. 
The death of Preston weighs heavily on our hearts but we're so glad the kids are in good hands.