Here's What Jennifer Aniston Looks Like Without Makeup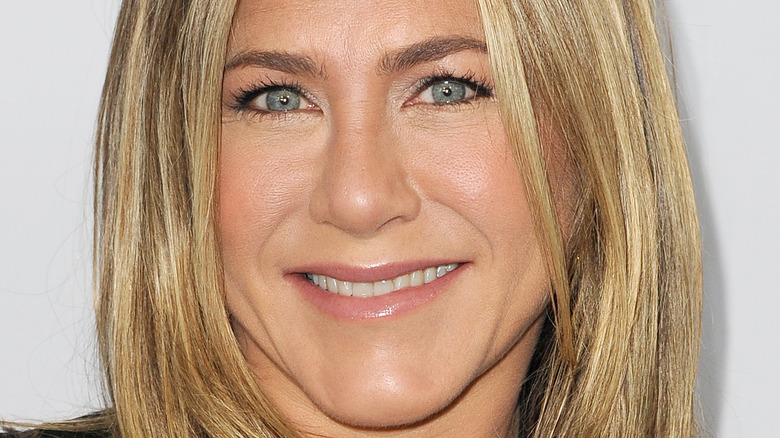 Tinseltown/Shutterstock
Jennifer Aniston is one of the most recognizable faces in the entertainment and celebrity world, and that's not just because she's mostly known as her "Friends" character, Rachel Green. As an A-list Hollywood star, Aniston has graced more magazine covers than many people can count or keep up with. She's also someone who doesn't mind spending an entire interview talking about a topic that she loves to talk about: health and beauty. That's probably why she's become such a beauty icon, both on and off screen.
In an industry in which "ageism" might sound like a dirty word, Aniston doesn't feel that way. "Very little offends me, but what I do think is becoming dated are things like, 'Oh, you look great for your age,'"she told Allure in 2019. "Because at a certain point, you should start to look like s**t? Because that's what that is implying. Like, 'You should look like hell right now!'"
With that said, a lot of people can't help but wonder how Aniston looks like the first moment she wakes up in the morning and with little to no makeup on. So, let's take a look!
Jennifer Aniston's advice to her 20-year-old self
Jennifer Aniston has been in the spotlight for several decades now, but you wouldn't know that judging by how she still looks like the fresh-faced Long Island princess that ran away from her wedding to dentist Barry Farber in the "Friends" pilot. Seriously, look at her makeup-free selfie above! And even though she's been often praised and commended for having the kind of flawless, but also sun-kissed skin that many others can only dream of, Aniston once revealed that advice that she would give her 20-year-old self.
"Don't take your gorgeous skin for granted," Aniston told PopSugar back in 2020. "When we're young, no one teaches us. My mom did not slather me in sunscreen — in fact, she might've handed me baby oil and said, 'Bake it up. Tan is everything.' She'd get the cheeks really rosy red, which is not cute looking back, but that was their generation. Now I think all ages are aware of skin health. We sure weren't back in the '90s."
And while Aniston is known for making some beauty mistakes and even staged a tanning intervention for herself back in 2012, per Vanity Fair, she has still managed to embrace her 50s with skin that would make any 20-something green with envy. So, what does Aniston do now to keep her skin looking the way it does? Keep reading below for the answer!
Jennifer Aniston's smart secret to skin success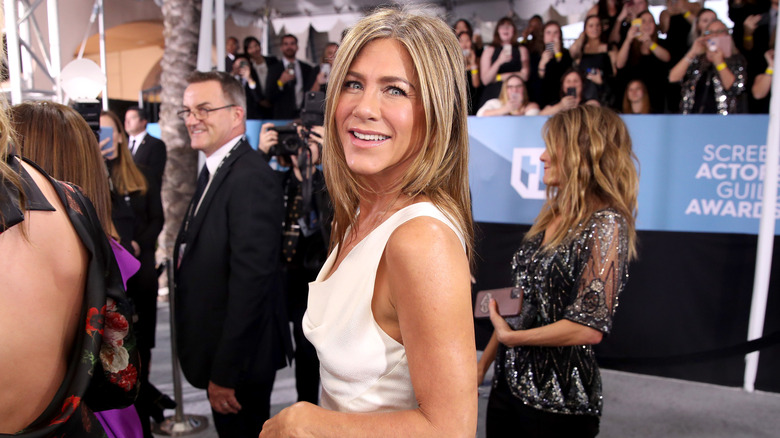 Rich Fury/Getty Images
While many celebrities of Jennifer Aniston's caliber admit to using pricey products to keep their skin looking young and glowing, Aniston's secret to looking like the best version of yourself is a quite simple one. While there's no doubt that "The Morning Show" star wipes her makeup off each night before she goes to bed, she also does two things every day to ensure that she always looks her best: She takes care of her body and let's go of stress before clocking out for the night.
"I do 20 minutes [of meditation] in the morning and at night. I don't usually get that five o'clock time that I would love to, but I've been doing it right before I go to bed, and that actually really has helped with my sleep," Aniston told the Los Angeles Times in 2019. "But usually if I can't get two in, I always will get the one  in the morning."
If de-stressing was the key to healthy and glowing skin, we'd all be looking just as good as Rachel Green did everyday, right? Well, that and we are sure that all of the Smartwater she drinks every day makes a big difference, too.