Inside Eboni K. Williams' Relationship With Kimberly Guilfoyle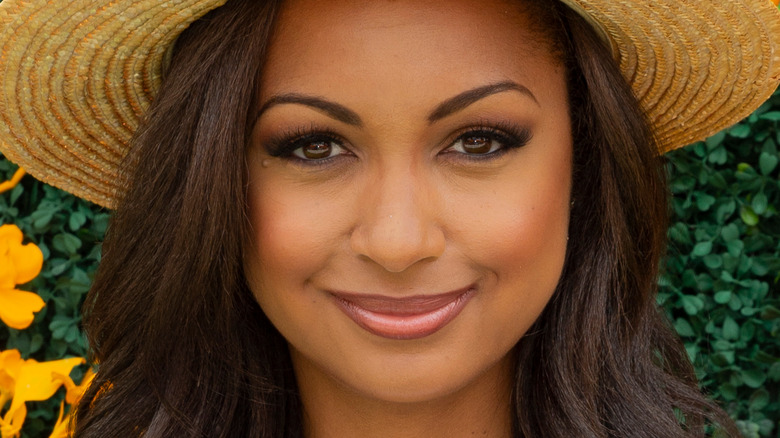 lev radin/Shutterstock
Eboni K. Williams and Kimberly Guilfoyle have been making headlines. "The View" is trying to find a replacement host for conservative Meghan McCain, with Guilfoyle and Williams rumored to be in the running to replace McCain. As the new season of "The View" begins in September 2021, Williams is slated as one of the guest hosts, per OK Magazine. Williams and other guest hosts, such as former Fox News host Gretchen Carlson and former Secretary of State Condoleezza Rice, are trying out for a full-time hosting gig.
Williams has been in the news about her gig on Bravo's "Real Housewives of New York." According to The Daily Mail, there has been a "catastrophic breakdown of relations between newbie Eboni Williams and the rest of the cast." The outlet reported that Bravo producers postponed the filming "indefinitely," because the problems between Williams and the rest of the "RHONY" cast have gotten "toxic." When it's too much drama for the "Real Housewives," that is saying something!
Meanwhile, Guilfoyle has been making headlines regarding the January 6 insurrection on Capitol Hill. CNN reported that the House Select Committee investigating the January 6 insurrection asked for Guilfoyle's telecommunications records. Since both women have been in the spotlight lately, some fans are curious about Williams' relationship with Guilfoyle. Keep scrolling to find out more.
Eboni K. Williams and Kimberly Guilfoyle worked together at Fox News
Eboni K. Williams and Kimberly Guilfoyle met when they both worked at Fox News. From a social media post, it appears that Williams looked up to Guilfoyle as a mentor. In 2016, Williams posted a photo of herself with Guilfoyle at the 2016 Republican National Convention. Williams tweeted that Guilfoyle was "one of the most supportive & positive women in the biz. Grateful for her example and her friendship." After Williams paid tribute to her fellow Fox News host on Twitter, Guilfoyle reacted to the kind tweet: "@EboniKWilliams is an incredibly smart and talented woman – thank you my friend!"
From the 2016 tweets, it looks like there was a mutual fan club between the two Fox News hosts. It makes sense that Williams and Guilfoyle would get along. They are both attorneys who made the transition to television, and they both worked at the conservative TV network.
In addition, Williams and Guilfoyle left Fox News the same year. According to The Hill, Williams left Fox News in 2018 after joining the network in 2015. Williams was co-hosting the show "The Fox News Specialists," with Eric Bolling and Kat Timpf, but the show was canceled after Bolling was accused of sexual harassment. Vox reported Guilfoyle left Fox News in 2018. When Guilfoyle announced she was leaving Fox News, she said she would be joining her boyfriend, Donald Trump Jr., to campaign for his father.
Eboni K. Williams and Kimberly Guilfoyle both speak their minds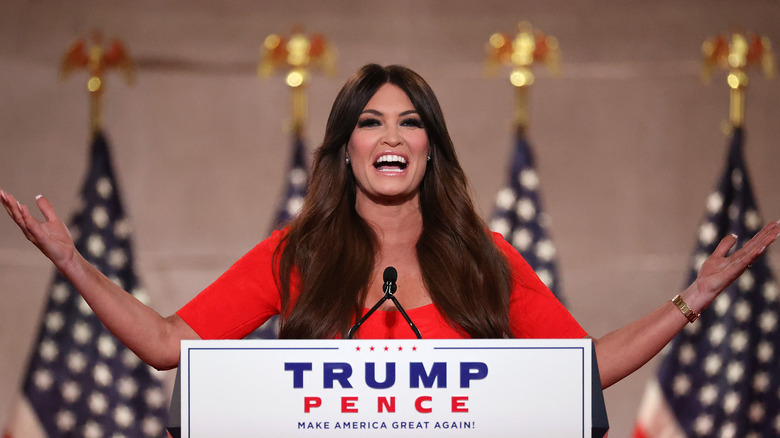 Chip Somodevilla/Getty Images
It makes sense that Eboni K. Williams and Kimberly Guilfoyle would be friends because they are both outspoken, even when their opinions aren't the most popular. For example, Williams has shared her disdain for "cancel culture," during a podcast interview. On a July 2021 episode of the "Kam & Kary Do Dallas" podcast, Williams explained that she didn't want to give anybody a pass regarding race relations. She said, "Y'all know I like to hold people accountable and I like to be held accountable, right? It's being open to the question [about race-related issues]."
Guilfoyle's blunt conservative opinions have created headlines. In 2014, Media Matters for America reported that Guilfoyle pined for a strongman like Netanyahu or Putin to lead the United States. Guilfoyle's vocal support for Donald Trump also crossed into cringe-worthy territory during the 2020 Republican National Convention.
Guilfoyle's speech at the convention launched a thousand memes because of its content and the loud delivery. According to The Daily Beast, Guilfoyle claimed that Democrats want to "destroy this country, and everything that we have fought for and hold dear." The outlet reported that Guilfoyle sounded like "Dwight Schrute channeling Mussolini on 'The Office' as she shouted." Ouch.