The Truth About Hillary Clinton And Huma Abedin's Relationship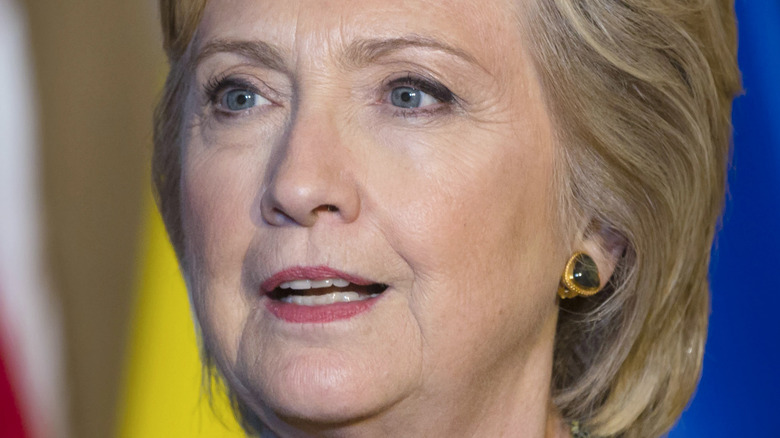 Drop of Light/Shutterstock
Hillary Clinton and Huma Abedin have a relationship that goes back decades. Per Associated Press, Abedin first met Clinton when she was a student in Washington all the way back in 1996. At the time, Clinton was already a very high-profile political figure as the First Lady of the United States — her husband, Bill Clinton, was serving out his first of two terms in the White House — and Abedin worked as her intern.
The two stayed in touch after that, and Abedin then landed a job as Hillary's aide when she ran for the U.S. Senate in 2000. But that's certainly not where their professional or personal relationship ended. Abedin has held a number of positions on Hillary's team, as she went on to be her deputy chief of staff when Clinton served as former President Barack Obama's Secretary of State. She then went on to show off her talents as a top adviser when Hillary infamously ran for president during the 2016 election, losing out to former President Donald Trump after a messy fight for the White House.
After that controversial defeat, Abedin then went on to become Hillary's chief of staff. But where do the two stand today? Read on for what we know.
Hillary Clinton and Huma Abedin proved they're still close on a lunch date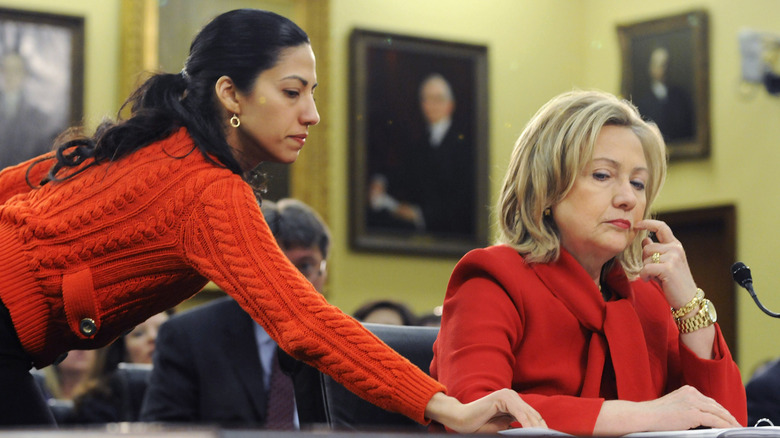 Jonathan Ernst/Getty Images
Hillary Clinton and Huma Abedin appeared to still be super close as they enjoyed a friendly lunch date together in late August. Daily Mail published candid snaps of the two "smiling and laughing" together while dining in East Hampton, New York. The two treated themselves to a little something from a bakery and were then seen exiting the building alongside two men, who appeared to be members of Clinton's security. It's thought Hillary and her husband, Bill Clinton, had been vacationing at nearby Long Island.
The snaps came as some political watchers questioned how close the once pretty much inseparable Hillary and Abedin still were, as Daily Mail reported the two hadn't been spotted in public together since they both attended a screening of the documentary film about Hillary's life, "Hillary," back in March 2020. However, that could have more to do with the coronavirus pandemic than any kind of rift.
Notably, the two have repeatedly spoken kindly of one another, including back in August 2016 when Abedin was profiled by Vogue. Abedin opened up about how close she really is with Hillary, admitting, "The nature of our relationship has changed. Over the years, we've shared stories about our lives, we've shared more meals than I can count, we've celebrated together, we've mourned together."
But that doesn't mean their close relationship — both professionally and personally — hasn't weathered some storms over the decades.
Huma Abedin's drama with her former husband had people suggesting Hillary Clinton should fire her and 'distance' herself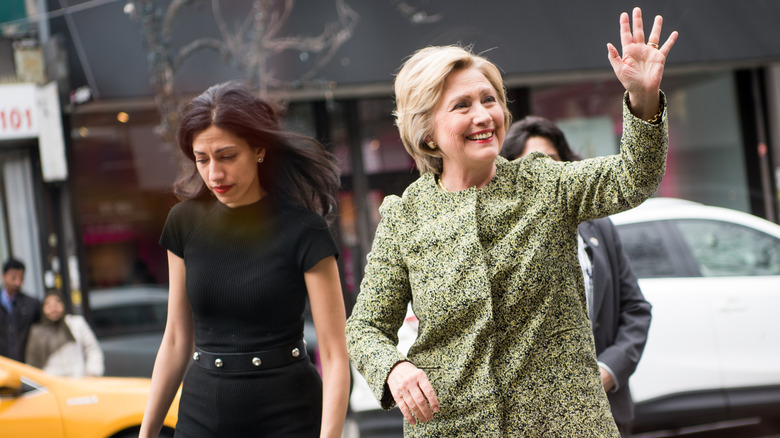 Andrew Theodorakis/Getty Images
Huma Abedin's former husband could have put a strain on her friendship with Hillary Clinton. Abedin was married to disgraced politician and convicted sex offender Anthony Weiner, and their relationship, plus her bond with Hillary, saw her caught up in the FBI investigation into Hillary's now infamous email scandal.
Hillary revealed in her 2017 book, "What Happened," that it was suggested she should cut ties with Abedin over Wiener as she recalled the moment they both learned the FBI investigation had been opened again. "When we heard this Huma looked stricken. [Weiner] had already caused so much heartache. And now this," she shared, noting that they were on a plane at the time and Abedin started crying. She also shared that seeing her longtime confidant in "distress" was particularly difficult for her. Hillary admitted there was "no chance" she was going to cut Abedin out of her life or fire her, noting, "I stuck by her the same way she has always stuck by me." 
Bill Clinton even officiated Abedin and Weiner's wedding in 2010, where Hillary is reported to have said (via Daily Beast), "I have one daughter. But if I had a second daughter, it would be Huma."
Fans could maybe expect to hear even more about the twosome's relationship, as Abedin will be sharing more about her life in her memoir, "Both/And," due for release in November.