Would Donald Trump Really Run For The Mayor Of New York?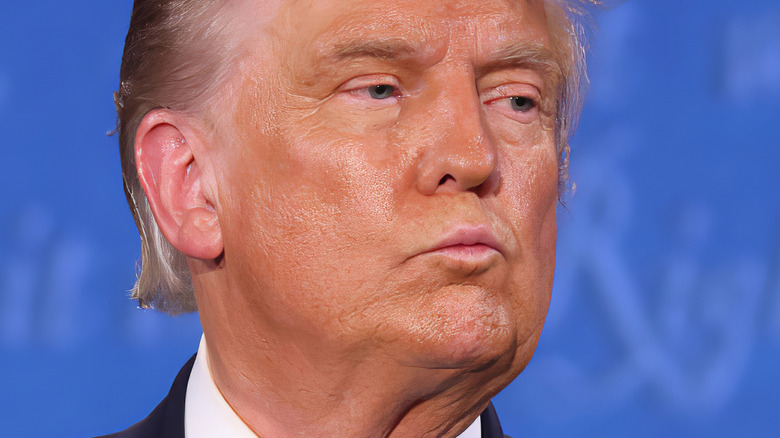 Devi Bones/Shutterstock
On the 20th anniversary of the September 11 attacks, former President Donald Trump visited his hometown of New York City to commemorate the attack. "As a lifelong New Yorker, it was extraordinary to witness the strength and resilience of people of that incredible city — and it is indeed an incredible city," he said in pre-taped remarks screened on the National Mall in Washington, D.C., per the Washington Examiner.
In New York City, Trump met with members of the city's police and fire departments. The first responders received the former president well, greeting him with applause and staying to shake hands and take pictures with him. Rumors as of late have been swirling that Trump may take another shot at the White House in 2024. When asked if he had made concrete plans for 2024, Trump responded, "I think you're going to be very happy."
But another question seemingly caught the former president off guard. One officer asked Trump if he would consider running for mayor of New York City. Here's what he had to say.
Donald Trump just wants to be president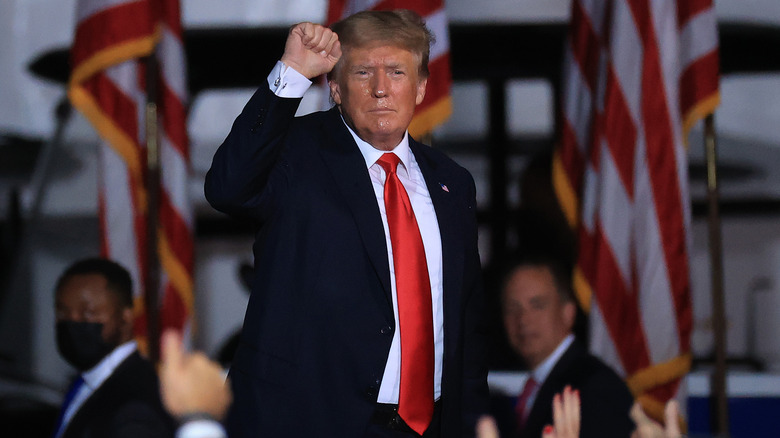 Chip Somodevilla/Getty Images
"Well, that's an interesting question," said former president Donald Trump when asked if he would consider running for New York City's mayor, per the Washington Examiner. "I would love that. We could straighten it out," he continued, referring to his message of "law and order." "I'd say, 'Fellas, good luck, go to town.' They'd be announcing in one week, 'There's no crime in this city.'"
It does not appear, however, that Trump has his eyes on any office other than the presidency. Per the Washington Examiner, Trump thought conservative commentator Wayne Allyn Root's idea that he run for Congress and aim to become Speaker of the House was "very interesting." A former Trump spokesperson later clarified, though, that the former president "has zero desire to be speaker."
Trump has also been very vocal about his distaste for President Joe Biden's botched withdrawal from Afghanistan. "The leader of our country was made to look like a fool, and that can never be allowed to happen," he said in remarks released online commemorating September 11. "... Joe Biden and his inept administration surrendered in defeat."
Plus, Congressman Jim Jordan, a Trump ally, was caught on a hidden camera saying Trump was "about ready to announce [his candidacy] after all of this craziness in Afghanistan." Per the Washington Examiner, Trump has yet to officially announce his 2024 plans, apparently due to campaign finance laws.