Rudy Giuliani's Bizarre Speech On The 9/11 Anniversary Is Turning Heads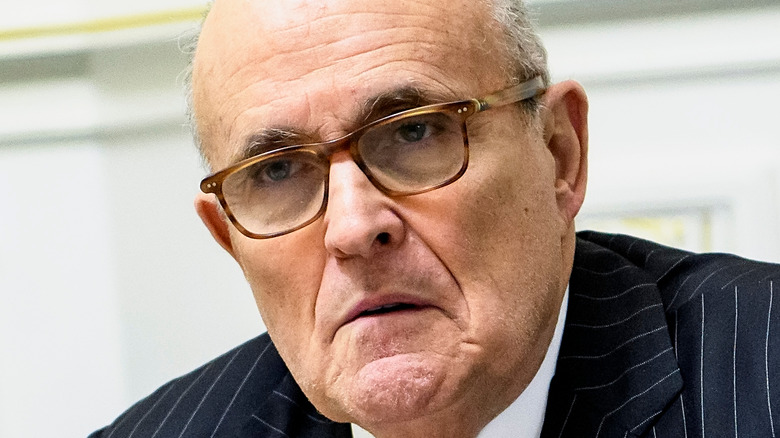 paparazzza/Shutterstock
Today we know Rudy Giuliani as former president Donald Trump's sketchy former lawyer who is seemingly always under investigation. But on September 11, 2001, Giuliani — then the mayor of New York City — became an American hero.
But until that day, Giuliani wasn't exactly seen as warm and fuzzy. Before catapulting into the national spotlight, he was known in New York as a former prosecutor who was tough on crime, deploying the "broken windows" theory, which cracked down on minor crimes like marijuana possession or public urination in an effort to thus deter more serious crimes. But as Gothamist reports, critics saw the crackdown on crime as a way of controlling and over-policing poor Black people. A 1998 article in The New York Times even referred to Giuliani as "The Mussolini of Manhattan."
All of that changed on September 11, when Giuliani stepped up and became the national face of healing after the deadliest terrorist attack in American history. At a 9/11 prayer service held two weeks after the attack, Oprah Winfrey introduced Giuliani as "America's mayor," a moniker that stuck with him through the rest of his tenure, per Gothamist. Later that year, Time Magazine named him Person of the Year, calling Giuliani "Mayor of the World."
Twenty years later, at a dinner commemorating the tragic event, Giuliani gave a truly bizarre speech that left everyone scratching their heads. Here's what he had to say.
Was Rudy Giuliani "drunk out of his mind"?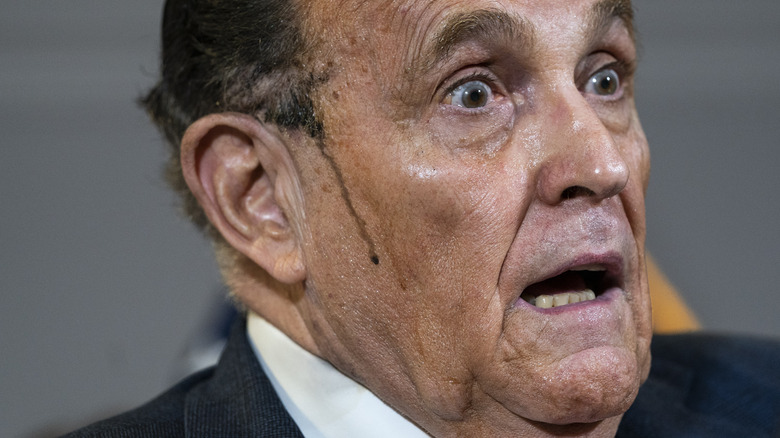 Drew Angerer/Getty Images
Rudy Giuliani's speech at a 9/11 memorial dinner touched on a wide array of extraneous topics. At one point, Giuliani recounted meeting Queen Elizabeth II and imitated her praising him for his leadership in a poor British accent before assuring the room that he did not — nor has he ever — hung out with the now-disgraced Prince Andrew. "I never went out with him! Never ever!" Giuliani exclaimed. "Never had a drink with him. Never was with a woman or a young girl with him. Ever ever ever."
Giuliani also went off on Gen. Mark Milley, wondering aloud, "How is that guy a general?" regarding Milley's recommendation to close Bagram Air Base in Afghanistan, according to the New York Post. He continued, "I wanted to grab his — what does he have, five stars? Ten stars? Twelve stars? He has so many stars they're coming up to his ears. I wanted to grab his stars and shove it down his throat and say, 'It's 400 miles from China, a**hole! China is going to be our enemy for the next 40 years! You have an airbase 400 miles from them and you're giving it up? Idiot!"
Former federal prosecutor Ron Filipkowski claimed on Twitter that Giuliani was "drunk out of his mind," but TMZ reports that sources close to the former mayor say that was not the case. Giuliani has yet to comment.