Is This How George W. Bush Really Feels About Donald Trump?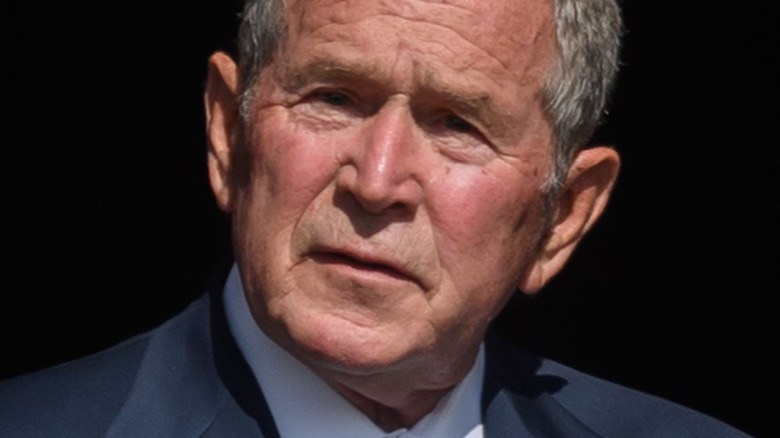 Jeff Swensen/Getty Images
While former President George W. Bush has remained a divisive figure in the American conscious — depending on who you ask, his legacy is that of puzzling passivity or, per The New Republic, a "Mayberry Machiavelli" — the ex-commander-in-chief has mostly kept to himself in the years following his eight-year White House tenure. (His Bob Ross-esque painting hobby immediately springs to mind.) But, on the 20th anniversary of the 9/11 terrorist attacks, Bush, who served as president during that time, made a rare public appearance at an event in Shanksville, Pennsylvania in commemoration of those who died on Flight 93. 
During his address, Bush praised the crew and passengers on the plane who prevented the hijackers from reaching their intended destination, instead sacrificing their own lives in order to save others. But, according to CNN, Bush took a moment in the midst of his speech to criticize a fellow ex-commander-in-chief — specifically, in his opinion, for doing his best to divide Americans rather than unite them. And yes, all signs pointed toward Donald Trump. But were Bush's comments definitely about Trump? Could there be anyone else he could've alluded to? And does the history of Bush's past relationship with Trump possibly factor into any of it? Scroll on to find out.
George W. Bush didn't mention Trump by name, but he clearly implied who he was talking about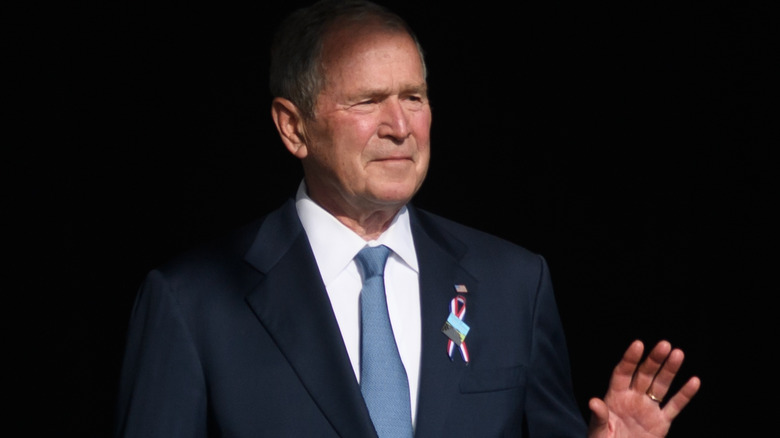 Jeff Swensen/Getty Images
According to CNN analyst Chris Cillizza, a number of remarks George W. Bush made during the memorial ceremony in Shanksville, Pennsylvania on the 20th anniversary of September 11 did not exactly mention Donald Trump by name, but were pointedly clear as to who they referenced. Speaking to attendees at the event, Bush first recounted his own experience as a serving president in the aftermath of the terrorist attack. "In the weeks and months following the 9/11 attacks, I was proud to lead an amazing, resilient, united people," he said, his speech continuing on the theme of unity and solidarity, before expressing that, since then, "these days seem distant" in our current times. 
Bush then added what many took to be a reference to the Trump administration and Trump's continued behavior post-White House. "A malign force seems at work [...] So much of our politics has become a naked appeal to anger, fear and resentment. That leaves us worried about our nation and our future together." 
While some could argue that Bush, a Republican, could have meant to infer the Democratic party, CNN noted that his later rallying cries against "nativism," "hatred and violence against people perceived as outsiders," and anti-Muslim stances, would presume Trump to be Bush's rhetorical target. It might come as no surprise either way: Bush has railed against Trump's presidency as one "degraded by casual cruelty" since 2017 (via Politico).