Here's What Megan Fox Looks Like Without Makeup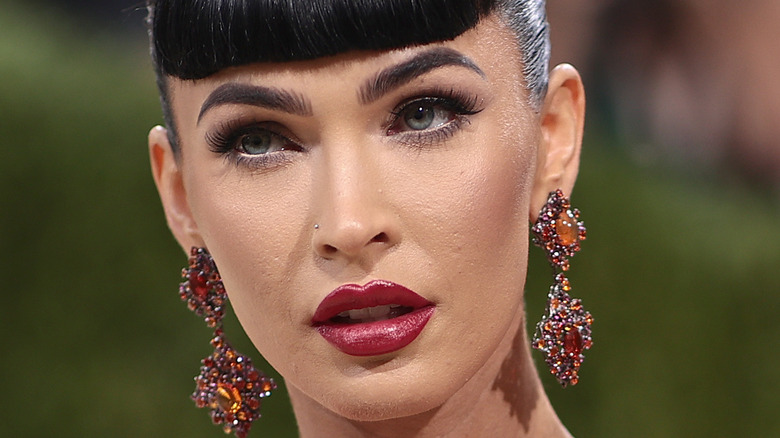 Dimitrios Kambouris/Getty Images
Makeup-less celebrities isn't the craziest concept you've ever heard of. After all, they're just like us! However, when it comes to head-turners like Megan Fox, some of us definitely do a double take to see if there is a drastic difference in appearance. But Fox seems as youthful today as she did 12 years ago when she played a possessed high school student in "Jennifer's Body."
Everyone who attended — or watched — the 2021 MTV Video Music Awards and Met Gala almost broke their necks to catch a glimpse of the sultry star in her stunning ensembles. "Megan Fox at the VMAs is what you NEED to see right now," one person tweeted. Even the Met itself acknowledged how Fox's Met Gala look was straight-up caliente on Twitter.
Fox finds it "powerful" to be considered an international sex symbol. "I'm not afraid to be sexy," Fox told KeKe Palmer at the Met Gala. "A woman who is intelligent and also knows how to weaponize her beauty, there's nothing more dangerous than that. There's nothing more powerful than that. Instead of rejecting it, I'm happy to embrace it and go for the sexy," she added. 
Does she still have that same empowering feeling when going bare-faced?
Megan Fox bares it all
Megan Fox's beauty has been a topic of conversation among fans since her debut as Mikaela Barnes in "Transformers." (Or, for some of us, it was her role as Carla in "Confessions of a Teenage Drama Queen" that got us hooked!) And this bare-face selfie she posted in 2012 — as her very first photo on Instagram — certainly proved she's just as gorgeous sans makeup. 
In fact, Fox told Allure that she actually prefers herself better underneath all that glitz and glam. "The pictures of me as a kid. That's me. That's how I prefer to look. More natural," Fox said. While one could argue that she might be wearing a hint of makeup in the above picture, Fox revealed that her skincare is always on point. In fact, one of her many beauty secrets includes something very accessible to the Joe Schmoes of the world: Drugstore moisturizer! "You can have an expensive moisturizer and turn it over and alcohol is the fourth ingredient. I'm not looking for an endorsement, but Cerave makes a really gentle moisturizer that I would recommend to anyone," she told PopSugar.
As for her glow today, fans can attribute that to that gentle skincare routine — and, in part, to her boyfriend Machine Gun Kelly.
Megan Fox is influenced by MGK's style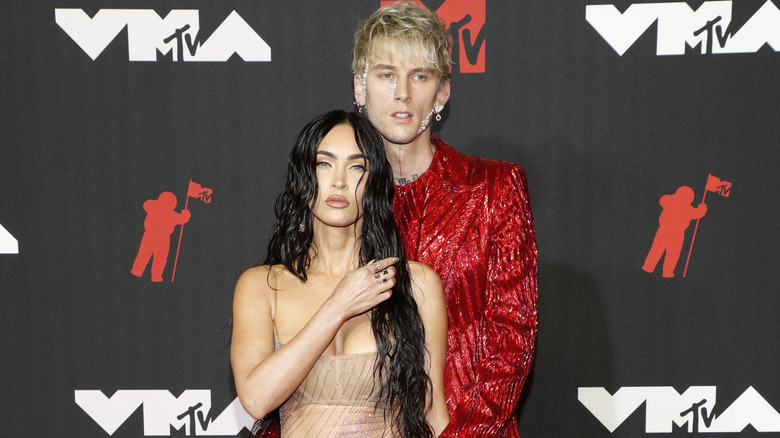 Kevin Mazur/mtv Vmas 2021/Getty Images
Megan Fox and Machine Gun Kelly's relationship has made headlines ever since they were first spotted together — including MGK's music video, "Bloody Valentine," which dropped in May 2020. The couple did not officially announce they were together until after Fox and her estranged husband Brian Austin Green separated. Now, in 2021, Fox and MGK have thrust their romance entirely into the spotlight. In fact, the actor told The New York Post that MGK has a huge impact on her style whenever she goes out with him. The rocker is "always wearing something insane," Fox said. "So I'm heavily influenced by whatever he pulls out of his closet."
Fox also revealed the rapper's extensive skincare routine: "When I first started dating him, you would think that he just rolls out of bed, that he slept in a pile of cigarettes and goes to work just like that," the star joked to The New York Post, noting that his bathroom counter was full of "thousands of dollars worth of skincare."
Don't get it twisted, though: Fox also has her skincare game on lock. "I wouldn't say I learned something from him, because same. I'm really into my skincare as well," she told The Post (via Us Weekly). But he does know a thing or two. He has a crazy skincare game."