Is Mike Pence Still Angry With Donald Trump?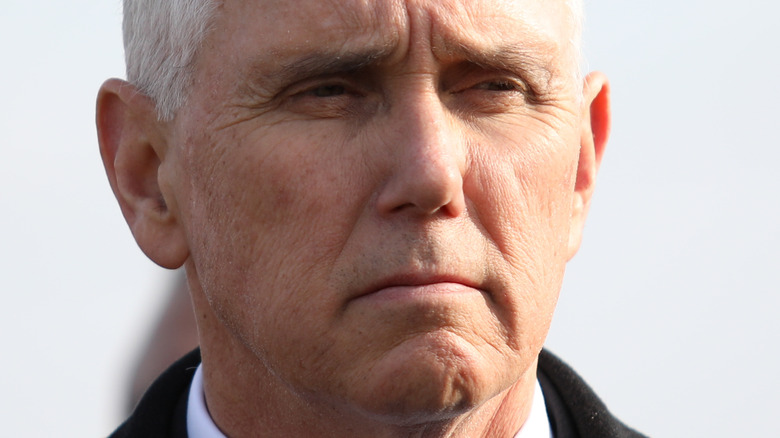 Grabowski Foto/Shutterstock
Some say time heals all wounds, but they forget that wounds can also fester and pus, too. The timeline of the relationship between former president Donald Trump and his VP, Mike Pence, can basically be chalked up this adage. Towards the end of their time in the White House, the January 6 insurrection at the Capitol building drove a huge wedge between them. After Trump insisted Pence change the 2020 presidential election results to skew in his favor (which Pence did not do), rioters violently stormed the Capitol to protest the election results, with some even calling to "Hang Mike Pence."
Several days later, a former Pence adviser told Politico that "Pence is done with Trump's bulls**t." The adviser added, "He's not going to give a prime time speech saying, 'F you Donald Trump,' but in his own way he is going to ... keep his head down."
But has Trump and Pence's relationship changed since January 6? On October 4, nine months later, Pence updated Fox News host Sean Hannity on where he and Trump currently stand after the insurrection. "The president and I sat down a few days later and talked through all of it," Pence said. "I can tell you that we parted amicably at the end of the administration and we have talked a number of times since we both left office."
However, just a few weeks later, rumors are brewing that not all is what it seems. In fact, there might be some harsh feelings towards Trump still lingering in Pence's heart.
Mike Pence is still upset with Donald Trump, according to his friend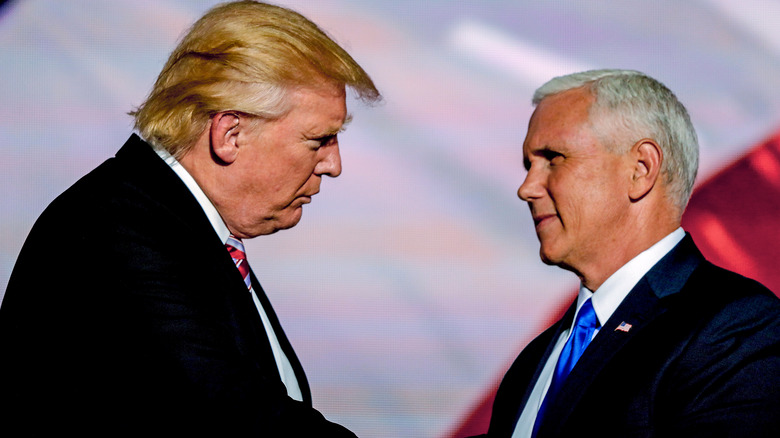 mark reinstein/Shutterstock
Just when you think everything is good in the hood between Mike Pence and Donald Trump, it turns out that insurrectionist animosity is actually still a hot-button issue between the two, according to a source close to Pence. In fact, one of Pence's friends claimed to Vanity Fair that the former VP is still upset about what happened during the January 6 riots on the Capitol — and that Pence believes Trump placed his and his family members' lives in danger. Needless to say, this updated development in their seems to contradict what Pence told Sean Hannity earlier this month, when he implied that they had moved past that issue because they "talked through" their insurrection disagreements.
Furthermore, some people believe the cavalier attitude Pence showed in his interview with Hannity stems from him gearing up for a possible 2024 presidential candidate run. According to a Politico/Morning Consult poll, Pence support is high amongst Republicans who don't want Trump to run again. "I think 2024's a long time away and if Mike Pence runs for president he will appeal to the Republican base in a way that will make him a strong contender," said Republican Rep. Jim Banks of Indiana, Pence's home state, per AP News. "If and when Mike Pence steps back up to the plate, I think he will have strong appeal among Republicans nationwide."
Only time will tell if Pence — and/or Trump — will run in 2024, and just how their relationship will evolve.