Caroline Warner From Yellowstone Season 4 Looks Familiar. Here's Why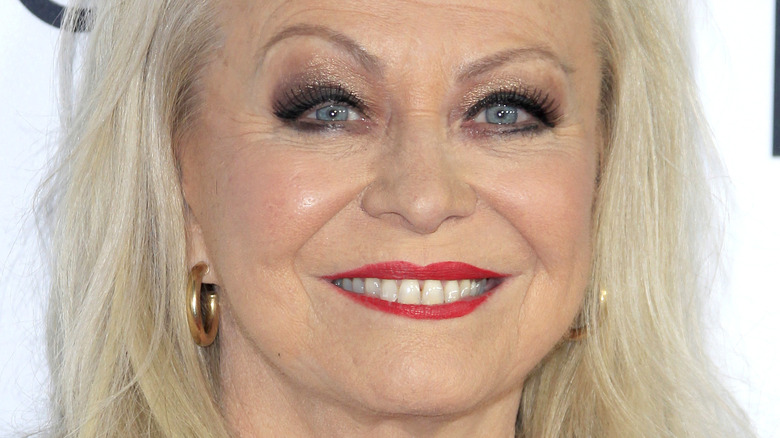 Kathy Hutchins/Shutterstock
"Yellowstone" Season 4 introduced a new villain with the ruthless Caroline Warner, CEO of Market Equities. The Dutton family will be fighting back against the forces that tried to kill three family members behind the Yellowstone ranch. Fans waited two years to find out the fates of John Dutton, Beth Dutton, and Kayce Dutton, and the "Yellowstone" Season 4 premiere did not disappoint. Viewers don't know much about Caroline yet, but it seems like her weapon of choice is money. Fans can only hope Caroline will get a few scenes with the sassy Dutton daughter Beth. When the new CEO arrived at the airport in Episode 1, Market Equities minion Ellis Steele noted her plane was early, and Caroline replied, "I am never early, and I am never late. I am the constant your time adjusts to." Boom.
The Market Equities CEO tried to turn Thomas Rainwater (played by Gil Birmingham) toward the dark side in Episode 1. Still, viewers will have to wait to see more of Caroline's tricks as "Yellowstone" Season 4 progresses. "Yellowstone" fans know that big changes are ahead. But some are wondering why Caroline looks so familiar. In fact, you'll probably be surprised by the number of TV shows and films this new addition has been in!
Oscar-nominee Jacki Weaver plays Caroline Warner on 'Yellowstone'
Jacki Weaver plays Caroline Warner on "Yellowstone." The new villain of "Yellowstone" Season 4 looks like a worthy adversary for Kevin Costner's Dutton family. The 73-year-old Australian actor has a long list of credits on IMDb, and many say she looks like Sally Struthers (per Decider). Before playing Caroline on the Taylor Sheridan western show, she built a successful acting career in Australia, appearing on stage and in television and films, per AV Club. Weaver broke into fame in the United States in the 2010 film "Animal Kingdom," winning an Oscar nod for Best Supporting Actress in 2011 at age 64.
The actor told the AV Club that getting a part in "Animal Kingdom" was "a gift, it was a huge gift. And it speaks to the generosity of Americans, how warmly I was embraced and just the sudden success." Weaver's work in "Animal Kingdom" led to another breakthrough role. Weaver played Bradley Cooper's mother Dolores Solitano in "Silver Linings Playbook," and received her second Oscar nomination for Best Supporting Actress.
Weaver talked to TV Insider about her role as the villain in "Yellowstone" Season 4, saying, "She's a city slicker walking through fields of cowpats in designer heels and classy tailored suits. She looks out of place, but she's terrifying ... She takes no prisoners, treats everyone badly." Weaver and other new cast members Piper Perabo and Finn Little, will make "Yellowstone" even more interesting. We can't wait to watch the new episodes!