The Strange Obsession Elizabeth Holmes Had With Steve Jobs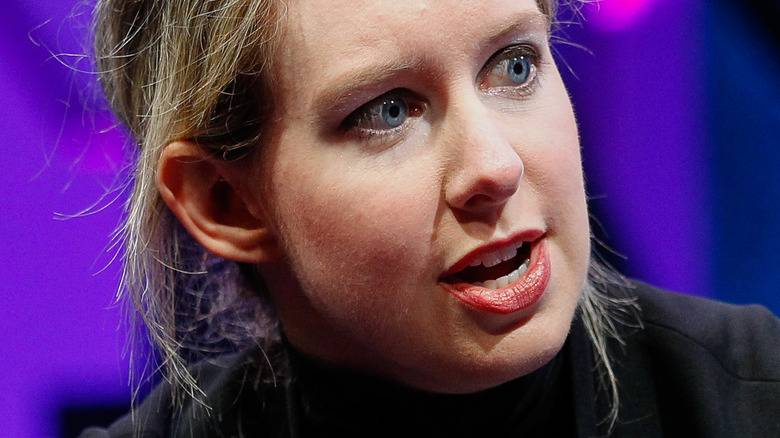 Kimberly White/Getty Images
For those who have followed the strange twists and turns of former Theranos CEO Elizabeth Holmes, who is currently on trial for multiple counts of fraud related to her disintegrated health tech company (via The Washington Post), the story of her grift's undoing isn't necessarily the biggest draw of it all. Rather, part of the reason the Holmes case is a solid reminder that life is, indeed, a very rich tapestry lies in the details. 
For instance: what kind of captain of industry would let their dog run rampant throughout the corridors of their headquarters and lie that the dog, a husky, was actually a wolf (via The Cut)? Or fake a baritone voice in order to appeal better to investors and clients? Or see cosplayers show up on their first day of trial? Or employ an award-winning documentarian to direct commercials for their product — which, ultimately, didn't really exist (via Rolling Stone)? Dear reader, welcome to the Cirque d'Holmes.
In that vein, it's indubitably logical Holmes would have an unremitting obsession with another technocrat of yore — former Apple CEO Steve Jobs, who became Holmes' Silicon Valley North Star. It seems Jobs, who died from pancreatic cancer in 2011, was her idol — an innovator and visionary who changed the world and made bank while doing it. And according to documents and other bits of evidence that have surfaced during the course of Holmes' trial, her fixation on Jobs was even greater than anyone could guess.
Elizabeth Holmes idolized Steve Jobs down to the turtleneck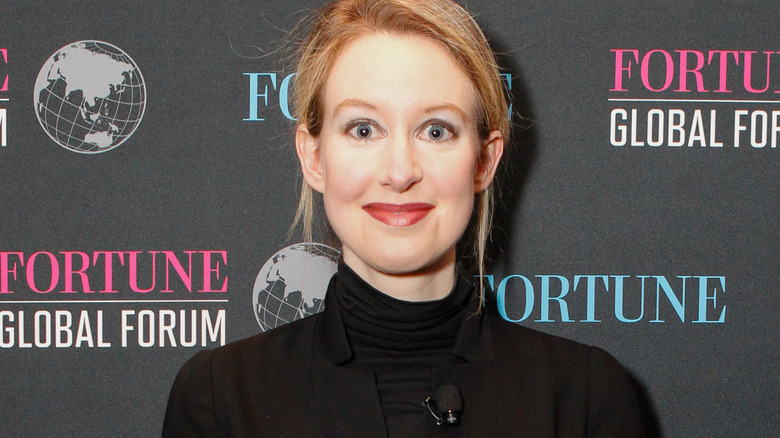 Kimberly White/Getty Images
Aside from the scrupulous notes Elizabeth Holmes wrote to herself on how to attain the right level of Steve Job-ness and ultimately outdo him — we'll get to that later — there were much more obvious tells regarding her admiration for the Apple inventor. As CNBC noted, Holmes, like Jobs, was a stickler for a self-imposed uniform. Like Jobs, Holmes donned a black turtleneck for the majority of her public appearances — a strategy Jobs also employed — yet substituting the black turtleneck for a black mock-turtleneck. (As Forbes reported in 2012, Jobs' reasoning behind his wardrobe was most likely a blend of unique branding and day-to-day efficacy.) 
Despite the obvious aesthetic similarities between both tech CEOs, Holmes frequently told the press her sartorial choices had little to do with the Apple founder. As Holmes herself told Glamour in a 2015 interview, she first began wearing black turtlenecks as a child as dictated by her mother. 
While this could indeed be the case, Wall Street Journal reporter John Carreyrou — who blew the Theranos fraud case wide open through his reportage and his subsequent investigative tell-all "Bad Blood" — later found Holmes was encouraged by a Theranos employee who had once worked at Apple to adopt the look (via Insider). Before that, per Carreyrou, Holmes typically wore "wide gray pantsuits and Christmas sweaters."
Elizabeth Holmes wrote herself memos on how to become Steve Jobs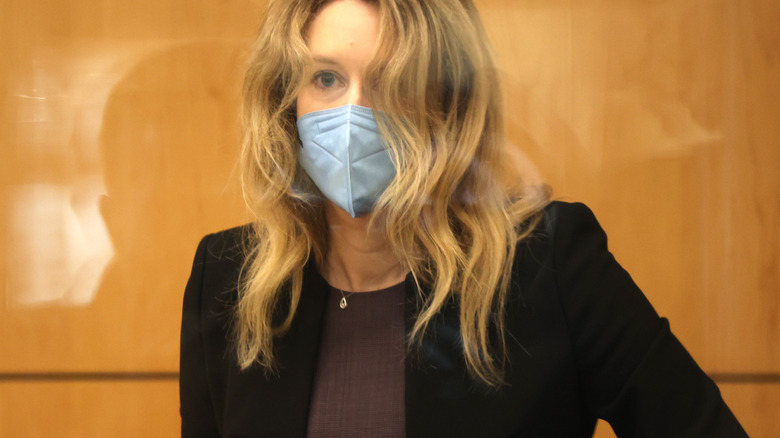 Justin Sullivan/Getty Images
Though Holmes may have ditched the turtleneck for now — or at least for the duration of the rest of her fraud trial which is still ongoing — the former Theranos founder's fascination with Steve Jobs hardly stopped at the sartorial. For proof of this, look no further than the notes Holmes wrote to herself during the height and subsequent decline of her Theranos empire. 
As Insider reported in September, a number of private messages written by Holmes obtained and subsequently leaked by CNBC starkly illustrated the ways in which Holmes both idolized Jobs and hoped to surpass him. One 12-page diatribe contained the most telling example of her aspirations with three simple words: "becoming Steve Jobs." 
The jumble of hyphens and quasi-cryptic phrases featured personal directives on how to emulate Jobs and utilize his example to bring Theranos on par with Apple. "Started – vision – change world. Access to healthcare. Bring down cost. Up efficiency. Min pain," one passage read. Others seemed to refer to journalist John Carreyrou's investigation into Theranos' possibly fraudulent dealings: "Weak accusations – endorses everything – happened – if – true – raise doubt – want – board looks into it – finds nothing to any of it – looked into it – have not looked at it independently ... doesn't shake my confidence," she reportedly penned. Weird stuff.