Why Eric Trump Is Threatening To Sue Over This Damaging Report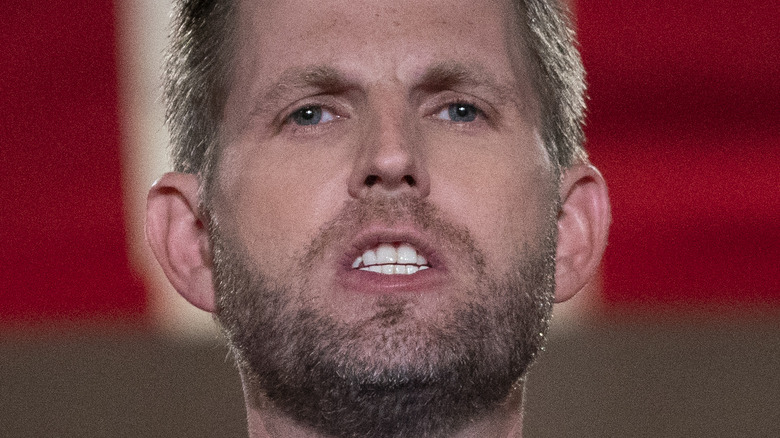 Drew Angerer/Getty Images
The investigation into the January 6 insurrection on the U.S. Capitol is heating up. According to recent reports, investigators are getting closer to the people and groups who planned the attack and those who tried to overturn the 2020 election results. The House Select Committee investigating the insurrection has brought a flurry of new subpoenas.
The committee issued subpoenas for major Trump allies Roger Stone and Alex Jones on November 22. CNN reported that Stone was facing over three years in prison for crimes surrounding the Russia investigation before then-President Donald Trump pardoned him. NPR reported the committee handed out subpoenas for the far-right extremist groups The Proud Boys and Oath Keepers on November 23. In a statement, the committee's chair, Rep. Bennie Thompson, said, "We believe the individuals and organizations we subpoenaed today have relevant information about how violence erupted at the Capitol and the preparation leading up to this violent attack."
It appears that some of the evidence relating to the January 6 events are leading closer towards members of the Trump family and close allies. Now, Eric Trump, the son of former President Trump, is threatening to sue over a potentially damaging report.
Eric Trump claimed he's 'not the burner phone type'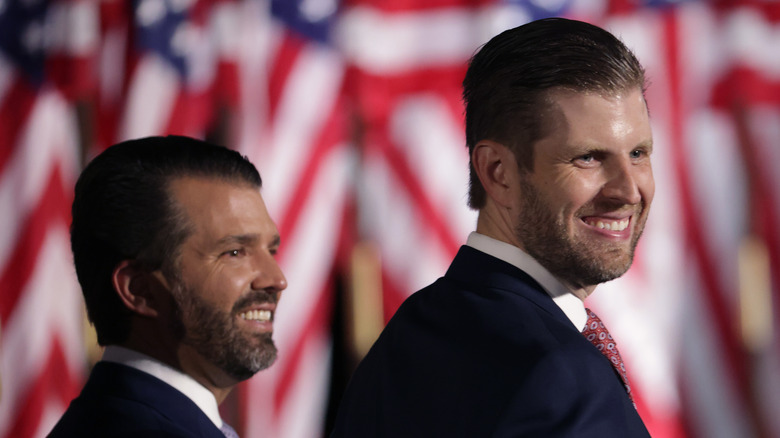 Alex Wong/Getty Images
Eric Trump threatened to sue the Palmer Report for defamation after the website tweeted about a shocking Rolling Stone story. On November 23, Rolling Stone reported that January 6 Trump rally organizers allegedly communicated with Eric, Lara Trump, and White House Chief of Staff Mark Meadows. The Palmer Report tweeted, "Eric Trump and Lara Trump reportedly used burner phones to communicate with January 6th organizers, meaning didn't want the planning to be traced back to them, something you do in a criminal plot. 1/6 committee will certainly subpoena them under threat of criminal indictment."
In response to the political website's tweet, the second Trump son tweeted, "Well, here is one outlet I can sue for defamation. This will be fun. I'm an incredibly honest, clean guy – unlike Hunter, no drugs, healthy lifestyle, not the 'burner phone' type... Tweet saved... @palmerreport." 
Three sources told Rolling Stone that January 6 rally organizer Kylie Kremer used a burner phone to communicate with members of Donald Trump's family and senior White House aides. The sources claimed that most of the "crucial planning conversations" between rally organizers and "Trump's inner circle" occurred on the burner phones. One of the sources told the outlet that Kremer "needed burner phones in order to communicate with high-level people is how she put it." According to Insider, burner phones are often throwaway devices used to avoid communications being traced.