The Ironic Thing Eric Trump Just Called Out Joe Biden For Doing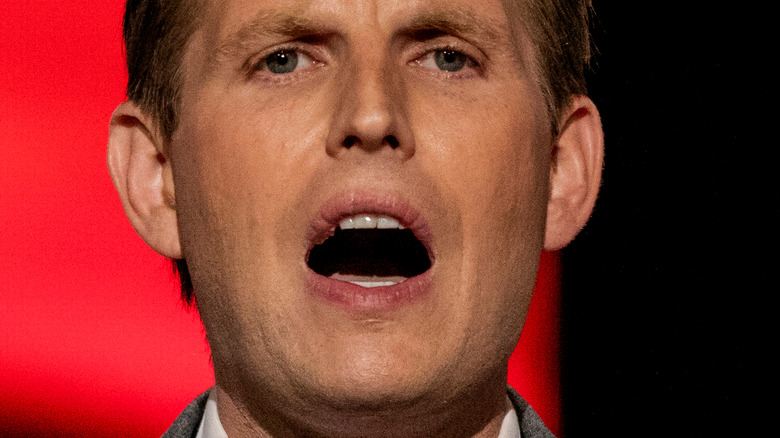 mark reinstein/Shutterstock
Donald Trump's children are ride-or-die's for their father; they constantly defend him, praise him, and even work for him to protect their family's legacy. Even though the majority of the time social media mocks the Trump children for the debatably outlandish things they say to defend their father, they still march on. One child in particular, Eric Trump, is constantly in the news for something he said to fervently uplift and defend his father from his political foes. "He's literally saved Christianity," Eric once proudly — and arguably shockingly — told Scott Hennen for "What's on Your Mind" in 2020. "I mean, there's a full out war on faith in this country by the other side." 
Now that Donald's administration is out and President Joe Biden replaced it, it seems that Eric's favorite thing to talk about is Biden. On May 17, Eric spoke to Newsmax TV's "Cortes & Pellegrino" (via Newsweek) and compared Donald's presidency to the beginning of Biden's and claimed Biden and Kamala Harris are nowhere near as capable as he believe his father is. "I think they're lazy," Trump said. "I think they lack motivation. I think they lack the charisma to do what my father did."
Now Eric is in the news again for his scathing critique on what Biden is (or isn't) doing during his time as president, and some are finding a lot of irony within his critique.
Eric Trump called out Joe Biden for leaving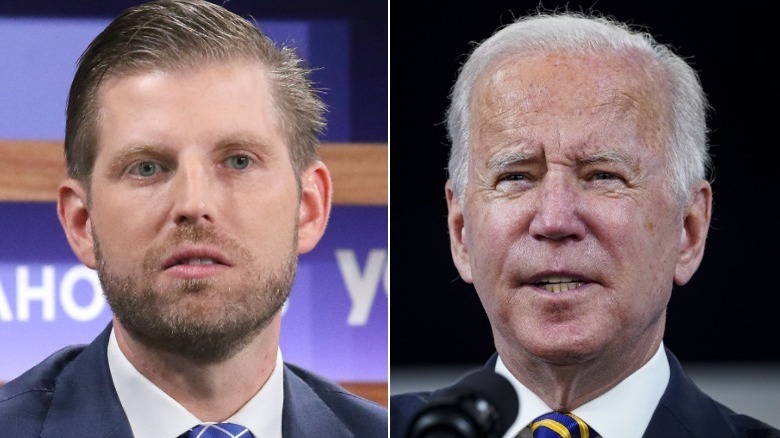 Jim Spellman, Bloomberg/Getty Images
Abolitionist Frederick Douglass once said, "At a time like this, scorching irony, not convincing argument, is needed." This accurately describes the criticism Eric Trump has about Joe Biden's recent outings. According to Newsweek, Trump criticized Biden for trying to visit Wilmington, Delaware, because he believed that Biden wasn't taking care of his duties in Washington, D.C., including the messy withdrawal of American troops from Afghanistan. "The other thing that really bothers me, Sean, about this situation is, where is everybody during this crisis?" Trump asked Fox News' Sean Hannity on October 18. "Every crisis that Biden has and every single day there's another one, whether it be Afghanistan or the border, right, the leaders leave."
Many people on Twitter criticized Trump for his statement because his father, former U.S. President Donald Trump, was known for often stepping away from the White House. Journalist Aaron Rupar tweeted, "Eric Trump criticizes Joe Biden for spending time at his personal property instead of the White House. Irony is deader than dead." Another person also noted the irony, and questioned, "Does Eric Trump know how many days His daddy spent at Mar-a -Lago and Bedminster while president?"
According to the Citizens for Responsibility and Ethics in Washington, Donald visited his personal properties around 550 times and his golf courses over 300 times during his presidency. Biden has spent six out of 29 weekends at the White House, which at this point in his presidency, is less than the previous two presidents, per NPR.