What Was Meghan Markle's First Impression Of The Queen And Kate Middleton?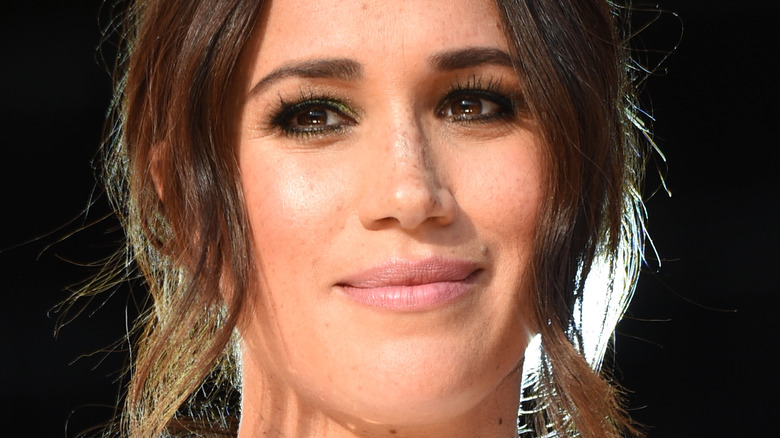 Kevin Mazur/Getty Images
As the royal family attempts to reconcile their strained relationships, followers of British royalty are resurfacing an old interview with the Duke and Duchess of Sussex, Prince Harry and Meghan Markle, where the American royal reveals her first impression of Queen Elizabeth II and Duchess of Cambridge, Kate Middleton.
Drama in the royal family took a turn for the worse when Prince Harry and Meghan opted to leave their royal duties and move out to California to raise their family. After the press reported on the behind-the-scenes reasons for the big move via inside sources, the royal couple decided to sit down and air out all the details in a scathing interview with Oprah Winfrey. Meghan opened up about the racism and alleged mistreatment she received at Buckingham Palace, revealing racist comments made about her first-born's skin tone, the lack of support provided when the duchess contemplated suicide, and what her relationship with Kate Middleton was really like.
The "Suits" actor joined the royal family in May 2018, when she and Prince Harry wed at Windsor Castle. While reports surfaced that Meghan made Kate cry over a wedding disagreement, the duchess revealed it was actually the reverse. "She was upset about something, but she owned it, and she apologized," Meghan said (via Fox News). Since the Oprah interview, Meghan and the rest of the royal family are reportedly working through their animosity, and fans are reminiscing on where their relationship all began, wondering how it went wrong.
Meghan had no formal training prior to meeting the royal family
Chris Jackson/Getty Images
In a BBC interview from 2017, the Duke and Duchess of Sussex, Prince Harry and Meghan Markle, sat down to discuss their engagement and how Meghan was being perceived by the royal family. "I'd been seeing her for a period of time when I literally didn't tell anybody at all," Prince Harry said about the beginning of their relationship (via Marie Claire U.K.). "William was longing to meet her and so was Catherine." 
Meghan chimed in, describing the Duchess of Cambridge Kate Middleton as "wonderful," before sharing the story behind meeting Queen Elizabeth II. "To be able to meet her through [Harry's] lens, not just with his honor and respect for her as the monarch, but the love that he has for her as his grandmother ... I had such a deep understanding, and of course, incredible respect for being able to have that time with her."
Four years later, the actor revealed to Oprah Winfrey that she had no formal training prior to meeting the queen, and it was Harry who taught her how to curtsey. Meghan went on to tell Oprah, "It made me think of my grandmother: She's always been warm and inviting" (via Elle). As for her relationship with the Duchess of Cambridge, Meghan and Kate are on their way to returning to that "wonderful" relationship they first developed back in 2017, with sources telling Us Weekly in August, "They're closer than ever and working on their relationship for the sake of the family."