Alec Baldwin Makes Bombshell Claim About How The Rust Shooting Really Happened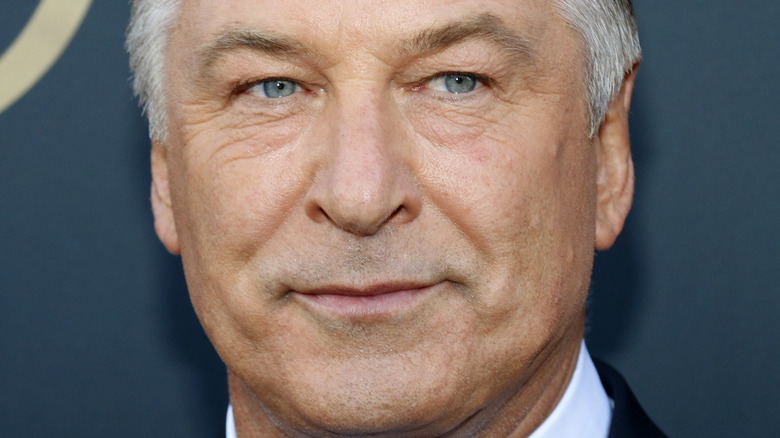 Tinseltown/Shutterstock
In October, tragedy struck on the set of Alec Baldwin's film, "Rust," in New Mexico. As many know, the actor held a prop gun that he thought was loaded with blank rounds, but the gun shot off a live bullet while Baldwin held it in his hand, striking and killing cinematographer Halyna Hutchins. The same bullet also struck director Joel Souza, but luckily, his injuries were not serious, and he was later released from a local hospital. 
Shortly after the shooting, Baldwin broke his silence with a statement on social media. "There are no words to convey my shock and sadness regarding the tragic accident that took the life of Halyna Hutchins, a wife, mother, and deeply admired colleague of ours," he tweeted. The actor also added that he was "fully cooperating with the police investigation to address how this tragedy occurred." It's clear that Baldwin respected Hutchins and her work, and in an impromptu interview with TMZ, he talked about his relationship with her. "She was my friend. The day I arrived in Santa Fe and started shooting, I took her to dinner with Joel," Baldwin shared, adding that they "were a very, very well-oiled crew shooting a film together, and then this horrible event happened."
Baldwin's wife, Hilaria Baldwin, has also been vocal in defending her husband following the accident, and she hasn't held too much back. Now, Baldwin is speaking for himself once again in an incredibly candid interview.
Alec Baldwin says he didn't pull the trigger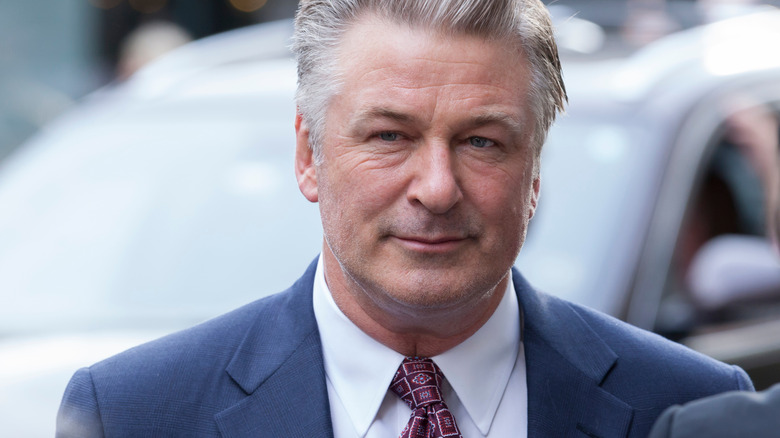 lev radin/Shutterstock
Aside from a few statements, Alec Baldwin has remained pretty quiet following the horrific shooting on the set of his film, "Rust." The actor chose to do his first post-accident sit-down interview with George Stephanopoulos on "ABC News," where he tearfully recalled the events leading up to the fatal shooting of Halyna Hutchins. In the interview, Baldwin referred to Hutchins as "someone who was loved by everyone who worked with [her], liked by everyone who worked with and admired."
When Stephanopoulos asked the actor why he pulled the gun's trigger when it wasn't even in the script, Baldwin made a bombshell revelation. "Well, the trigger wasn't pulled, I didn't pull the trigger," he stated. Stephanopoulos questioned it again, and Baldwin said, "No, no, no, no. I wouldn't ever point a gun at anyone and pull a trigger at them, never."  The actor also shared that there was never supposed to be a real bullet in the gun and he doesn't know how it happened. "I have no idea, someone put a live bullet in a gun, a bullet that wasn't even supposed to be on the property," Baldwin said.
It's clear that the incident has taken a toll on Baldwin, and he shared with Stephanopoulos that the shooting on set was the worst thing that has ever happened to him in his life. Mostly, because he keeps thinking about what he could have done differently to prevent such a horrible outcome.
Not everyone is buying Alec Baldwin's claim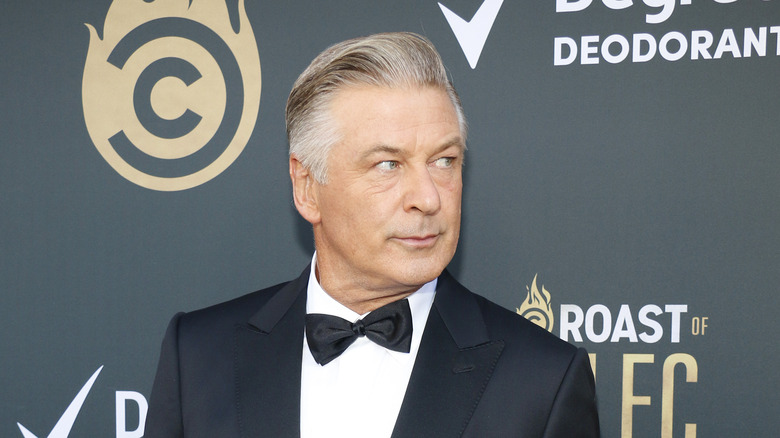 Tinseltown/Shutterstock
Since Alec Baldwin's stunning claim that he didn't pull the trigger, there has been a fair amount of backlash and questioning. One of the people who has doubts about the actor's statement is Sheriff Adan Mendoza. "Guns don't just go off. So whatever needs to happen to manipulate the firearm, he did that and it was in his hands," he told Fox News. 
In addition, dozens of others have taken to social media to weigh in on Baldwin's interview, and as of this writing, ABC News has only released a snippet of the sit-down. "F.LLI Pietta long colt 45 revolver is a single action firearm. It requires substantial user input to fire. Claiming he didn't pull the trigger is a lie that defies the laws of physics," one Twitter user argued. "Secondly, #AlecBaldwin admitted he's fully aware of the dangers of pointing a gun at someone." Another person tweeted, "Alec Baldwin is claiming he didn't pull the trigger in the shooting on the movie set. If that defense works we will have to let loose alot of criminals." 
Even George Clooney questioned the safety on the set of "Rust," admitting that he has never heard of some of the safety terms like "cold gun," he said on Marc Maron's WTF podcast. "Every single time I'm handed a gun on a set — every time — they hand me a gun, I look at it, I open it, I show it to the person I'm pointing it to, we show it to the crew," he stated, saying everyone does it.