Donald Trump Jr. Takes Aim At Joy Behar And Chris Cuomo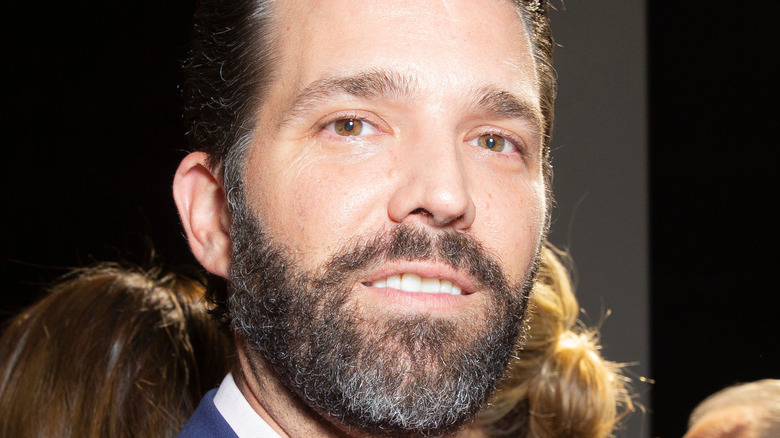 lev radin/Shutterstock
Donald Trump Jr. certainly isn't a cheerleader for "The View" host Joy Behar or former CNN anchor Chris Cuomo, especially since they've been two extremely vocal critics of his father. Both Behar and Cuomo have cracked down hard on former president Donald Trump, particularly in regards to his handling of the COVID-19 pandemic. However, Trump Jr. was quick to call out some of their own past behavior.
In August 2019, Cuomo, whose brother is former New York governor Andrew Cuomo, took serious issue with a stranger walking up to him and calling him "Fredo," a nod to a slightly less intelligent brother from "The Godfather." The former CNN host claimed that for Italian people, the name is the equivalent of saying "the N-word," a highly offensive and racialized phrase with deep roots in slavery and racism. " ... If it's the N word for Italians like @ChrisCuomo says, I don't understand why Chris seems so at ease with someone saying it here," Trump Jr. tweeted at the time, referencing a Cuomo interview where the name "Fredo" was mentioned. "An excuse just as fake as his news."
That same year, when Trump Jr. was on "The View," Behar gave him a laundry list of controversial things his father did or said during his campaign and presidency. Trump Jr. then decided to critique her back. "We've all done things that we regret. Joy, you have worn blackface," Trump Jr. said.
Now, Trump Jr. seems to be fanning the flames some more by insulting two birds with one stone — rather, or these two celebrities with one tweet.
Donald Trump Jr. tweeted a Photoshopped image of Chris Cuomo and Joy Behar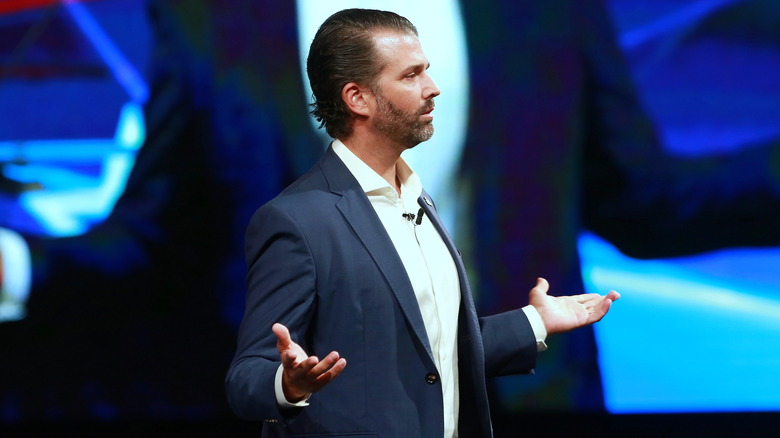 Bloomberg/Getty Images
On December 3, Donald Trump Jr. tweeted a clearly Photoshopped image that seems to be of former CNN anchor Chris Cuomo's face on Joy Behar's body. The headline reads, "Cuomo's Next TV Gig," with a logo of "The View" in the background. Trump Jr. captioned the photo, "It's only a matter of time." 
This is most likely Trump Jr. throwing shade at Cuomo being suspended indefinitely from CNN, inferring that "The View" will be the only place that will hire him. Cuomo was suspended after CNN found out he used his journalism connections to help his older brother — former New York Governor Andrew Cuomo — regarding the sexual misconduct allegations against him.
Trump Jr.'s reference to "The View" was not a random one, as Behar recently defended Cuomo on the show after his CNN scandal. "I like Chris, I know the family, I know [his mother] Matilda," she told her co-hosts during the uncomfortable discussion. "I think he's in a little bit of trouble here." Behar continued to defend Chris, claiming that people shouldn't "be judge and jury of the guy" and she "understand[s] the inclination to help your brother...," But she did agree that it wasn't the best decision. "I don't think that that's kosher, frankly," she said.