Is Shiloh Jolie-Pitt Ready To Delve Into The Modeling Industry?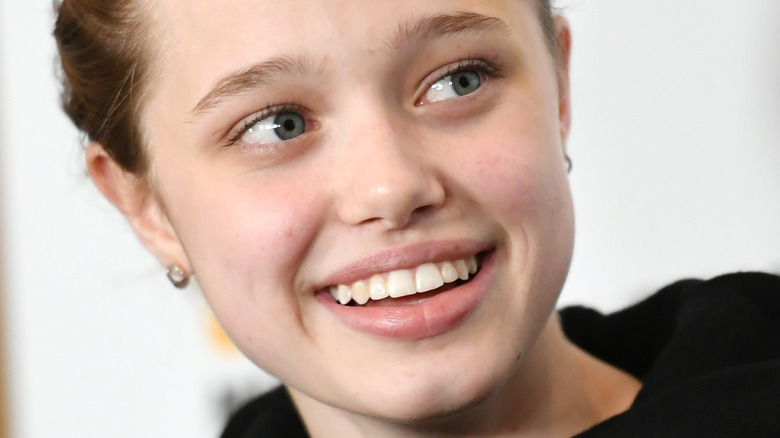 Jc Olivera/Getty Images
Angelina Jolie strives to be the best mother she can, often drawing inspiration from her own late mother, Oscar-winner Marcheline Bertrand, who, like her daughter, was also equally recognized for her work as a humanitarian. In Jolie's eyes, Bertrand sacrificed quite a lot when she married Oscar-winning actor Jon Voight at 21, from whom she divorced only four years later. "By the time she was 25 she was divorced with two little kids. She couldn't be the artist she wanted to be, but she raised her children with art and creativity," Jolie told The Guardian in September.
Like Bertrand, Jolie wants to find a balance between keeping her six children, whom she shares with ex-husband Brad Pitt, safe and allowing them to explore their talents. "I grew up in Hollywood. This town is disturbing," Jolie said. Inevitably, her kids were also exposed to the same environment, and she has come to expect that some of them will follow in her and Pitt's footsteps, especially Shiloh Jolie-Pitt. 
Born in 2006, Shiloh indicated she might grow up to become an artist from a young age. "Shiloh's hysterically funny, one of the goofiest, most playful people you'll ever meet," Jolie told Vanity Fair in 2010, adding that, as a kid, she was a lot "like Shiloh, goofy and verbal, the early signs of a performer." Now a teenager, and with Hollywood being Hollywood, Shiloh is reportedly beginning to receive work offers — and the "Eternals" star is trying to navigate the waters as steadily as she can alongside her daughter.
Shiloh Jolie-Pitt might be interested in modeling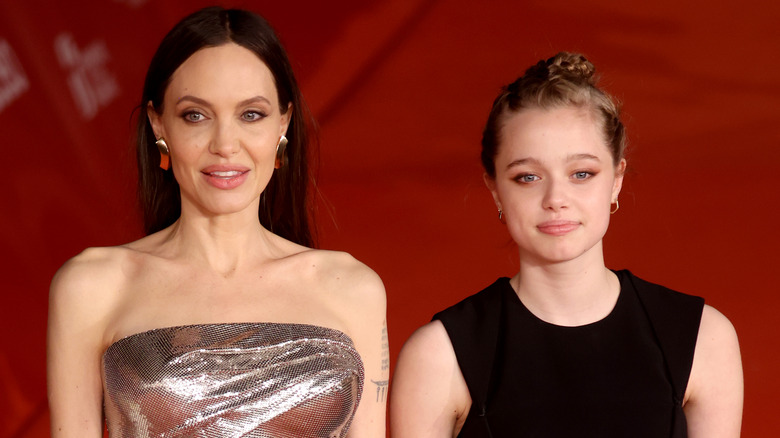 Franco Origlia/Getty Images
Thanks to Angelina Jolie and Brad Pitt's genes, it's no surprise that Shiloh Jolie-Pitt is growing up to be beautiful. And we're not the only ones seeing it. Shiloh is reportedly "mulling over ... a couple offers" she has received in the modeling industry, a source told Life & Style in November. "[Angelina is] well aware that there's interest from the fashion world," the insider explained. Jolie trusts Shiloh and "will guide her as best she can," but the actor understands she has to be realistic while finding a way to keep Shiloh safe. "[Angelina] knows Shiloh has a good head on her shoulders, [but she isn't] going to throw her to the wolves," the source added.
This isn't the first time the rumor mill has speculated that Shiloh might pursue a career in modeling. "Shiloh is aware she has a lot of options both in Hollywood and in the world at large. Modeling is what appeals to her most. She loves the idea of becoming an edgy teen model," a source told Star (via Entertainment Times) in April. Star also alleged that Pitt worries about Shiloh going into the vicious industry.
Of course, these rumors must be taken with a grain of salt. Pitt has previously shown he's all for allowing his kids to explore their options. "It's about guiding as you can, but they get to try everything on and try what their passion is," Pitt said in 2020 (via People).
Shiloh Jolie-Pitt has experimented with different styles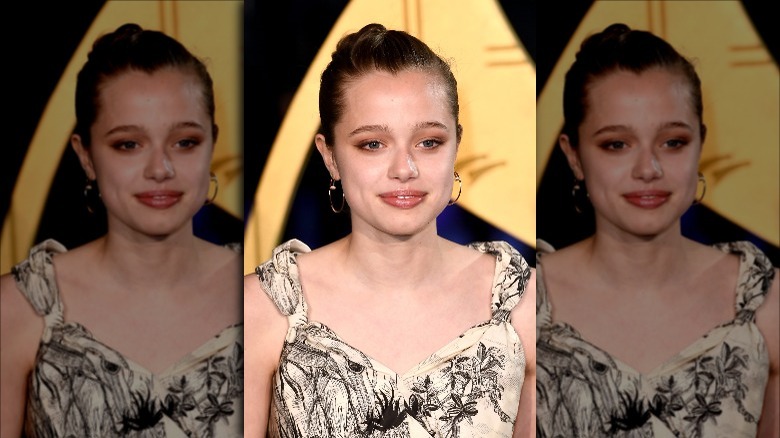 Dave J Hogan/Getty Images
The media (and the public at large) has shown interest in Shiloh Jolie-Pitt's looks for as long as she has been in the spotlight. The fourth child of Angelina Jolie and Brad Pitt was well-known for her tomboyish style, often preferring to rock jeans and hooded sweatshirts or boy clothes. "She likes tracksuits, she likes [regular] suits. So it's a suit with a tie and a jacket and slacks, or a tracksuit. She likes to dress like a boy," Jolie told Vanity Fair in 2010, when Shiloh was only 4 years old. Because the public grew accustomed to Shiloh's pixie cut and loose clothing, everyone was surprised when she emerged sporting long hair and wearing clothes most commonly associated with girls, like short shorts, The Hollywood Life pointed out.
On October 18, Shiloh, now 15, wore a dress on the red carpet for the first time when she and her siblings accompanied Jolie to the "Eternals" premiere, as the Daily Mail reported. A month later, Shiloh returned to a more casual style. At the premiere of "Paper & Glue," Shiloh rocked ripped jeans and a black hoodie, according to InTouch Weekly, showing she likes an array of styles. Jolie never read too much into Shiloh's fashion choices. "I don't think it's for the world to interpret anything ... Some kids wear capes and want to be Superman and she wants to be like her brothers," Jolie told the Daily Mail. "It's who she is."