Kamala Harris Completely Avoids This Key Question Everyone Wants To Know The Answer To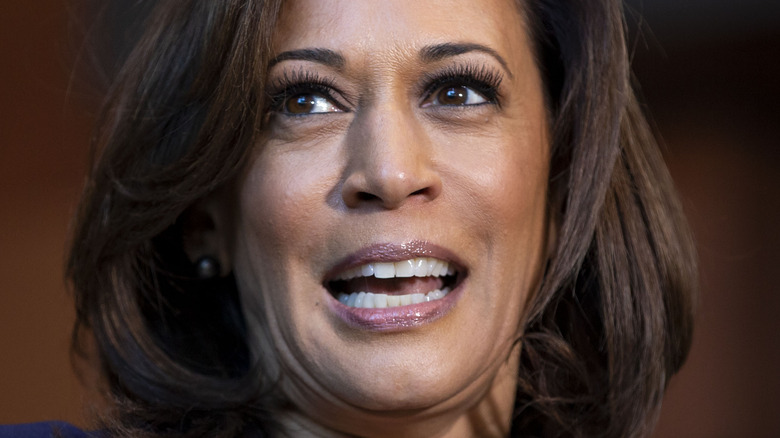 Al Drago/Getty Images
Vice President Kamala Harris has quickly realized that any politician's relationship with the media can be a fickle one. It wasn't long ago that the vice president was lauded as a role model for not only young boys and girls, according to NBC News, but for women all over, thanks to her style and her substance in front of the cameras, per The Telegraph. However, Harris knew that when she was sworn in to office that her job was not going to be a walk in the woods. Speaking to CBS in an interview back in January, Harris said, "I've seen some of the worst in human behavior. I've seen some awful stuff, and I've seen some beautiful, great things," adding that she's going into the job "clear-eyed," but "we've got a big job in front of us, and it is not gonna be easy."
With that said, little did Harris know at the time that only a few months into her vice presidency, she would be dealing with problems bigger and perhaps more personal than she expected. And it all has to do with a crock pot, low approval ratings, and the revolving door of staff members at her office.
Kamala Harris always understood the assignment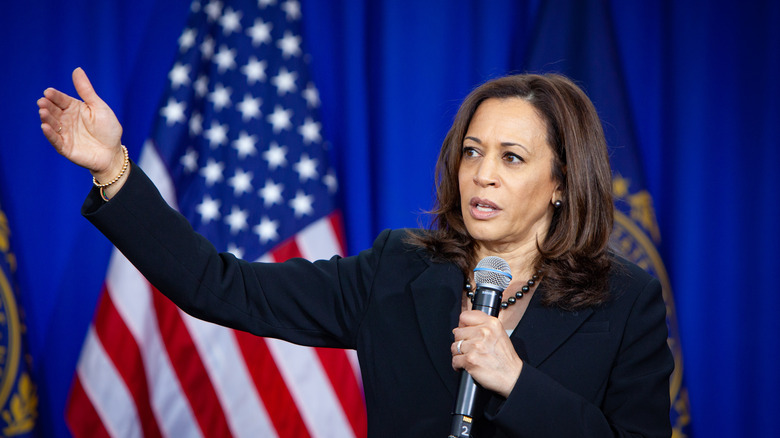 Maverick Pictures/Shutterstock
According to the San Francisco Chronicle, Kamala Harris was criticized for doing what most people would do during a trip to Paris, and that's go shopping. Before heading back to the airport, the vice president reportedly bought a $375 pot, but this was only after she had a bilateral meeting with French President Emmanuel Macron about important topics, such as national security and climate change. 
Harris called the headlines about her purchase "ridiculous." But that was not the only issue that Harris was pressed on. The publication pointed out that Harris kept quiet about the negative headlines and reports regarding her staff departure controversy, along with the rumors about her relationship with President Joe Biden. And, while it seems like she might have avoided some questions, she did say, "There is nothing about this job that is supposed to be easy. If something is coming to me, it's because it needs to be addressed and because, by definition, it's not going to be easy. If it was easy, it would have been handled before it comes to me."
Well, regardless of what Harris' critics might have to say, at least the VP was well aware of the assignment and the degree of difficulty before she took the position.