North West Just Got In Trouble For Doing This Without Kim Kardashian Knowing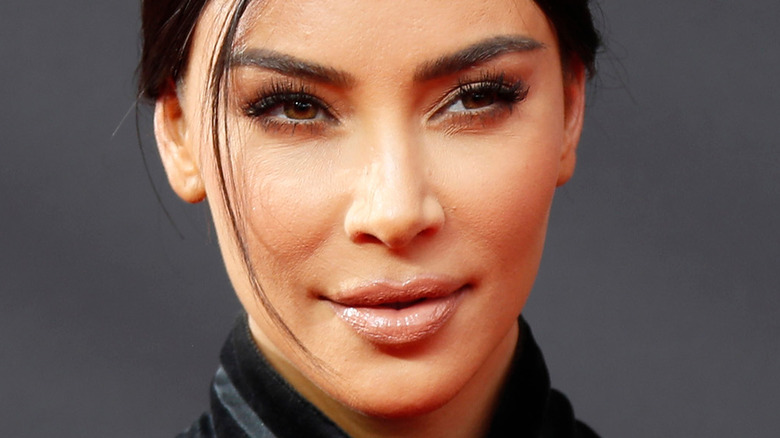 Kathy Hutchins/Shutterstock
Kim Kardashian just might have met her match when it comes to social media ... her 8-year-old daughter North West.
The mother-daughter duo recently began their own joint TikTok account (much like her cousin Penelope Disick and her mom Kourtney Kardashian), allowing North to finally have a public social media page. "Some people have accounts for their babies, I don't think I'll do that. I think they'll have to ask me and have a conversation about that," the SKIMS owner said of when her kids would be allowed social media back in 2016 (via Harper's Bazaar). "I kind of went through that with my youngest sisters Kylie and Kendall. They wanted Facebook accounts and me, Khloe and Kourtney had their passwords and spied on them for my mom."
Since the launch of North's TikTok, the Kardashian kid has given fans insight into the family's holiday decorations, behind-the-scenes footage with her famous cousins, and even showed off her two pet lizards Cheese and Bean. "My mom hates them," North said in the video. "Because they have worms and they're disgusting, my mom thinks." Yet, it wasn't North's admission that Kim hates her daughter's pets that got the celebrity kid in trouble.
North West gave a tour of her home
With the encouragement of a few friends and cousins, North West took to TikTok to give fans an inside tour of her massive Hidden Hills mansion, going live via the social media app on December 12. In videos now posted by fan accounts, North begins showing her 2 million TikTok followers her all-pink bedroom with her friends' giggles heard in the background. The Kardashian kid then says, "Let's go downstairs, we have rented this 'Sing' thing," showing off an elaborate set up in Kim Kardashian's backyard for the premiere of "Sing 2."
Along the tour, Kourtney Kardashian's youngest son Reign Disick pops up seemingly hinting that North was breaking the rules. "North you're live. No, not fair, TikTok live," screamed the 6-year-old, before adding, "Not allowed to be live." North finally walks into her famous mom's bedroom where Kim is seen on her phone lying in bed and confesses to breaking her social media rules. "No stop, you know you're not allowed to," Kim says across the room as North reveals she's live. Unsurprisingly the video quickly cuts off, leaving fans guessing North is probably in big trouble.
Back in 2020, North's cousin Mason Disick found himself in similar hot water with his mom Kourtney, who revealed she "quickly shut down" Mason's Instagram and TikTok accounts after the eldest Kardashian cousin went live, which inadvertently revealed some family secrets.