Chrissy Teigen Just Reached A Major Milestone In Her Sobriety Journey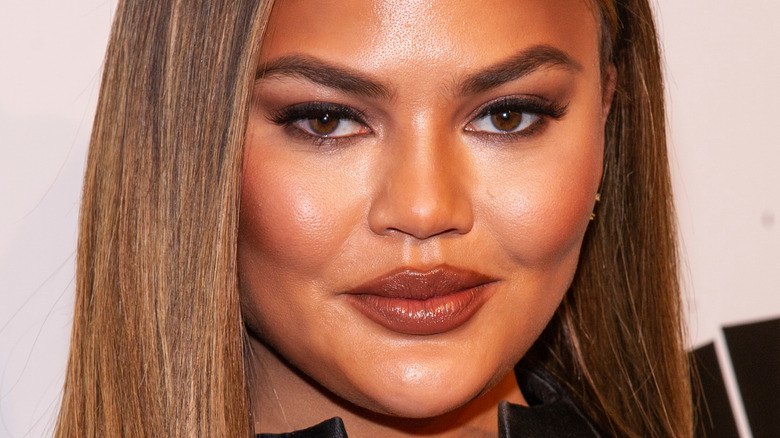 lev radin/Shutterstock
It's been a whirlwind few years for Chrissy Teigen. The normally bubbly model made headlines for all the wrong reasons in 2021 after resurfaced tweets involving Courtney Stodden called Teigen's character into question. Stodden accused Teigen of cyberbullying, claiming that the cookbook author even sent her some nasty DMs during this period. "She wouldn't just publicly tweet about wanting me to take 'a dirt nap' but would privately DM me and tell me to kill myself. Things like, 'I can't wait for you to die,'" Stodden told the Daily Beast. Teigen later issued an apology to Stodden, but it wasn't without a ton of backlash itself.
The star has also struggled with sobriety, and she's been open and honest about her journey. In 2017, Teigen chatted with Cosmopolitan, stating that she cut back on drinking. "I was, point blank, just drinking too much. I got used to being in hair and makeup and having a glass of wine," she said. "Then that glass of wine would carry over into me having one before the awards show." Teigen also said that she made a fool of herself in front of people she really respected when alcohol was involved.
In 2021, Teigen also opened up to Ellen DeGeneres about the loss of her son, Jack, and how he helped her. "In a way, [my late son, Jack], really saved me," she told DeGeneres. "I don't think I would have discovered therapy and then sobriety and this path of really feeling good about myself and feeling like a new person." Bittersweet, to say the least. 
Chrissy Teigen feels better than ever at 6 months sober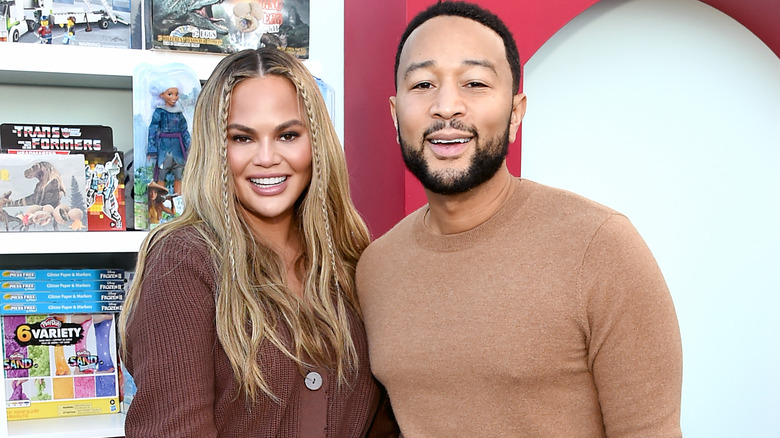 Michael Kovac/Getty Images
While many negatives have plagued Chrissy Teigen over the past couple of years, there have also been a few bright spots, paving the way for a great start to 2022. In mid-January, the model took to Instagram to share a series of images as she posed outdoors. Teigen rocked high-rise pants, a black crop top, and a trendy brown jacket. The model styled her long, blonde locks with a center part as they spilled over her shoulders. Teigen was dressed to impress, but it was really the caption that left people inspired. "6 months no alcohol!" Teigen wrote. "Honestly kind of sucks saying it because even though I don't ever crave it now, time has not exactly flown by haha."
She added, "I prob won't be excited til a larger milestone like at leasssst 5 years, and sometimes I don't even know if I necessarily won't ever drink again?" The model shared that since she's stopped drinking, she feels "endless energy, way less anxiety (no more benzos!) and I am *happier* and more present than ever." She told fans she can't wait for what's to come and she's looking forward to the future.
Fans have been thrilled with the update, and many took to the comments section to congratulate Teigen on the milestone, including some famous pals. "6 months is something to celebrate. You hit a rough spot in the road and changed your tires," Octavia Spencer wrote. "Now you're enjoying the ride. That's something to celebrate." How great!
If you or anyone you know is struggling with addiction issues, help is available. Visit the Substance Abuse and Mental Health Services Administration website or contact SAMHSA's National Helpline at 1-800-662-HELP (4357).