Tyga Claims He Warned Rob Kardashian About Blac Chyna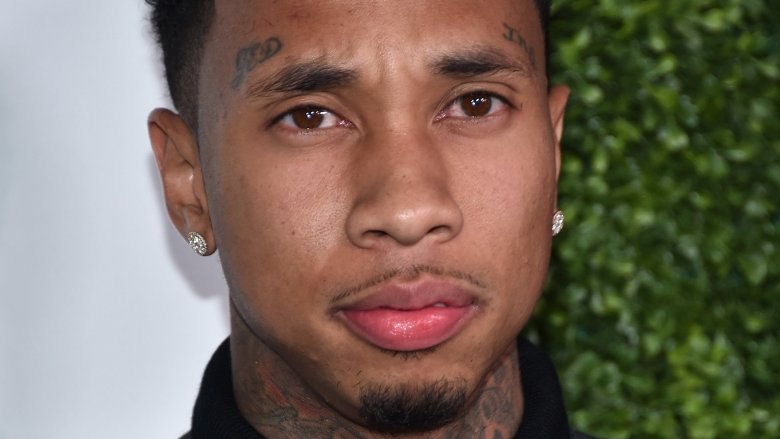 Getty Images
The "Rack City" rapper addressed the recent Rob Kardashian-Blac Chyna drama in an interview on 105.1's The Breakfast Club on Thursday, July 20, 2017.
Tyga, who shares son King with ex Chyna, claims he told Kardashian exactly what to expect from dating Chyna. "I told him what the play was," Tyga said. "I told him, like, what he was gonna deal with, you know what I'm saying? When I was with [Kylie], I told him like, 'Bro I was just with her for three, four years. This is what you're about to deal with."
So, why did Tyga feel the need to tell Kardashian all about Chyna? Because Chyna and Kardashian are from two different worlds, apparently. "She just Chyna. She just got a different mentality," the 27-year-old explained. "She really is a good person — you feel me — at heart, but she's been through a lot in her life, and she didn't have people to help guide her and stuff in her life."
Kylie Jenner's ex continued, "I knew a [guy] like him wasn't going to be able to handle a girl like that. He's coming from a whole different world. He don't know how she moves and how she thinks. When you're in love and when you don't care what nobody else thinks, love blinds you."
However, just because Tyga warned Kardashian what he was getting into doesn't mean he was constantly sticking his nose where it didn't belong—Tyga knew his place. "I'm not going to intervene on what they got going on," he told the radio show. "That's not my business. That's not my relationship."
As Nicki Swift previously reported, Kardashian infamously shared revenge porn of Chyna on social media, accusing her of cheating on him with multiple men, having a baby with him to get back at ex Tyga, and doing drugs. Chyna later responded by hitting Kardashian with a restraining order.
Chyna, who shares daughter Dream with Kardashian, also revealed that there's "no turning back" to a happier relationship with the Arthur George founder. "I'm glad I'm relieved of [Rob], but damn, why did I have to get relief in this way?" she said in a recent interview.
Miss all the drama? Catch up on the entire Kardashian-Chyna disaster here now.