Why Celine Dion Once Shut Down Ellen DeGeneres On Her Show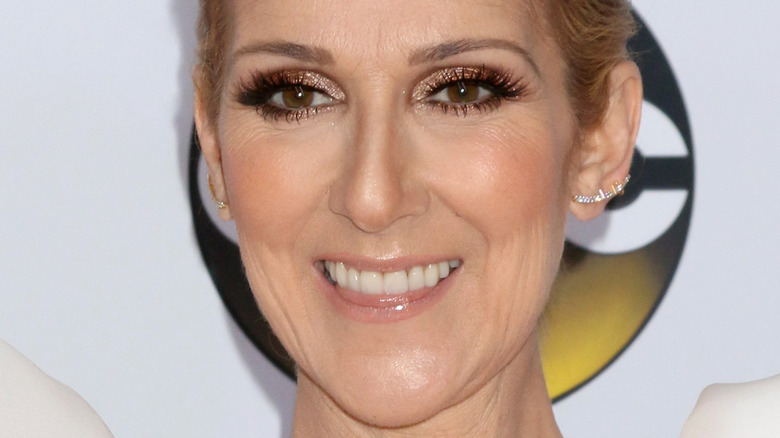 Kathy Hutchins/Shutterstock
The French-Canadian icon, Celine Dion, has always been unapologetically herself. Despite the many tragedies that have happened in Dion's life, she continues to be a strong and positive force in the music industry and serves as an inspiration to mothers everywhere due to her struggles with pregnancy and her use of IVF to conceive.
But one incident that the singer had with comedian and talk show host Ellen DeGeneres left many fans questioning if there was once bad blood between the two. In 2021, the reality of the conditions on the set of "The Ellen DeGeneres Show" were exposed, and it was alleged that DeGeneres was a source of toxicity towards both her staff and her guests. And it turns out that several celebrities have taken issue with DeGeneres over the years! As many old clips have been resurfacing that reveal the talk show host's somewhat rude interviews — such as with actor Dakota Johnson — fans of Dion are looking back at a time when she and DeGeneres butted heads on the program back in the day.
So, what exactly happened between Dion and DeGeneres, and where do they stand now?
Ellen DeGeneres questioned Celine Dion's young son's hairstyle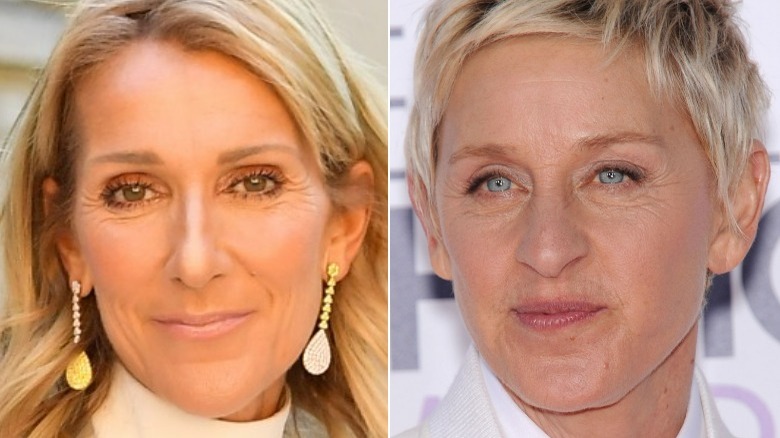 DFree/Shutterstock, Jacopo Raule/Getty Images
The interview in question took place back in 2007 when "The Ellen DeGenerous Show" was still in its infancy. Celine Dion came onto the show with the intention of promoting her new music, but the questioning turned towards her son, René-Charles Angélil, who was only 6 years old at the time. When Ellen DeGeneres displayed a sweet photo of Dion, her husband, and her son, the host decided to comment on René's almost waist-length hair.
"He is beautiful, but look at his hair. When are you gonna cut that hair?" DeGeneres asked (via Showbiz Cheat Sheet). "Do you have a problem with that?" Dion quipped back. When DeGeneres stood her ground on the issue, Dion acknowledged the criticism that moms in Hollywood often face. "Some people shave the head of their children, and people say 'Oh, isn't that terrible?' Well, I don't even cut my son's hair, and they say, 'Oh my God, when is she gonna cut her son's hair?"
Dion then revealed that her son was, in fact, the one to request that his hair stays on the long side and would not allow her to cut it. She concluded, "Whatever I will do, I won't please everyone." Was this a bit of shade from the queen of power ballads? Although it seems that Dion was not too bothered by DeGeneres' comments at the time, the interview left a bad taste in many fans' mouths.
Ellen DeGeneres had an opportunity to backtrack in a future episode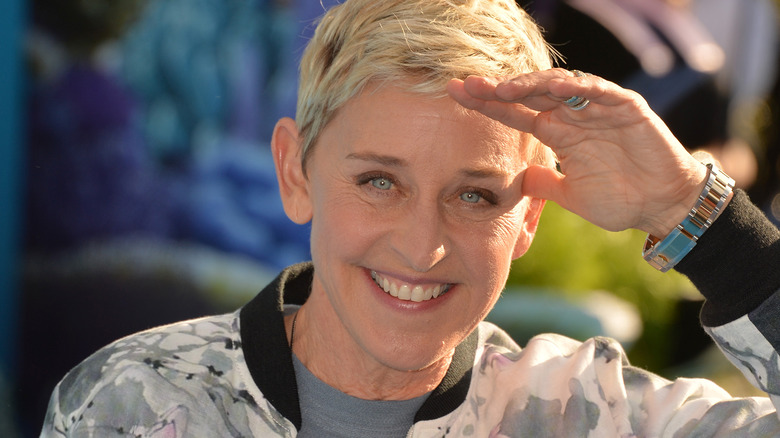 Featureflash Photo Agency/Shutterstock
While Celine Dion has never explicitly said that she took issue with what Ellen DeGeneres had to say about the way she raises her sons, the singer did not return to the program until a whole seven years after the initial interview. The second interview started off the same as the first by recapping Dion's recent life events. This included the birth of her two twin boys, Eddy and Nelson, who were 3 years old when the episode aired. When DeGeneres pulled up a photo of the boys, she felt the need to say, "Your little boys like to have long hair when they start out."
Unlike the last interview, DeGeneres tried to cover her tracks this time by saying, "I like it!" Both the first and second interviews have been scrubbed off of "The Ellen DeGeneres Show's" YouTube channel, possibly due to the number of fans who have called attention to DeGeneres' seemingly disrespectful comments toward Dion's young boys. Especially considering that DeGeneres is a famously gay comedian, people were confused as to why she was perpetuating stereotypes that boys had to have short hair.
It seems that Dion has not let DeGeneres' criticism get to her though, and she continues to love and support her boys no matter what.