It Looks Like It Might Already Be Over For Kanye West And Julia Fox
Featureflash Photo Agency/Shutterstock
Kanye "Ye" West's romance with Julia Fox may have already fizzled out. This, extremely public, romance went from 0 to 100 very fast in the wake of West's infamous high-profile divorce from Kim Kardashian, and this was one freight train that was in no hurry to slow down before potentially leaving the tracks.
The two first met on New Year's Eve in 2021 — and wasted no time going public. And we mean no time. "It was an instant connection," Fox gushed to Interview in January, a mere six days after they met, as they shared some intimate pictures from a date night with the outlet after the rapper as he filled a hotel room with lavish clothing for their second date. Fox thanked him by straddling him on the floor amid the clothing racks while also having a full-on photoshoot during their dinner date.
She went on to call their date night "a dream come true" and "a real Cinderella moment," adding, "I don't know how he did it or how he got all of it there in time. But I was so surprised. Like, who does things like this on a second date? Or any date! Everything with us has been so organic. I don't know where things are headed but if this is any indication of the future I'm loving the ride."
But just over a month later, the split rumors came a-swirling...
Is it all over for Kanye West and Julia Fox already?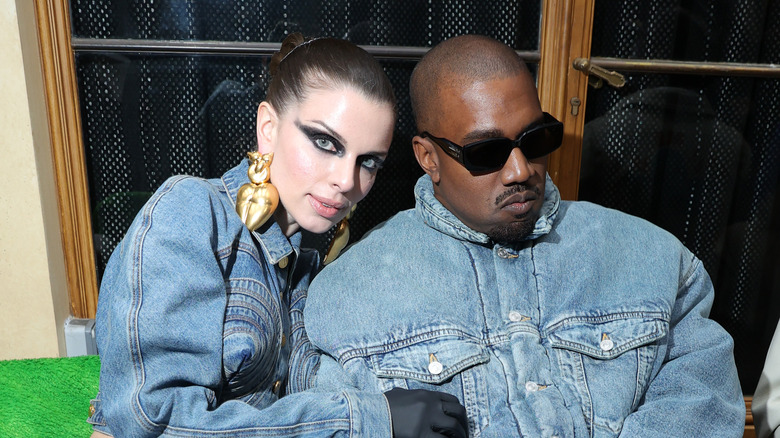 Victor Boyko/Getty Images
Julia Fox appeared to have hinted that things with Kanye "Ye" West were over before they ever really began. In candid Daily Mail photos, Fox appeared  "visibly emotional" while jetting out of LAX airport without her boyfriend (or ex-boyfriend) on February 13, just one day before Valentine's Day.
Adding fuel to the fire, Fox had deleted all the photos of West from Instagram shortly before, and, in what may be the most of her most telling moves, liked Kim's February 13 Instagram upload featuring several photos of her posing in all-black. As those who keep up with the Kardashians will know, things have been pretty nasty between Kim and West in the wake of their split.
The latest split rumors came just one week after Fox actually denied she and West had split via Instagram Stories, explaining she "took the f***** photos down because I read the comments and everyone was like, 'Oh my God, you clearly only posted photos where you looked good in.'"
Neither have officially confirmed the split just yet, though West went on yet another pretty epic Instagram rant on Valentine's Day but never mentioned Fox. He claimed, in all caps, "MY FAMILY MEANS MORE TO ME THAN ANY OTHER ACCOMPLISHMENT IN LIFE" and urged fans to "SCREAM AT YHE LOOSER AT THE TOP OF YOUR LUNGS AND SAY KIMYE FOREVER [SIC]" in what appeared to be a reference to Kim's new man, Pete Davidson.