The Real Reason Cher And Gregg Allman Got Divorced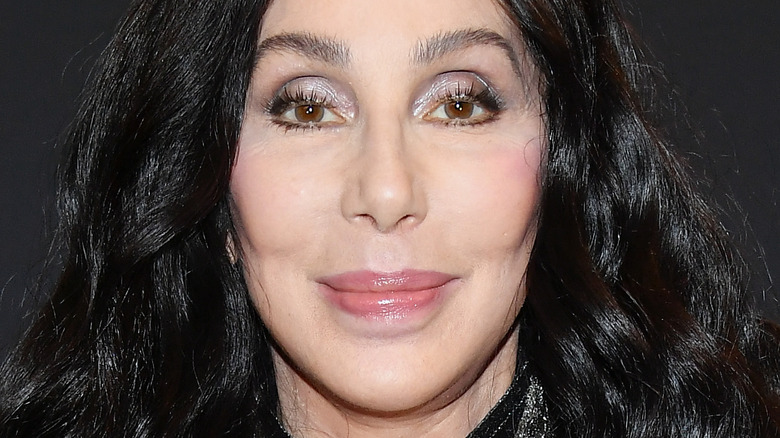 Amy Sussman/BBMA2020/Getty Images
Ever since the beginning of Cher's 60-plus year career, the "Goddess of Pop" has been iconic for being unabashedly herself. The singer has also made one thing absolutely clear: she loves having a beau on her arm! A look at the timeline of Cher's relationships shows that she has been linked to the likes of Gene Simmons, Warren Beatty, and even Tom Cruise. She was most famously tied to ex-husband Sonny Bono, with whom she created and co-hosted "The Sonny and Cher Comedy Hour."
When she and Bono called it quits, Cher jumped into a relationship with rock and roll singer-songwriter Gregg Allman. The two musicians had the definition of a whirlwind romance; Cher and Allman tied the knot just five days after she finalized her divorce with Bono. But like Cher once wisely said, "A man is absolutely not a necessity," and their marriage ended not long after it began. Of course, she was back on the market shortly after, but her love for the rock star lasted up until Allman died in 2017. So, what caused the deterioration of their marriage?
Cher and Gregg Allman were rocky from the start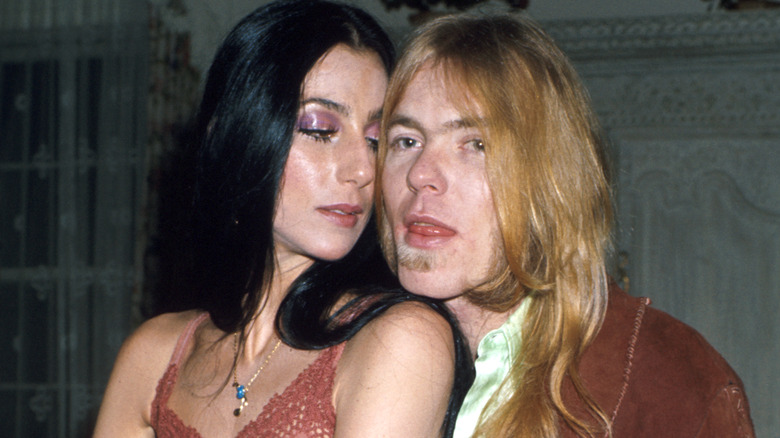 Michael Ochs Archives/Getty Images
Although Cher and Sonny Bono broke up in 1974 after years in an open marriage, the ink on their divorce papers wasn't dry until 1975. But Cher quickly moved on after a night out at the Troubadour in Los Angeles, per Rolling Stone. There, she met one of the founders of the Allman Brothers Band, Gregg Allman. Their initial connection was electric, but the young Cher wasn't aware of one lingering issue.
"[Cher] didn't realize that I was a hop-head," Allman recalled to Rolling Stone. "So I woke up one morning and told her, 'Look, I've got to tell you something. I'm addicted to narcotics.' 'Well, how do you fix that?' she asked." After a failed attempt to get him off drugs, Cher still stayed by Allman's side. He noted, "Cher was actually quite elated that I told her the truth about my addiction."
The couple decided to get hitched in Las Vegas within a week after the divorce with Bono was finalized. But, according to Entertainment Weekly, Cher couldn't handle Allman's alcohol and heroin addictions any longer, so she filed for divorce with him just nine days after their nuptials. Allman eventually worked his way back into the pop star's heart, and she retracted the papers a month later.
Cher and Gregg Allman couldn't handle the pressure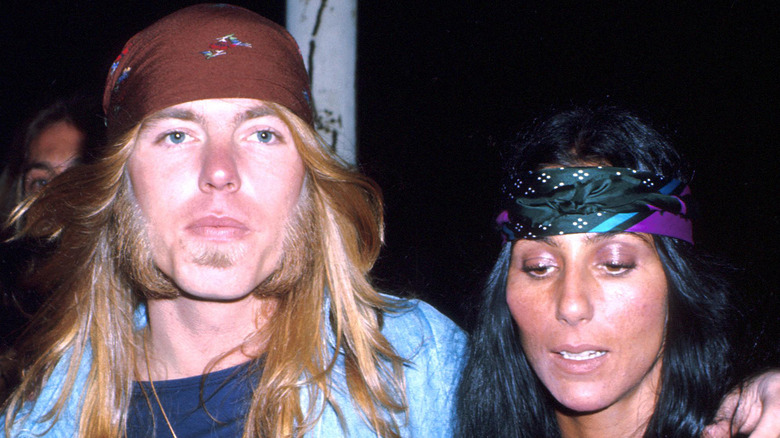 Michael Ochs Archives/Getty Images
Unfortunately, drug addiction wasn't the only issue the couple dealt with. In 1976, Sonny Bono again became intertwined in Cher's life; they reunited to revive and host "The Sonny & Cher Show" together. This, however, did not sit well with Allman, so he was now the one to call the lawyers for a divorce, per Entertainment Weekly. But, Allman took Cher back after she revealed that she was pregnant with their future son, Elijah Blue Allman. The two went on to release an album and go on tour under their new duet name, Allman and Woman. However, with the stress of touring and the constant threat of her husband's relapse, Cher finally called it quits for good. "I just didn't have the juice anymore," she confided to People.
"We had our good times, we had our bad times," Allman reflected on their relationship to Rolling Stone. "We were just different in a whole bunch of ways ... I was really glad that she never asked me what I thought of her singing, because I'm sorry, but she's not a very good singer."
Even though they had their tough times, Cher and Allman maintained a good relationship until his death in 2017. Following his death, Cher kept her thoughts brief — tweeting, "IVE TRIED... WORDS ARE IMPOSSIBLE," along with a broken heart emoji. "FOREVER, CHOOCH."