Inside Anne Hathaway And Jessica Chastain's Friendship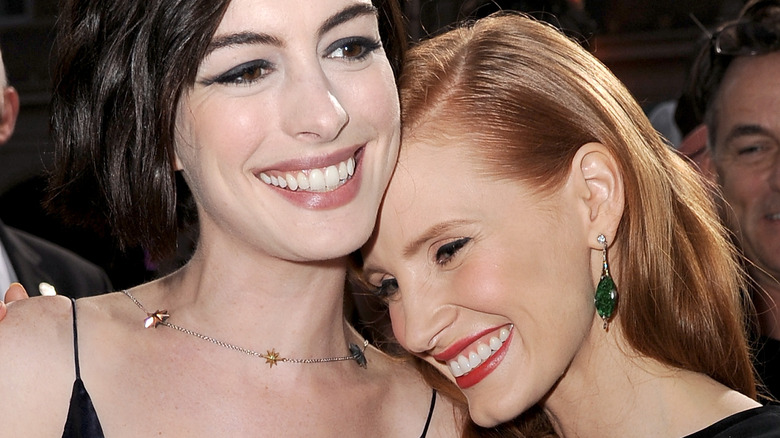 Kevin Winter/Getty Images
Anne Hathaway and Jessica Chastain are two of the most successful actors in Hollywood who have both achieved many notable accomplishments throughout their journeys in entertainment. Hathaway has garnered recognition for her roles in hits like "The Princess Diaries, "The Devil Wears Prada," and "Les Misérables," for which she won an Oscar for Best Performance by an Actress in a Supporting Role. Chastain's career has included starring roles in acclaimed films like "The Tree of Life," "The Help," and "Zero Dark Thirty," the latter of which resulted in her winning a Golden Globe for Best Performance by an Actress in a Motion Picture – Drama, per IMDbB. The site also lists that Chastain has two Academy Award nominations under her belt.
As Hathaway and Chastain are similarly highly respected and successful in their field, it isn't too much of a surprise that their paths have crossed in the past. They worked together on the 2014 Christopher Nolan film, "Interstellar," which earned an impressive $188 million at the U.S. box office, as reported by Rotten Tomatoes. Not only did the film give the actors a chance to work together, but it also set the stage for a great friendship.
Anne Hathaway and Jessica Chastain have remained friends since working together on Interstellar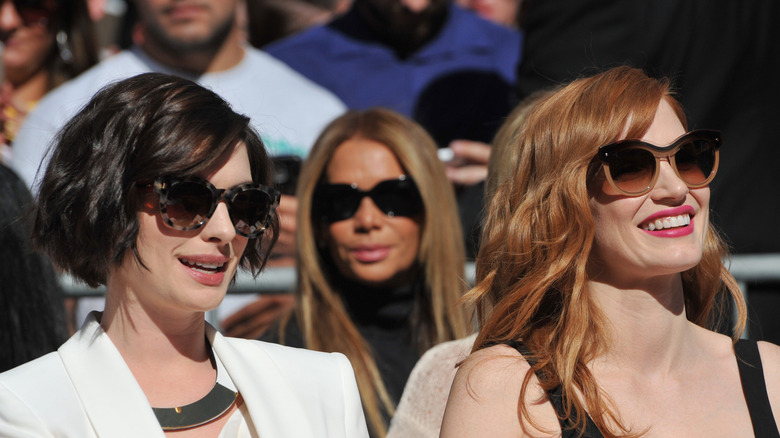 Jaguar PS/Shutterstock
Anne Hathaway and Jessica Chastain worked together to create a hit film when they linked up with actors Matthew McConaughey, Michael Caine, and Casey Affleck for "Interstellar," per Fandango, and they also forged a close friendship off-screen, as well. Hathaway has since opened up publicly about her friendships with Chastain and fellow actor Emily Blunt, who co-starred with Hathaway in "The Devil Wears Prada." When she spoke to Glamour UK in 2015, Hathaway mentioned that she had been attempting to initiate a book club amongst herself and her two famous friends, according to Vanity Fair.
"I'm trying right now to start a book club with Em and Jessica, because they're working on a movie together," Hathaway said. "I said, 'Let's all read this book,' but I'm not working and they are, so it's not going very well." The film Chastain and Blunt were working on at the time was "The Huntsman: Winter's War," which also starred Charlize Theron and Chris Hemsworth, according to IMDb. Even though that book club didn't work out as Hathaway had hoped, the friendship between Hathaway and Chastain seems to still be going strong to this day.
Anne Hathaway and Jessica Chastain support each other's projects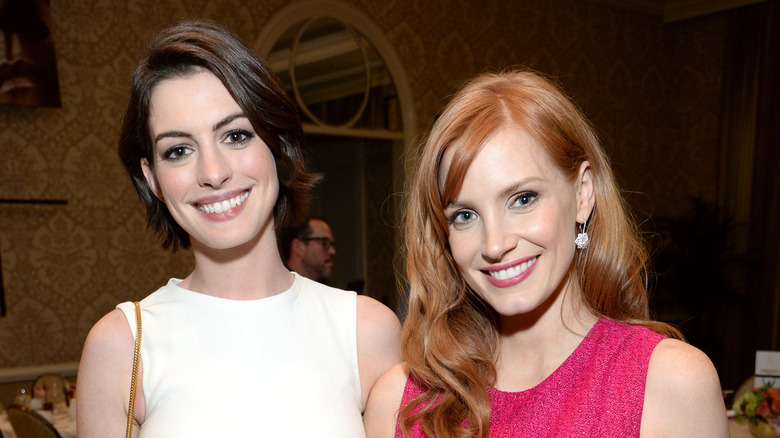 Michael Kovac/Getty Images
Anne Hathaway and Jessica Chastain first got to know each other and became close friends after they collaborated in 2014 on the film "Interstellar." Fans grew excited after hearing there were plans for the actors to star together again in a film called "Mothers' Instinct," which Just Jared reported in October 2020. Since this announcement, however, it appears that the film remains on hold, as it's shown as being "in development" on IMDb.
Regardless of what happens between Hathaway and Chastain professionally, these two gifted actors seem to be there for each other no matter what. At a recent New York City screening of Chastain's film, "The Eyes of Tammy Faye," Hathaway and Chastain were seen with their arms wrapped around each other, per the Daily Mail. Both were all smiles as Hathaway went to support her friend's latest project. It's nice to see that this friendship has continued over the years. Fingers crossed that we'll get another film with them working alongside one another sometime soon!