The Truth About Johnny Manziel And Bre Tiesi's Divorce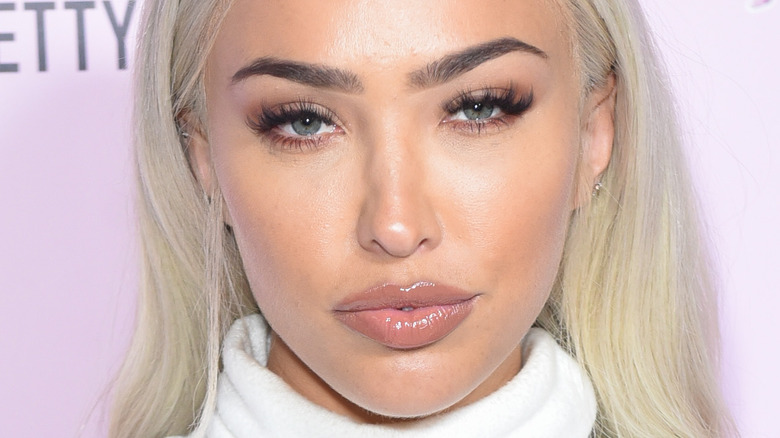 Presley Ann/Getty Images
Bre Tiesi is the name on everyone's lips thanks to her connection to none other than Nick Cannon, her co-star on the infamous game show "Wild 'N Out," as the two announced in late January that they were expecting a child together. Tiesi posted a video from her and Cannon's lavish baby shower on Instagram, which took place on the beach with plenty of balloons. "My son," she wrote in the caption, "Been keeping you safe in my belly from this world as long as I could.. you are surrounded by so much love. Mommy and daddy can't wait to meet you."
The baby announcement wasn't without contention, though, as the news was actually announced by TMZ the day earlier and became big news for multiple reason. Cannon had welcomed multiple babies with multiple different women in the months and years that preceded the reveal, he'd experienced the sad death of his young son, Zen, just months prior, and the fact that the world didn't even know these two were dating!
But Cannon certainly wasn't the first famous man Tiesi was linked to. She was actually married to none other than football star Johnny Manziel before falling pregnant with Mariah Carey's ex, and it's the downfall of that romance that we'll be taking a look at today...
The cheating allegations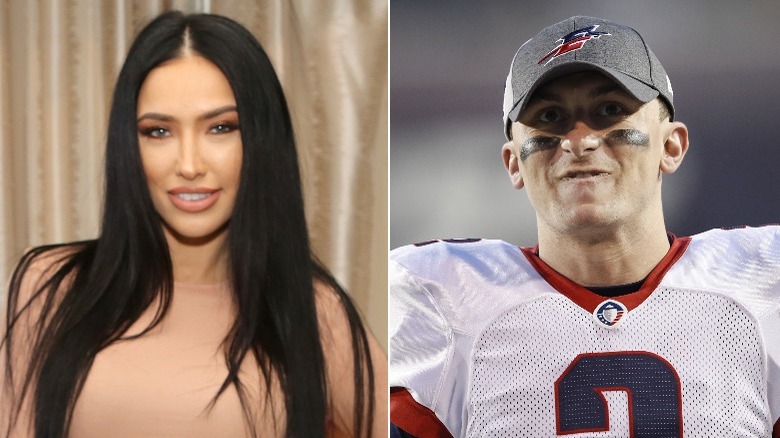 Tasia Wells & Joe Robbins/aaf/Getty
The ill-fated marriage of Bre Tiesi and Johnny Manziel began in March 2018 (two years after they started dating) when the couple secretly tied the knot in a style we wouldn't exactly expect from a top football star and an influencer/model. They actually kept things very low key and wed in a courthouse in California, according to People, with the nuptials being kept top secret with only a few witnesses in attendance.
But, sadly, this one wasn't built to last. Just a year later in March 2019, TMZ Sports confirmed that it was splitsville for the two as the former Cleveland Browns player described the breakup as "all very, very personal and very sad." He added, "I appreciate everyone who has been so supportive of both of us and I would just ask that everyone respect our privacy at this difficult time."
As for what caused the split? Well, Tiesi appeared to suggest her estranged husband hadn't been faithful. Responding to a social media user who inquired about their split in the comments section on Instagram, the model hit back (via TMZ Sports), "I don't do betrayal for a person I was devoted to period. Vows were broken f*** money and f*** u and every other loser on here." The pretty telling message was posted mere days before the divorce papers were filed.
The Miami divorce party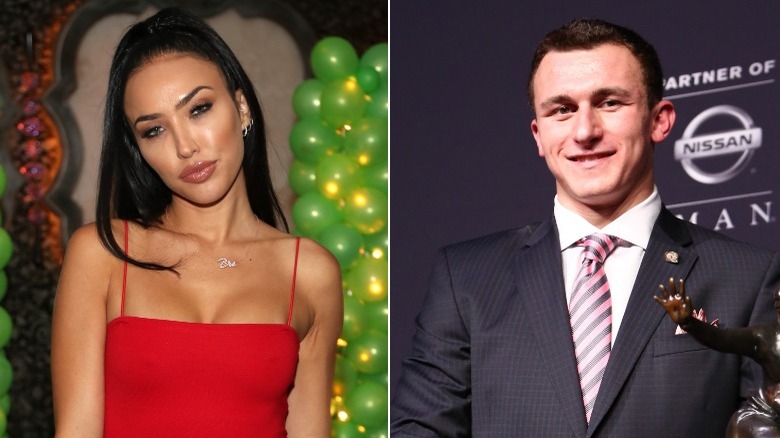 Debby Wong/Shutterstock & Jerritt Clark/Getty
Bre Tiesi didn't waste much time in celebrating her newfound single status as soon as it was official. It took around two years for Tiesi and Johnny Manziel to finalize their divorce (that's double the time they were married, if you're keeping count), after which the fitness enthusiast headed to the sunshine state with her girlfriends to throw a divorce party. Because, why not, right?
The star shared the proof to Instagram as she rocked her swimwear in Miami, per Daily Mail, including one post — which appears to have since been removed from her account — that saw her leaning over a broken heart cake that had the words, "I do, I did, I'm done... Divorced at last..." written on it.
The star also made a point of scrubbing the athlete from her life, and more specifically, her body. Tiesi had Manziel's initials tattooed onto the side of her arm just beneath her wrist, with TMZ Sports reporting she got the inking removed in August 2019.
But while that's all pretty telling, it sounds like these two didn't actually end things on the worst terms. Tiesi admitted while speaking to what seemed to be the couple's favorite outlet, TMZ Sports, in November 2021 (when their divorce was finalized) that they still spoke from time to time and were "still cool."
We wonder if Manziel will be sending a baby gift to Cannon and his ex?