Donald Trump's Latest Political Statement Proves He's Still A Magnet For Controversy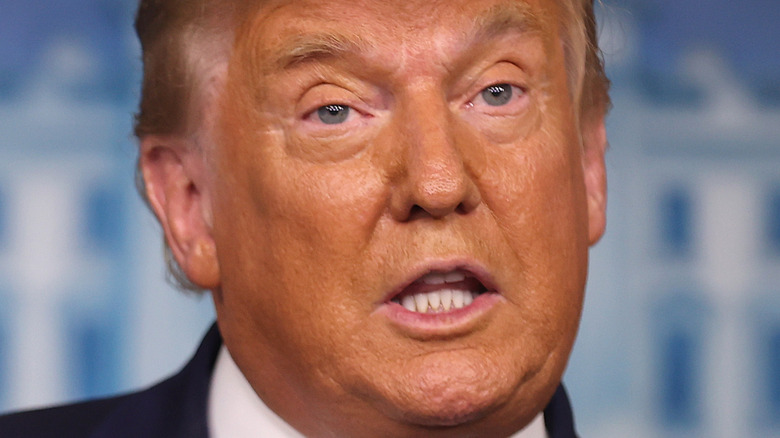 Chip Somodevilla/Getty Images
Many world leaders are urging for peace and political stability amid the ongoing Russia-Ukraine crisis. The United Nations sees Russia's advancement of troops into Ukraine's territory as a violation of Ukraine's sovereignty. The White House also considers this move as Russia's effort to "undermine the sovereignty and territorial integrity of Ukraine."
The U.S. and European Union have responded with economic sanctions and are joined by Britain, Germany, Canada, Australia, and Japan. Other countries, such as China and India, have urged for peace but failed to stand. The U.S. is taking stringent measures to impose sanctions, such as freezing Russia's gas pipeline projects. According to CNBC, Britain announced it was stopping the sale of Russian sovereign debts. President Joe Biden has made repeated appearances in the media, warning Russia of firm consequences if it violates Ukraine's political autonomy. Meanwhile, former President Donald Trump sees this as an opportunity to criticize Biden's policies.
In a recent interview, Trump expressed his views on the various issues that governed the current political and social scenario. He also gave more clarity on the United States' position as trouble mounted on the borders of Russia and Ukraine.
Donald Trump expressed disbelief over Biden's rule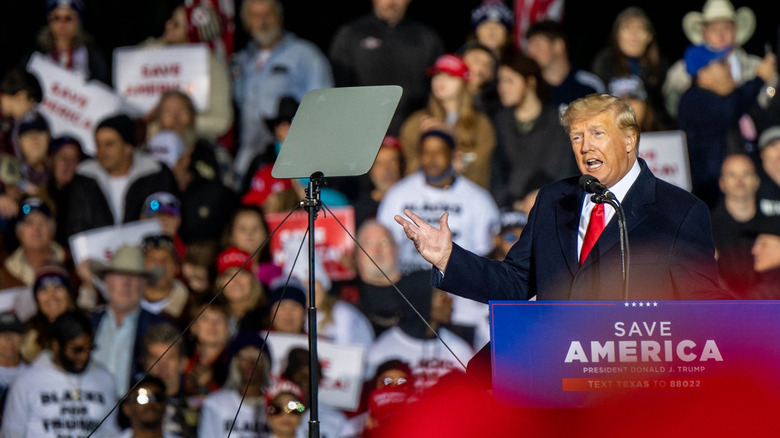 Brandon Bell/Getty Images
In an interview with the New York Post, Donald Trump mocked Joe Biden's presidential rule, calling it one of the worst presidential terms ever. "If you took the worst five presidencies together, it would not be equal to what's happening to this country," he said in the interview.
Trump expressed concern over the rising energy prices and criticized Biden for pulling out from Afghanistan. "Can you imagine taking the military out first? And giving up that big, beautiful Bagram Air Base that's just an hour from China?" he asked. "It was the single biggest embarrassment in our history." When asked whether Biden would finish his term, Trump said that he didn't know. "But we are being systematically destroyed," he added. "We are no longer feared, respected, or even liked." The former president also boasted of his relationship with Russia's Vladimir Putin. "I got along great with Putin," he said. "I like him, I respect him. He's doing his thing, but our people aren't doing theirs," he said. Trump also went in on former German Chancellor Angela Merkel in the interview.
Trump could just be a step away from announcing himself for 2024, and could be testing the waters by stirring up controversy once again. According to Insider, others — such as Republican Sen. Tim Scott, who suggested he was open to being Trump's mate in 2024 — are bracing up for his reelection campaign too.