Donald Trump Can't Stop Talking About Joe Biden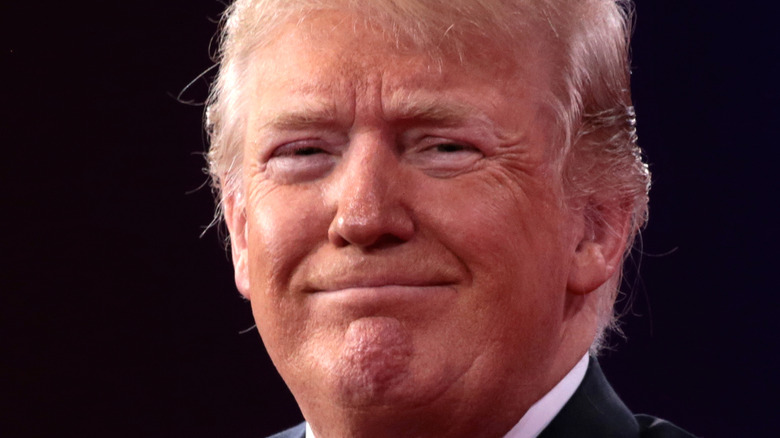 NumenaStudios/Shutterstock
It looks as if Donald Trump cannot get enough of Joe Biden. After losing to Biden in the 2020 presidential elections — a loss that he didn't easily admit — Trump has ensured that he stays in the public eye, reaching out to the masses and taking digs at the president every chance he can.
Trump has been actively participating in Republican events. While the former president hasn't made any official declarations, several signs indicate him running for president in 2024. His popularity has remained relatively stagnant compared to when he left office, while Biden's popularity with American voters declines. According to USA Today, Suffolk University polling data shows that fewer people want Biden to run again in 2024 than want Trump to run again. 64% of respondents — including 28% Democrats — did not want Biden to run in 2024. While Trump faced similar opposition, his numbers — at 58% — were significantly less than Biden.
As more polling data continue to roll in, Trump fancies a chance at re-entering the White House. He is leaving no opportunities untouched to take a dig at Biden, even when it comes to making profane references — something which he's not unfamiliar with. Here's more on how Trump can't stop talking about Biden and his recent statement, which brought back memories from a NASCAR race in October.
Donald Trump mentioned a popular inside joke about Joe Biden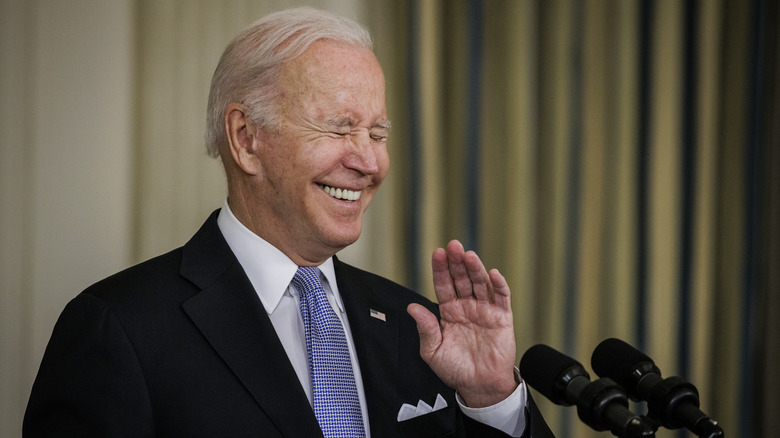 Samuel Corum/Getty Images
At a NASCAR race in October, the crowd was seen chanting slogans that seemed difficult to comprehend. At that time, the sideline reporter hinted that the crowd could be chanting "Let's go, Brandon!" supporting a NASCAR driver, according to Page Six. However, it turned out the crowd was actually insulting the president, chanting "F*** Joe Biden."
Donald Trump apparently loves the slogan and that energy, and his supporters know it too. When he appeared at The America First Policy Institute and gave a speech criticizing Biden, the crowd took a hint. It started chanting "Let's Go Brandon!!" Of course, Trump took the moment to say, "I still like the first phrase better, somehow more accurate." Speaking on the events of the race day, the Republican and business magnate added, "I still haven't figured out was that young, attractive female reporter was she trying to cover up? Or was she being nice? Did she not understand what was happening? She works for NBC. So it's about 94% sure that she knew exactly what she was doing."
"Anyway, well, Brandon has become a big star," the former president continued. "Nobody ever heard of this guy. Now. He's one of the biggest stars. Nobody ever heard of Brandon's history." Trump also said that the Republican Party was "the party of all of you in this room," adding, "This is a great thing that we've done in a very short period of time."