Kanye West's Donda 2 Listening Party Was Absolutely Wild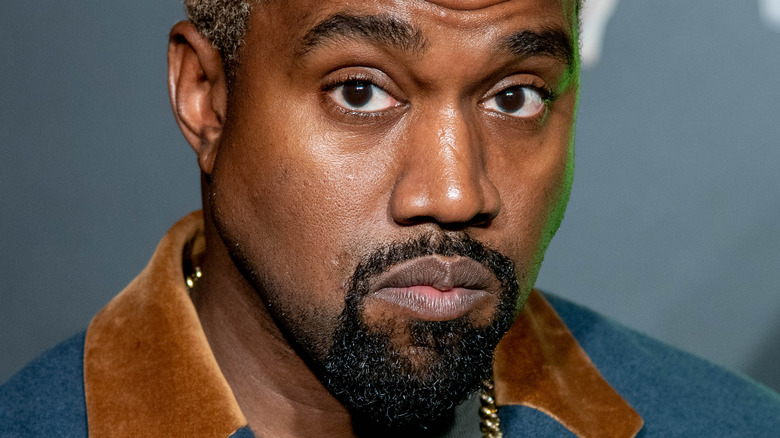 Roy Rochlin/Getty Images
The Kanye West saga just keeps getting weirder. It all started back in February 2021 when Kim Kardashian officially filed for divorce from her husband of seven years. The rapper and designer, who now goes by "Ye," was not in favor of the divorce. Things really came to a head in October, though, when Kim appeared on "SNL."
During her monologue, Kim made several jokes about her ongoing divorce, her ex-husband, and his bad "personality." Ye fired back in an interview, in which he claimed that "SNL" made Kim say those things, and he had yet to see any divorce papers. Kim could not have been less concerned and quickly began dating "SNL" star Pete Davidson, with whom she shared an on-screen kiss during her hosting gig. Kim and Davidson have since been spotted all over New York and Los Angeles hanging out at one of the Kardashians' mansions or grabbing pizza in Davidson's hometown of Staten Island.
Cut to Ye absolutely losing it on social media and posting a series of truly bizarre Instagrams of personal texts between himself and his estranged wife, making fun of Davidson's tattoos, and then apologizing and quickly un-apologizing. That might have been the end of it, if it weren't for Ye's February 22 "Donda 2" listening party.
Ye is raising some eyebrows with his artistic choices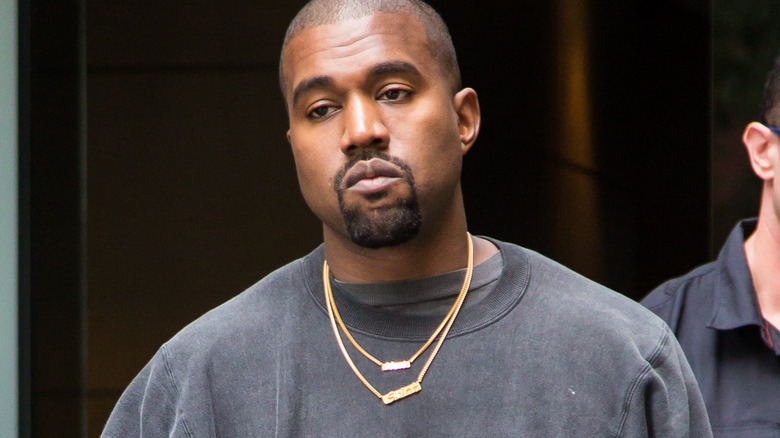 Liam Goodner/Shutterstock
Kanye "Ye" West's  "Donda 2" listening party took place in Miami and involved some truly bizarre artistic choices by Ye. The performance — which took place at LoanDepot Park and involved Ye standing in a shallow lake in front of a burning replica of his childhood home — was supposed to celebrate the release of "Donda 2."
One of the songs Ye performed, "Sci-Fi" included a sample from Kim Kardashian's "SNL" monologue, in which she said, "I married the best rapper of all time. Not only that, he is the richest Black man in America. A talented, legit genius who gave me four incredible kids." Ye chose to leave out the punchline: "So, when I divorced him, you have to know it came down to just one thing: his personality," per Daily Mail. Ye also referenced Kim's text messages that warned him his public outbursts were putting Davidson in a dangerous situation. "Never take the family picture off the fridge. Never stand between a man and his kids. Y'all ain't got enough security for this," he rapped, per The Sun. "I put your security at risk. I make your security all quit, like 'we ain't gettin paid enough for this."
Ye took the shock value a step further and also included recently disgraced musicians in the performance. Marilyn Manson, who has been accused of sexual abuse and rape (which he denied), and DaBaby, who was canceled for extremely homophobic remarks, were welcomed on stage by the rapper. Just an average night for Ye, apparently.