How Kanye West Really Feels About Dr. Dre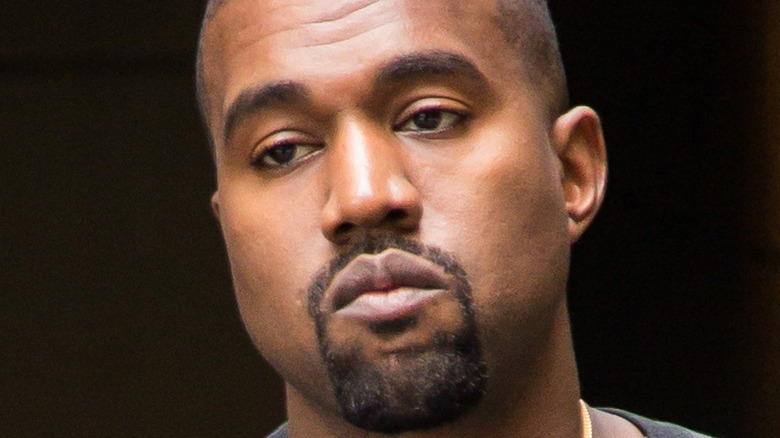 Liam Goodner/Shutterstock
Unsurprisingly, Kanye West (who now officially goes by Ye West) seems to be feuding with a lot of people lately — something the conflict-happy rapper and producer is known not to shy away from. Among the lucky few include his estranged wife Kim Kardashian, her boyfriend Pete Davidson, and even the animated cartoon character Peppa Pig. 
For West, the art of the feud is strong. Strong enough, at least, that Ye posted a list in February 2022 of all the people that he's beefed with over the years on Instagram, as Billboard reported at the time. Along with the promise that the actual, IRL list was "twice as long" as the one on his account, the list itself included celebrities ranging from Drake to Taylor Swift to Ray J and even more. But one noticeably absent name on that list is rapper and entrepreneur Dr. Dre. In fact, a lot of fans will be quite surprised to hear how Ye really feels about the fabled producer. 
Kanye West has nothing but respect for Dr. Dre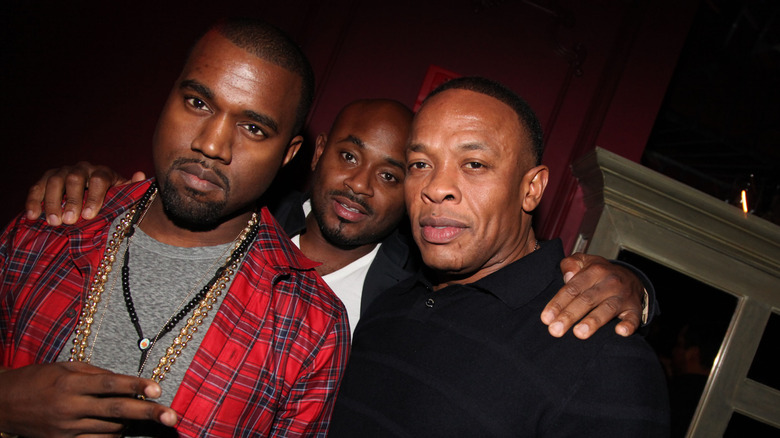 Johnny Nunez/Getty Images
While it might seem like Ye West is the kind of person who isn't afraid to share his opinions with the public about other people – like Pete Davidson, for instance – his relationship with Dr. Dre seems to be built on respect. In fact, Ye's history with Dr. Dre isn't a complicated one at all, as the two have worked, produced, and collaborated on a different number of projects over the years. (Projects include West's 2019 studio album "Jesus is King Part II," according to the "Donda" rapper's Twitter.) In an interview with Rolling Stone, Ye admitted that he heard Dre's "music" before he "knew who he was," referring to his behind-the-scenes work as a producer and mentioning the 1988 Eazy-E album "Eazy-Duz-It" by name.
In the same Rolling Stone interview, Ye lauded Dr. Dre, who he met for the first time in 2003, as his mentor. "At first I was starstruck, but within 30 minutes I was begging him to mix my next album," recalled West, before hailing his gifts as a musician and producer. "He's the definition of a true talent: Dre feels like God placed him here to make music, and no matter what forces are aligned against him, he always ends up on the mountaintop." Considering West's love for Dr. Dre, it seems like there's still nothing but professional love between the two artists, even two decades later.
Dr. Dre is still working with Kanye West to this day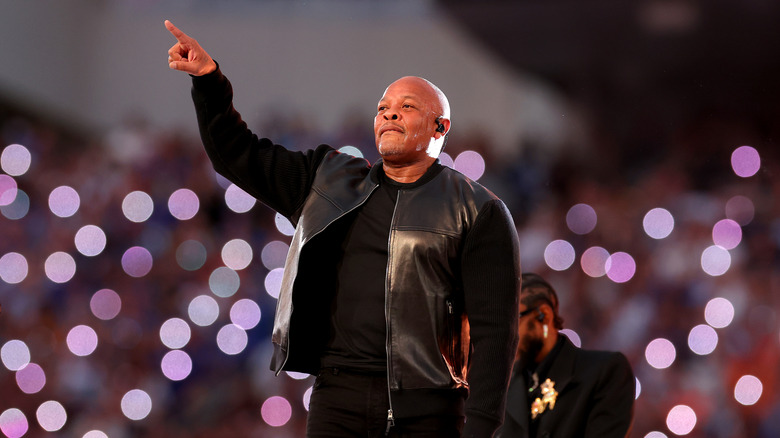 Kevin C. Cox/Getty Images
As NME noted in August 2021, Ye West most recently collaborated with Dr. Dre and Snoop Dogg on the new song "Glory," which was released that summer. The track was featured in an ad for Dre's line of headphones, Beats, and was also promoted on the BeatsByDre Instagram account, where fans were encouraged to tune in to a live stream of Kanye's album "Donda" at the time. 
Though West has been the target of ire and wrath for many over the past few years — for reasons ranging from his supposed support of former President Donald Trump to his increasingly disturbing behavior toward his ex Kim Kardashian and her current beau Pete Davidson — Dr. Dre has, by all appearances, stuck by his protégé. And it looks like the working relationship between West and Dre, one built on admiration and mutual respect, won't be changing anytime soon.