Selena Gomez Makes It Clear She Has No Issues With The Weeknd's New Romance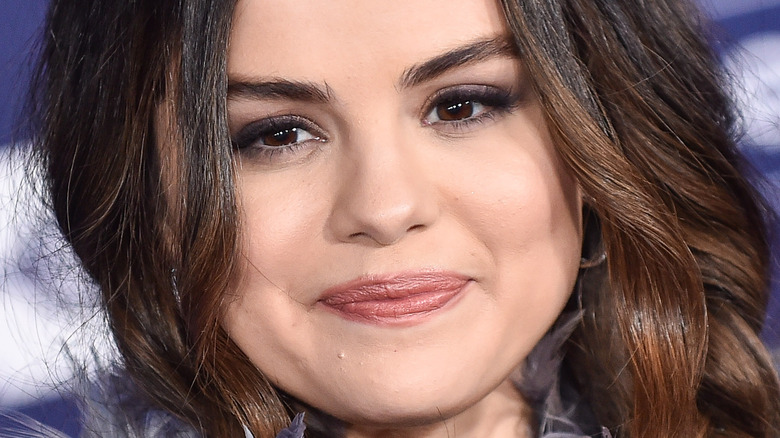 DFree/Shutterstock
Selena Gomez and musician The Weeknd were once a hot item. Many fans couldn't get enough of the PDA between Gomez and The Weeknd, born Abel Tesfaye, when they stepped out in public appearances, like when they stunned together on the 2017 Met Gala red carpet. The A-list couple, who dated for a little less than a year, parted ways due to busy schedules in October 2017, per TMZ. Despite their short relationship fizzling out, the outlet reported the stars had an amicable split with nothing but love for each other.
Although reps claimed the two stars remained friendly, fans speculated there were still bitter feelings in the aftermath of the breakup as many of the lyrics off The Weeknd's album "My Dear Melancholy," released the year following his split from Gomez, pointed at some drama. On the track "Call Out My Name," he sings, "I almost cut a piece of myself for your life / Guess I was just another pit stop / 'Til you made up your mind," which many interpreted as the performer referencing Gomez's kidney transplant surgery.
With perhaps more heartbreak behind the scenes of their breakup, many are wondering how Gomez is feeling after The Weeknd was spotted kissing Simi Khadra, of the Sister DJ duo Simi & Haze, in a Las Vegas club for the singer's 32nd birthday party on February 22, per TMZ. Gomez confirmed there's no hard feelings about The Weeknd's rumored romance, revealing she's close with his new lady.
Selena Gomez shuts down feud rumors
Selena Gomez seemingly isn't phased by Simi Khadra having a fling with her ex The Weeknd, as the women have a longstanding friendship. Pointing to their strong bond, Gomez captioned a new Instagram photo of herself looking chummy with the sisters of Simi & Haze, "Since 2013." It's true that Gomez and the Khadra sisters share a history as best buds, with the Simi & Haze performers wishing the Disney alum a happy birthday with a series of heartwarming videos and pictures on Instagram in 2018. "Here's to more adventures around the world," the sisters wrote on slides of them hugging the popstar. "Love you babygirl."
Clearly, Gomez doesn't mind The Weeknd moving on. As she told Billboard in 2017, "We ended it as best friends, and it was genuinely about encouraging and caring [for each other], and that was pretty remarkable for me." However, a source confirmed to People on February 23 that the "Blinding Lights" singer is "dating and is not in a committed relationship with anyone" at this time.
Page Six reported The Weeknd's other famous ex, model Bella Hadid, isn't taking the news as well as Gomez. According to the outlet, Hadid, who was similarly friends with Simi & Haze, unfollowed the sisters' Instagram account after the video of Simi kissing the musician swirled. It sounds like Simi at least has Gomez in her corner!