The Singer Prince Harry Hugged Backstage At The NAACP Awards
Lev Radin/Shutterstock
Prince Harry has discovered some benefits from trekking across the Atlantic and starting a life in California. He's been rubbing shoulders with many American stars that he might not have otherwise met. As a British royal, the prince has met plenty of celebrities, but he's never had the chance to meet them on their home turf. Like the time when Prince Harry and Princess Beatrice headed to the 2022 Super Bowl to enjoy one of the ultimate American events and soak in the culture and atmosphere. Of course, Harry didn't pass up the opportunity to visit the winning team's locker room to congratulate the Los Angeles Rams. The Duke of Sussex couldn't wait to get his hands on the trophy, per People, and spoke to some athletes and the team's owner, Stan Kroenke. Interestingly, Kroenke also owns the legendary soccer club Arsenal, and Harry is one of their biggest fans.
Harry also took some time out to meet Mickey Guyton, who sang "The Star-Spangled Banner" before the game. She was delighted to meet the prince and shared a snap to Instagram and wrote, "I met Prince Harry. He was just lovely." She was so impressed by the royal, in fact, that she "even curtsied in my tracksuit." He even shook hands with Cedric the Entertainer, who also shared a pic to Instagram. It seems as if the trend hasn't stopped for Prince Harry, as he also hugged this superstar at the NAACP Image Awards, per the Daily Mail.
Prince Harry and Jennifer Hudson share a hug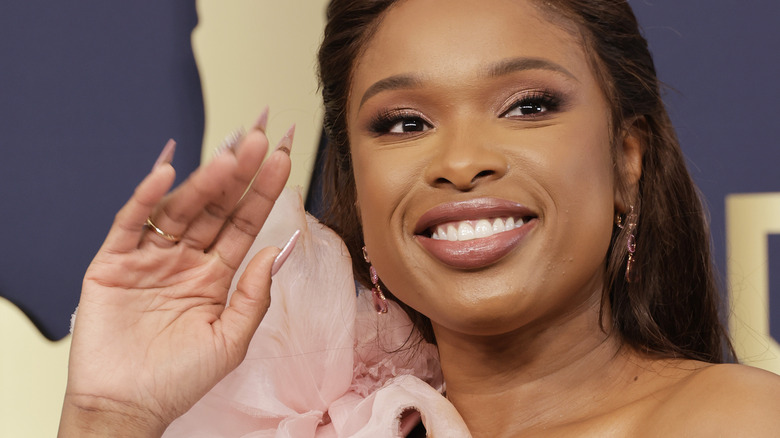 Frazer Harrison/Getty Images
Prince Harry and Meghan Markle were honored at the 2022 NAACP Image Awards, per Us Weekly. In a joint speech, Meghan shared what moved them to inspire change and how she "couldn't be prouder that we're doing this work together." Wearing a gorgeous blue dress, she said, "We moved to California, my home state, shortly before the murder of George Floyd. For Black America, those nine minutes and 29 seconds transcended time, invoking centuries of our unhealed wounds." She continued, "In the months that followed, as my husband and I spoke with the civil rights community, we committed ourselves and our organization, Archewell, to illuminating those who are advancing racial justice and progress." Harry also shared that they have "a responsibility to combat injustice and a belief that the most often overlooked are the most important to listen to."
Behind the scenes, Harry and Meghan rubbed shoulders with Hollywood A-listers. One of the stars they mingled with was singer-actor Jennifer Hudson. She wore an off-the-shoulder black dress and sparkly earrings for the occasion. One Instagram account shows how it went down between the "Dream Girls" star and the duke. Harry and Hudson looked delighted to meet each other and were beaming at each other in the snap. Another photo shows how they embraced while Harry whispered something in Hudson's ear.  Congrats to Harry and Meghan on a well-deserved achievement.