Is Pete Davidson Going To Space With Jeff Bezos?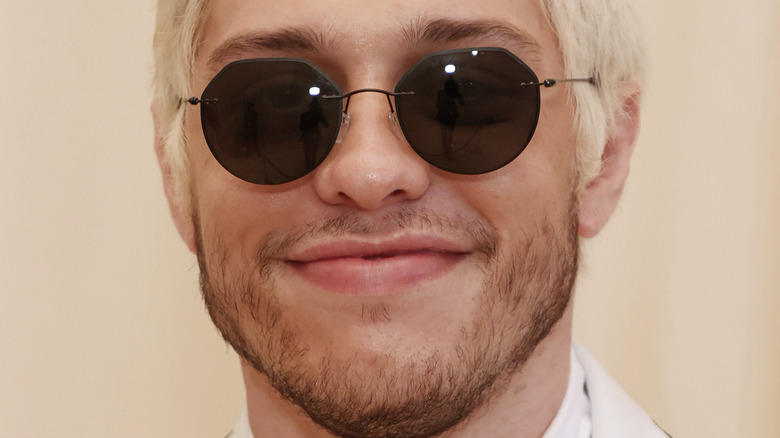 Arturo Holmes/mg21/Getty Images
Life must be quite the rollercoaster ride for Pete Davidson these days. Not only is his career growing steadily, as he continues working on "Saturday Night Live" and other projects, but his love life is full of ups and downs. He's known for having fun as well as surviving personal strife. Currently, some of that pressure is coming from his new girlfriend Kim Kardashian's ex-husband, Kanye "Ye" West.
Ever since Kardashian and Davidson started dating in October 2021, and as Kardashian hurried to finalize her divorce, the "Heartless" rapper has been acting out against his ex-wife and her new beau in progressively scary ways. The latest attack made fans worry about Davidson's safety. The shocking imagery in Ye's music video for the track "Eazy," which came out on March 2, per Buzzfeed, has fans rattled. Released just hours after Kardashian was legally declared single by the courts, the video shows a claymation Ye kidnapping Davidson and burying him alive with rose seeds, carrying around Davidson's decapitated head, and filling Ye's truck with the roses that grew around it — referencing the flatbed truck full of flowers that Ye sent to Kardashian for Valentine's Day in an attempt to rekindle their relationship. The video ends with the text, "Everyone lived happily ever after except Skete" (Ye's nickname for Davidson). Ye is now facing backlash for the controversial video.
Now in the latest "are you kidding me?" news, Davidson may have found a temporary escape from the madness, thanks to the help of one Jeff Bezos.
Davidson may go to space with Jeff Bezos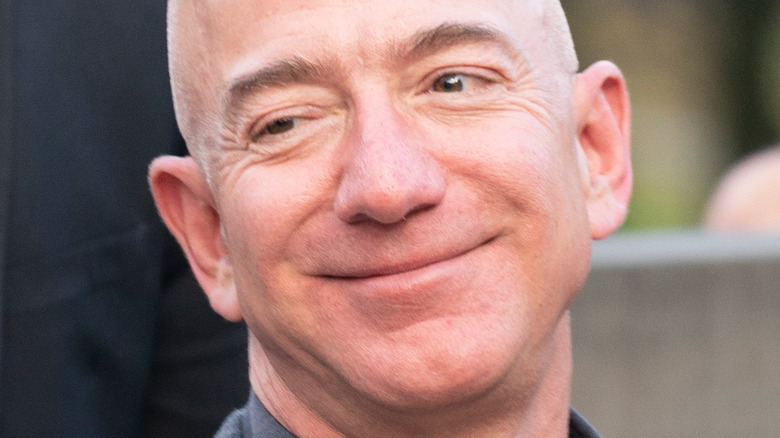 lev radin/Shutterstock
Pete Davidson has certainly had a lot to deal with, given rapper Kanye "Ye" West's latest antics. Amazon's former CEO and the richest man in the world, Jeff Bezos, is here to help by whisking Davidson away from it all. Davidson met the billionaire when Bezos had dinner at his Los Angeles compound with Davidson and his girlfriend Kim Kardashian, per Page Six. A source said the two men "got on really well," and now it looks like Davidson is about to sign a deal to join Bezos on an upcoming trip to space.
Though the details haven't been finalized yet, the source says "Pete is excited" for the trip, which may happen later this year. "They haven't signed a contract yet," says the source, "but it looks like it's going to happen."
Wow. Amazing that Davidson can afford it. But that's part of what Bezos's company, Blue Origin, is for, according to its website's introductory video: to "dramatically lower the cost of getting people into space." Presumably, space travel is for the betterment of Earth's resources rather than, as Bezos's critics say, paying taxes or fixing the problems here on Earth, starting with his own employees. Though Blue Origin is keeping mum about how much tickets to space actually cost, Reuters estimated in 2018 (before the pandemic and 2022 inflation) that tickets might cost around $200,000 to $300,000 per person. Well, maybe Bezos will give Davidson a "friend" discount.