Donald Trump's Idea On How To End The War In Ukraine Is Raising Eyebrows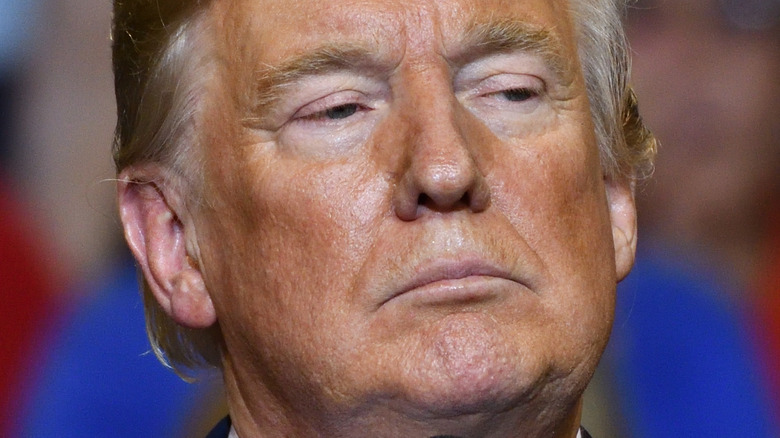 Evan El-Amin/Shutterstock
Donald Trump is raising eyebrows once again over some divisive comments about the war in Ukraine. The European country was invaded by Russian troops on February 24, with reports claiming that the Russian president, Vladimir Putin, allegedly wanted to take over the country's capital city of Kyiv and had plans to "overthrow the government" (via ITV).
Of course, as a former president of the United States, the world has been wondering about Trump's take on the Ukraine crisis, and he's already made some very controversial remarks.
In February, Trump appeared to praise "savvy" Putin during an appearance on "The Clay Travis & Buck Sexton Show." "I went in yesterday and there was a television screen, and I said, 'This is genius.' Putin declares a big portion of the Ukraine, of Ukraine, Putin declares it as independent. Oh, that's wonderful," he said. "He's going to go in and be a peacekeeper. That's the strongest peace force. We could use that on our southern border. That's the strongest peace force I've ever seen," he added, also seemingly called Putin a "genius," though it's been suggested the interview saw Trump being sarcastic.
However, now the businessman has courted controversy over the war again, this time for an apparent odd take on how it could be ended... or potentially escalated.
Donald Trump's deceitful idea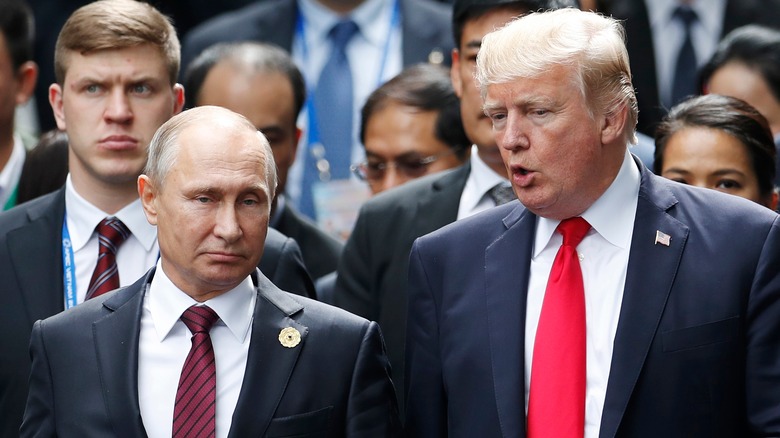 ApostolisBril/Shutterstock
Donald Trump reportedly had a bizarre idea for how the war in Ukraine could be stopped, allegedly suggesting the U.S. could join the conflict by pretending to be Chinese forces. That's according to audio obtained by The Washington Post, which featured Trump speaking with Republican donors as he suggested the U.S. paint China's flag on F-22 planes and then "bomb the s*** out of" Russia in them.
He hinted the U.S.'s involvement would then be kept a secret, with the country being able to claim, "'China did it, we didn't do it, China did it!'" before China and Russia "start fighting with each other and we sit back and watch."
It appeared the remark was in jest, though social media had plenty to say about Trump's proposal. Some actually supported his idea, with one person tweeting, "Trumps ideas was good. Get US jets, slap chinese flag on them, bomb moscow, china will get the blame, russia china go to war. Takes a businessman to fix the problems when all the politicians are holding meeting and pompus speeches."
But there were also plenty who disagreed. "This f*****' guy. He actually suggested we bomb Russia under a Chinese flag and start a war between Russia and China. Because that'll go well," one person tweeted alongside a facepalm emoji. Another sarcastically wrote, "And you claim to be a genius? Yeah let's bomb Russia and start a nuclear war!"
Clearly, Trump is still as divisive as ever.