Nick Cannon Receives Bad News About His Future In TV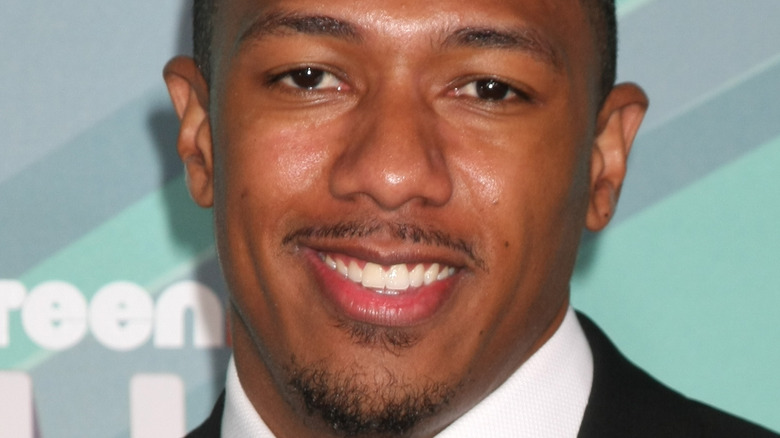 Kathy Hutchins/Shutterstock
Nick Cannon is a man of many talents. Aside from being the former husband of Mariah Carey, fans may know Cannon best for his appearances as an actor and host on various shows on the small screen, like "America's Got Talent," "Wild 'n Out," "The Masked Singer," and "Brooklyn Nine-Nine."
Naturally, his outspoken personality made him the perfect candidate for his own show, and he landed the talk show "Nick Cannon," which first hit airwaves via Fox and syndication in September 2021. The show had some big moments, including a heartbreaking moment from Cannon in December 2021 when he confirmed the death of his 5-month-old son, Zen, due to a brain cancer.
"It's tough. And I have my therapist here, who's been helping us through it," he explained from behind his desk. "We got to spend the weekend with him. I said, 'I feel like I want to go to the water, to the ocean.'"
The following month brought happier news from the star on his show though, as he used "Nick Cannon" to announce that he was expecting his eight child, a baby boy with model Bre Tiesi. "As everyone knows I have a lot of children and I love them all dearly, sincerely," he explained on the talk show. "Every single one of my children are just as special as the other."
But now it seems like star might need to find a new medium to tell fans his big news.
Nick Cannon canceled
Nick Cannon was hit with sad news on March 9 when it was reported his talk show, Nick Cannon, had been canceled just six months after it made its debut. A source alleged to Page Six that the talk show is over, but claimed staff hadn't been officially told. However, it's alleged many had already been looking for work elsewhere "because the outlook seemed bleak for the struggling show."
As for what could happen to the slot occupied by Cannon's show? Well, The U.S. Sun reported that he's apparently set to be replaced by Jennifer Hudson, with sources claiming that her new series, aptly titled "The Jennifer Hudson Show," has been "purchased by Fox."
Despite the axe news, it's reported that Cannon's show won't go off the air immediately and will reportedly see out the season, with Hudson's new series expected to debut in fall 2022.
Hudson is one of several famous faces turning their hand to the talk show world with an eponymous series. Of course, her fellow "American Idol" alum Kelly Clarkson has "The Kelly Clarkson Show" on NBC, while Drew Barrymore is the host of CBS's "The Drew Barrymore Show" — where she's revealed some surprising ex confessions.
Cannon doesn't appear to have spoken publicly about the reported end of his show, but continued to promote the series on Instagram. On March 9 as the news broke, he shared a clip from his interview with "The Real Housewives of Atlanta"'s Cynthia Bailey.